If you've been noticing more rainbow color schemes popping up lately, that's because June is Pride Month! For these 30 days, LGBTQ communities all across the globe are celebrating the joy of being themselves.
But Pride Month is more than just a party—it's also an opportunity to reflect on the obstacles and challenges that LGBTQ folks still face every day. So no matter your sexual orientation or gender identity, we recommend checking out the seven eye-opening books below on diversity, inclusion, and building a better world for all.
Download the Next Big Idea App to enjoy "Book Bite" summaries of hundreds of new nonfiction books like these.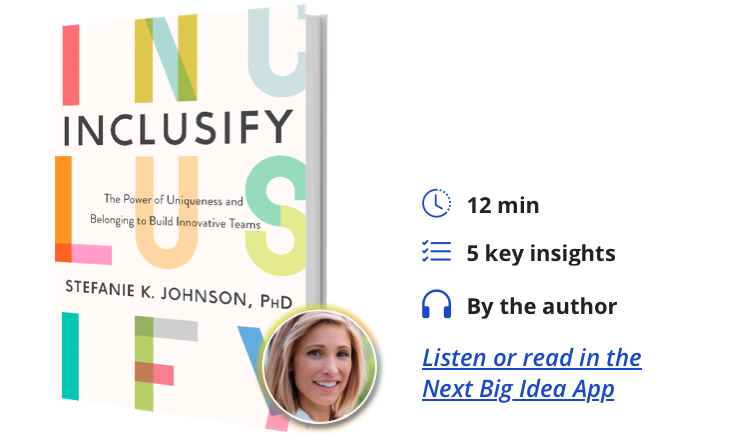 Inclusify: The Power of Uniqueness and Belonging to Build Innovative Teams
By Stefanie K. Johnson
In this groundbreaking guide, a management expert outlines the transformative leadership skill of tomorrow—one that can make it possible to build truly diverse and inclusive teams that value employees' need to belong while still being themselves. Listen to our Book Bite summary, read by author Stefanie K. Johnson, in the Next Big Idea App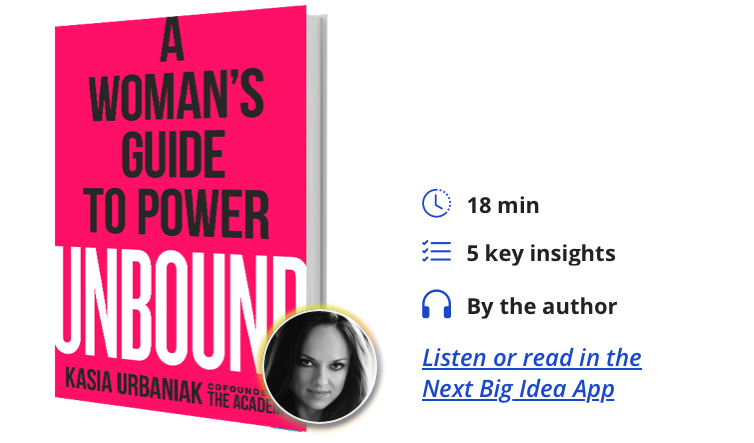 Unbound: A Woman's Guide to Power
By Kasia Urbaniak
Whether you're getting crystal clear on exactly what you want, or turning the tables on a man who has shut you down, a former dominatrix and Taoist nun is here to teach women to stand up for themselves in every interaction. Listen to our Book Bite summary, read by author Kasia Urbaniak, in the Next Big Idea App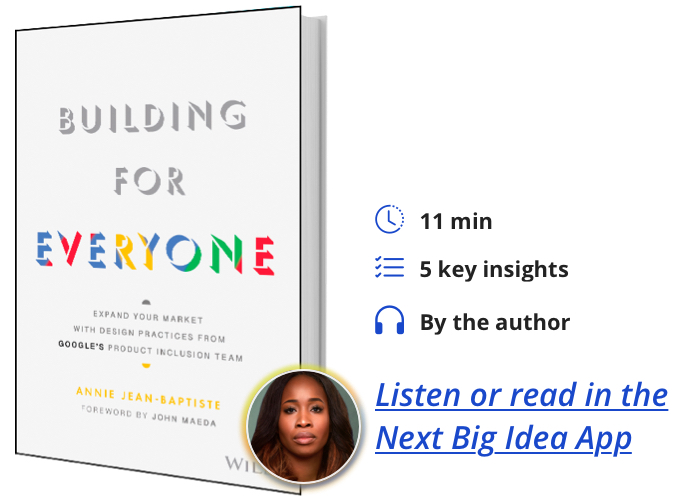 Building for Everyone: Expand Your Market with Design Practices from Google's Product Inclusion Team
By Annie Jean-Baptiste
For years, Google has set the standard for innovative products and business practices. And now, their Head of Product Inclusion shows how any organization can cultivate inclusive teams where diversity becomes a source of strength and creativity. Listen to our Book Bite summary, read by author Annie Jean-Baptiste, in the Next Big Idea App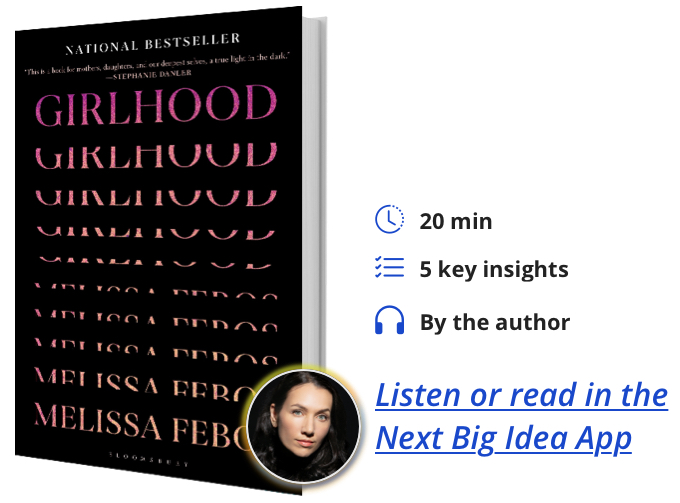 Girlhood
By Melissa Febos
Blending investigative reporting, memoir, and scholarship, an acclaimed essayist charts how she and others like her have reimagined their most personal relationships—and made room for the anger, grief, power, and pleasure women have long been taught to deny. Listen to our Book Bite summary, read by author Melissa Febos, in the Next Big Idea App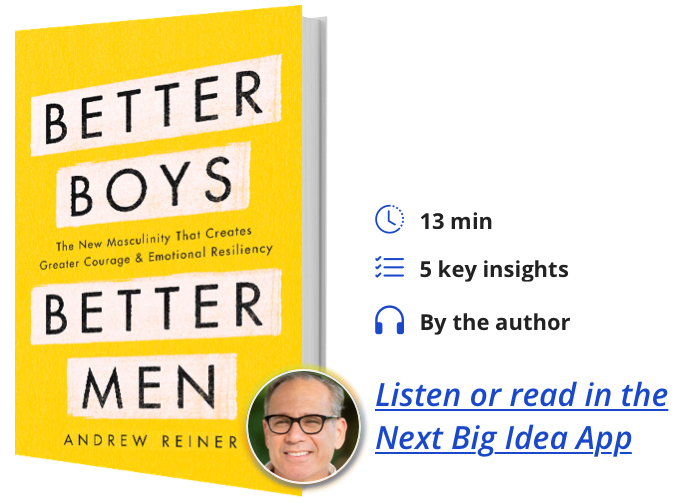 Better Boys, Better Men: The New Masculinity That Creates Greater Courage and Emotional Resiliency
By Andrew Reiner
Rising rates of male unemployment, depression, and violence signal a pressing crisis for modern masculinity. In Better Boys, Better Men, a renowned cultural critic explains why the social norms around manhood are outdated and downright damaging, and he lays out a better, healthier vision for what it means to be a man. Listen to our Book Bite summary, read by author Andrew Reiner, in the Next Big Idea App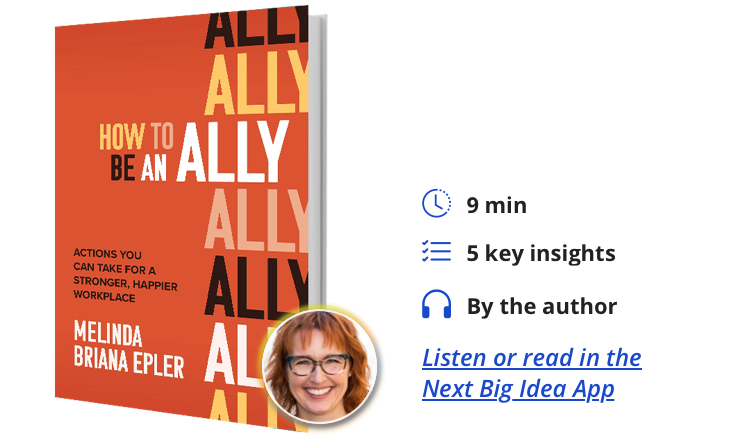 How to Be an Ally: Actions You Can Take for a Stronger, Happier Workplace
By Melinda Briana Epler
Through the power of allyship, each of us can create an equitable, innovative workplace where everyone feels safe, valued, and able to thrive. Listen to our Book Bite summary, read by author Melinda Briana Epler, in the Next Big Idea App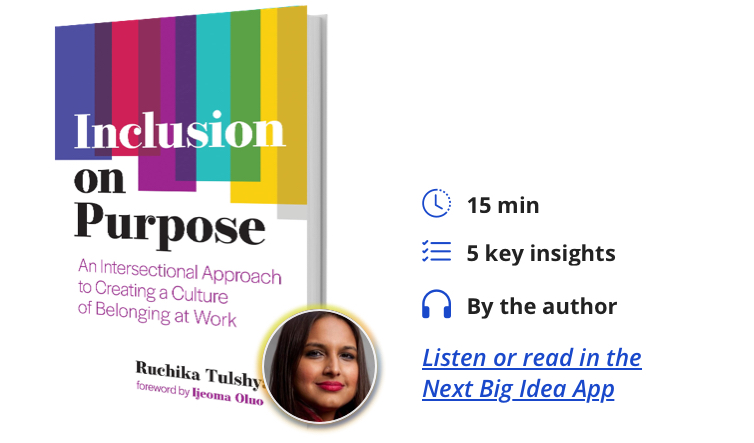 Inclusion on Purpose: An Intersectional Approach to Creating a Culture of Belonging at Work
By Ruchika Tulshyan
And eye-opening look at how organizations can foster diversity, equity, and inclusion, taking action to address and prevent workplace bias while centering women of color. Listen to our Book Bite summary, read by author Ruchika Tulshyan, in the Next Big Idea App
To enjoy Book Bites from anywhere, download the Next Big Idea app today: