From gas prices to new job opportunities, your daily life is shaped by broad economic trends. The only trouble is, these dynamics are invisible—and they operate at such a huge scale that they're difficult to understand.
But by gaining a greater awareness of these trends, we also gain greater control over our lives. So to find out what's really going on in the economy and how it affects you, check out the seven eye-opening reads below.
Learn something new every day with "Book Bites," 15-minute audio summaries of the latest and greatest nonfiction. Get started by downloading the Next Big Idea App today!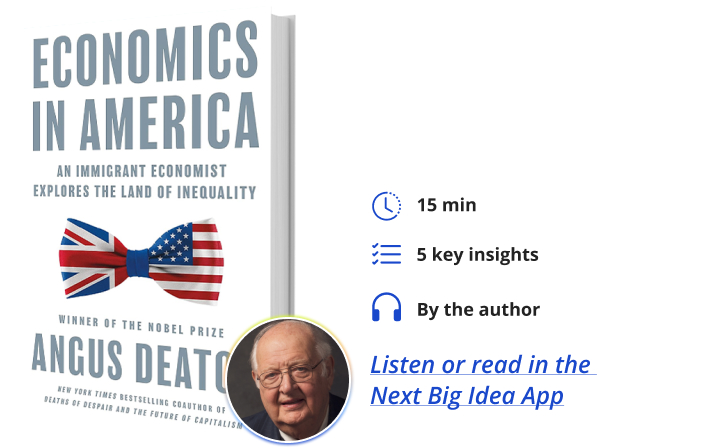 Economics in America: An Immigrant Economist Explores the Land of Inequality
By Angus Deaton
Blending rare personal insights with illuminating perspectives on the social challenges that confront us today, a Nobel Prize-winning economist offers a disarmingly frank critique of his own profession while shining a light on his adopted country's policy accomplishments and failures. Listen to our Book Bite summary, read by author Angus Deaton, in the Next Big Idea App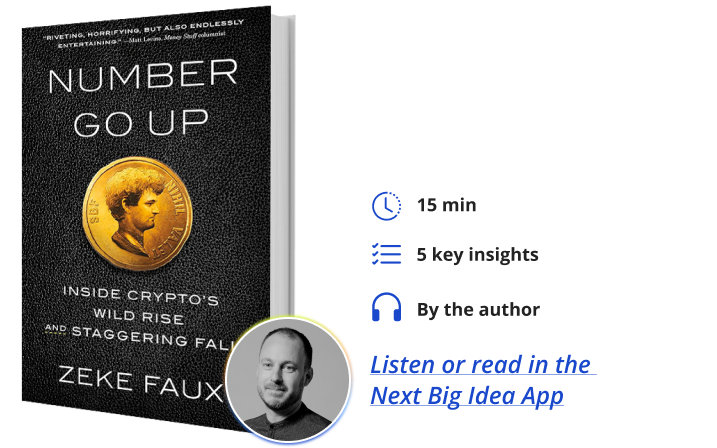 Number Go Up: Inside Crypto's Wild Rise and Staggering Fall
By Zeke Faux
As he observed the cryptocurrency frenzy, an investigative reporter had a nagging question: Was it all just a confidence game of epic proportions? What started as curiosity—with a dash of FOMO—would morph into a two-year, globe-spanning quest to understand the wizards behind the world's new financial machinery. Listen to our Book Bite summary, read by author Zeke Faux, in the Next Big Idea App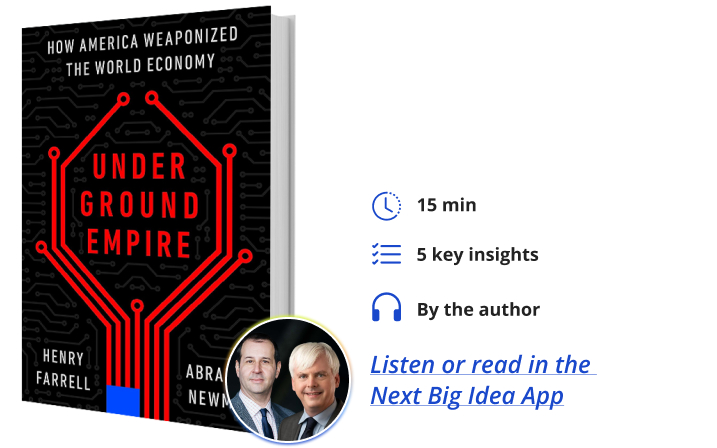 Underground Empire: How America Weaponized the World Economy
By Abraham Newman and Henry Farrell
A deeply researched investigation that reveals how the United States is like a spider at the heart of an international web of surveillance and control, which it weaves in the form of globe-spanning networks such as fiber optic cables and obscure payment systems. Listen to our Book Bite summary, read by co-author Abraham Newman, in the Next Big Idea App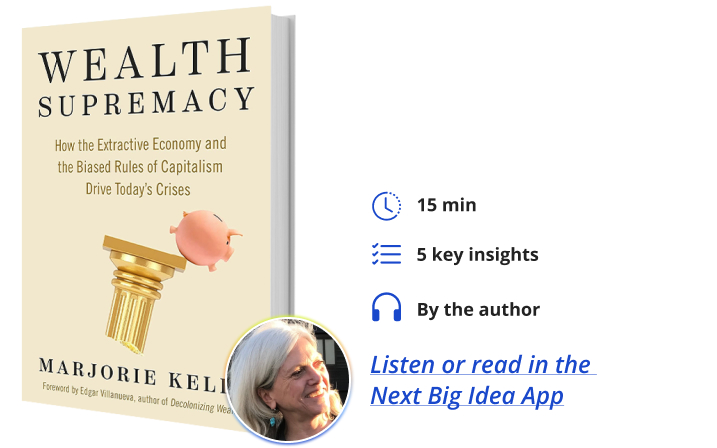 Wealth Supremacy: How the Extractive Economy and the Biased Rules of Capitalism Drive Today's Crises
By Marjorie Kelly
A powerful analysis of how the bias towards wealth that is woven into the very fabric of American capitalism is damaging people, the economy, and the planet, and what the foundations of a new economy could be. Listen to our Book Bite summary, read by author Marjorie Kelly, in the Next Big Idea App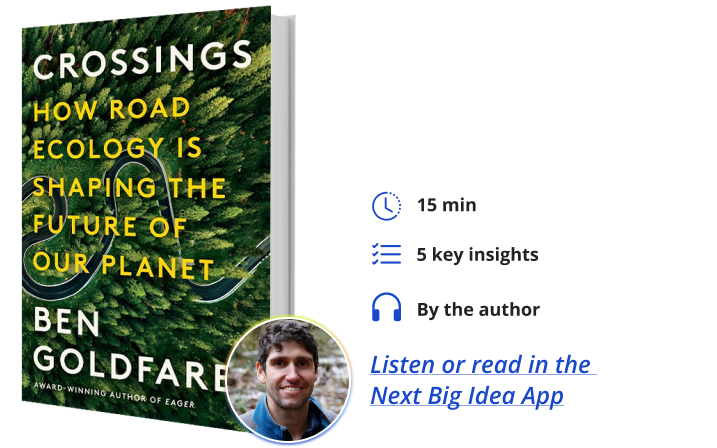 Crossings: How Road Ecology Is Shaping the Future of Our Planet
By Ben Goldfarb
Written with passion and curiosity, Crossings is a sweeping, spirited, and timely investigation into how humans have altered the natural world―and how we can create a better future for all living beings. Listen to our Book Bite summary, read by author Ben Goldfarb, in the Next Big Idea App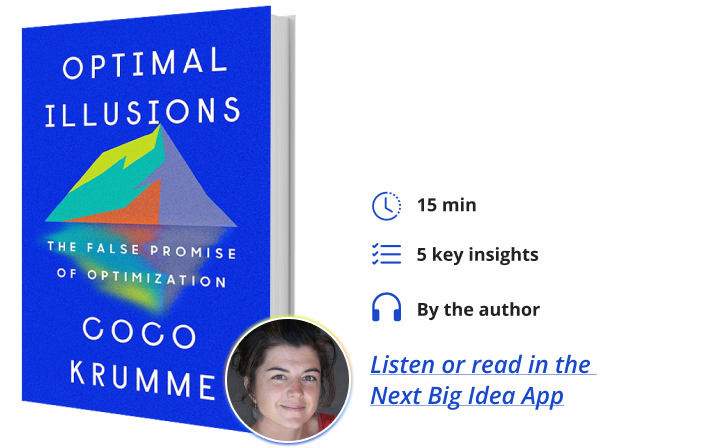 Optimal Illusions: The False Promise of Optimization
By Coco Krumme
Streamlined systems are less resilient and more at risk of failure. They limit our options and narrow our perspectives. The malaise of living in an optimized society can feel profoundly inhumane. Optimal Illusions exposes the sizable bargains we have made in the name of optimization and asks us to consider what comes next. Listen to our Book Bite summary, read by author Coco Krumme, in the Next Big Idea App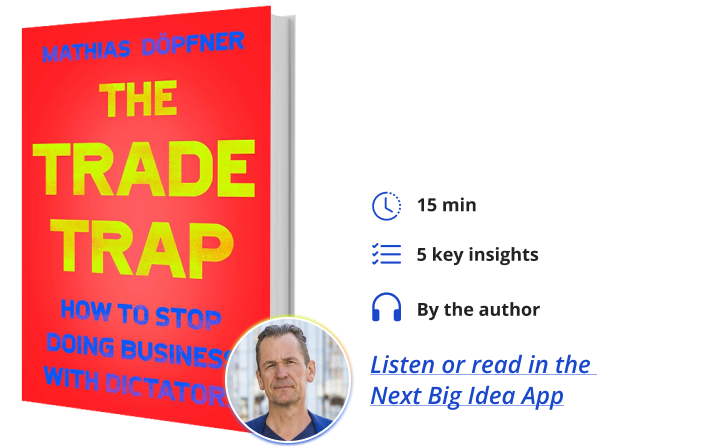 The Trade Trap: How to Stop Doing Business with Dictators
By Mathias Döpfner
Sharing the author's encounters with major global figures including Vladimir Putin, Recep Tayyip Erdogan, George W. Bush, Angela Merkel, Jack Ma, and more, The Trade Trap offers personal insight into the dangerous consequences of doing business with autocrats, along with a bold proposal for a values-based trade policy. Listen to our Book Bite summary, read by author Mathias Döpfner, in the Next Big Idea App
The Key Ideas in 15 Minutes
"If you are going to get anywhere in life, you have to read a lot of books," Roald Dahl once famously said. The only trouble is, reading even one book from cover to cover takes hours—and you may not have many hours to spare.
But imagine for a moment: What if you could read a groundbreaking new book every day? Or even better, what if you could invite a world-renowned thinker into your earbuds, where they personally describe the 5 key takeaways from their work in just 15 minutes?
With the Next Big Idea App, we've turned this fantasy into a reality. We partnered with hundreds of acclaimed authors to create "Book Bites," short audio summaries of the latest nonfiction that are prepared and read aloud by the authors themselves. Discover cutting-edge leadership skills, productivity hacks, the science of happiness and well-being, and much more—all in the time it takes to drive to work or walk the dog.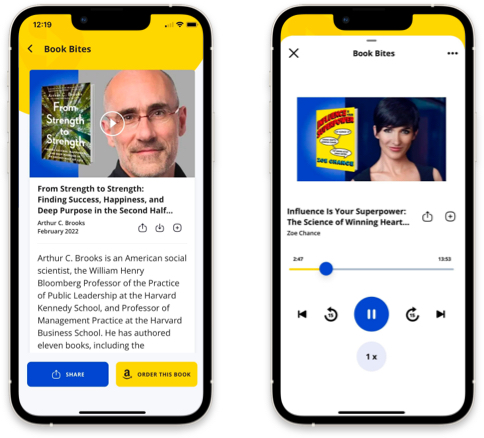 "I love this app! The Book Bites are brilliant, perfect to have in airports, waiting rooms, anywhere I need to not doomscroll… You guys are the best!" – Missy G.
Go Deeper with a Next Big Idea Club Membership
The Next Big Idea App is free for anyone to try—and if you love it, we invite you to become an official member of the Next Big Idea Club. Membership grants you unlimited access to Book Bites and unlocks early-release, ad-free episodes of our LinkedIn-partnered podcast. You also gain entry to our private online discussion group, where you can talk big ideas with fellow club members and join exclusive live Q&A sessions with featured authors.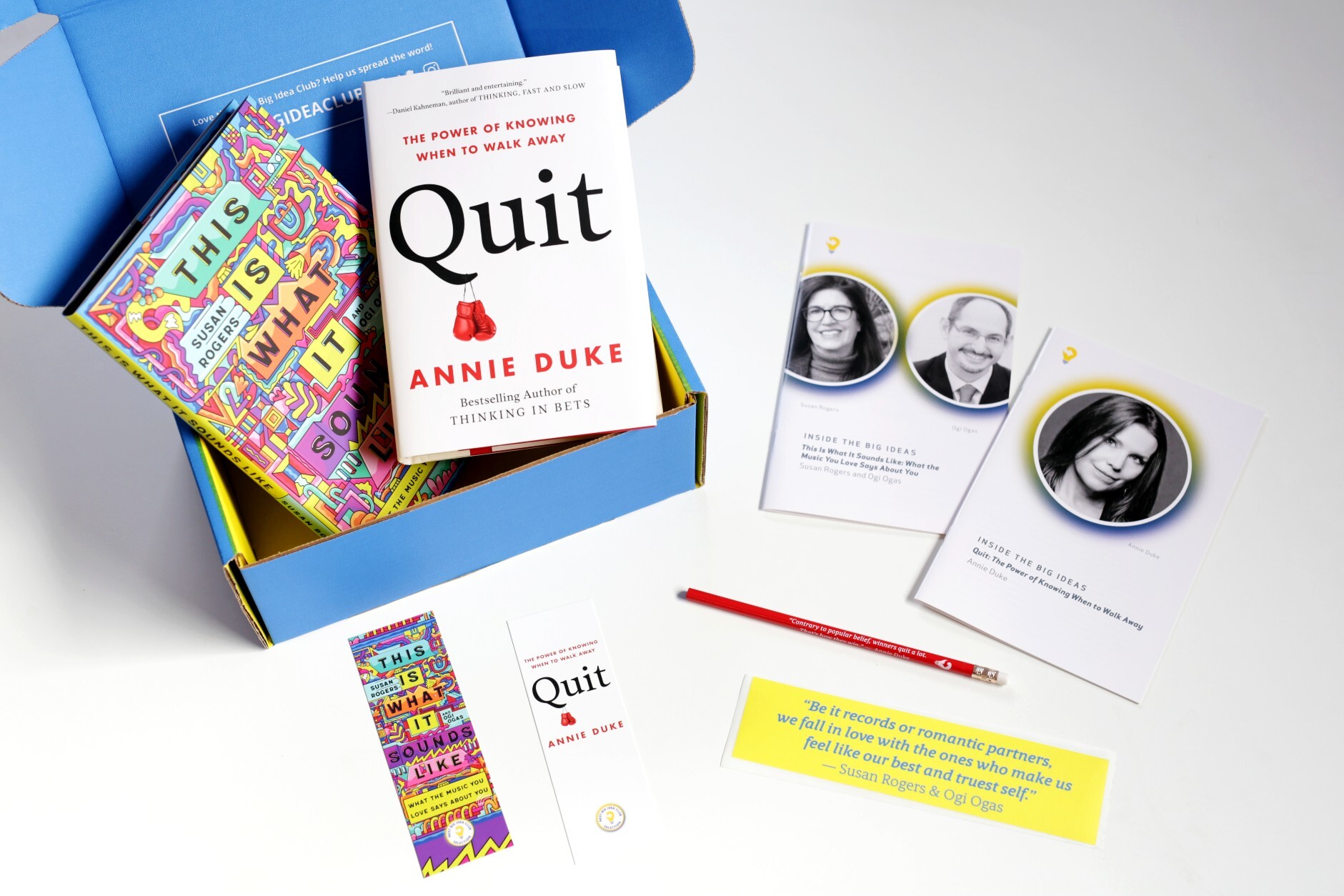 For a more focused learning experience, we recommend a Hardcover or eBook Membership. Every few months, legendary authors and club curators Malcolm Gladwell, Susan Cain, Adam Grant, and Daniel Pink select two new nonfiction books as the must-reads of the season. We then send hardcover copies straight to your doorstep, or eBook versions to your favorite digital device. We also collaborate with the authors of selected books to produce original reading guides and premium video e-courses, 50-minute master classes that take you step by step through their most life-changing ideas. And yes, it's all available through the Next Big Idea App.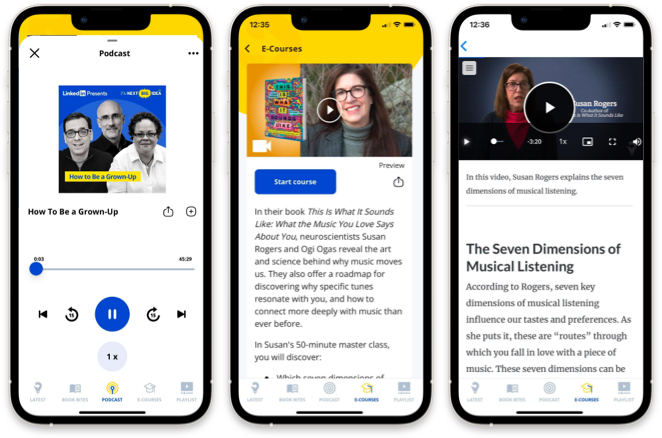 "My biggest Thank You is for the quality of book selections so far. I look on my shelf and see these great titles, and I find myself taking down one or two each month to reread an underlined passage. Full marks to all involved!" – Tim K.
Learn Faster, from the World's Leading Thinkers
Whether you prefer to read, listen, or watch, the Next Big Idea is here to help you work smarter and live better. Wake up with an always-fresh Idea of the Day, the perfect shot of inspiration to go with your morning coffee. Then dive into one of our Challenges, hand-picked collections of Book Bites that form crash courses in subjects like communication, motivation, and career acceleration. Later, watch the playback of an interview with U.S. Surgeon General Vivek Murthy, Stanford psychologist Jennifer Eberhardt, or philosopher John Kaag. And be sure to check the "Events" tab in the app, so that you can join an upcoming live Q&A and personally chat with the next featured thought leader.
If you're hoping to grow as a person or as a professional, we hope you'll join us and tens of thousands of others who enjoy the Next Big Idea. Get started by downloading the app today!