At the heart of most history classes is a seemingly obvious but not-quite-true notion: that the events covered in your textbook all happened exactly as described. At least, you'd better think so if you hope to pass the next pop quiz.
But the truth is far more interesting. In fact, history is being literally and figuratively rewritten all the time as new evidence is brought to light. So to find out what new developments are changing the way we think about history, check out the seven mind-blowing new books below.
Learn something new every day with "Book Bites," 15-minute audio summaries of the latest and greatest nonfiction. Get started by downloading the Next Big Idea App today!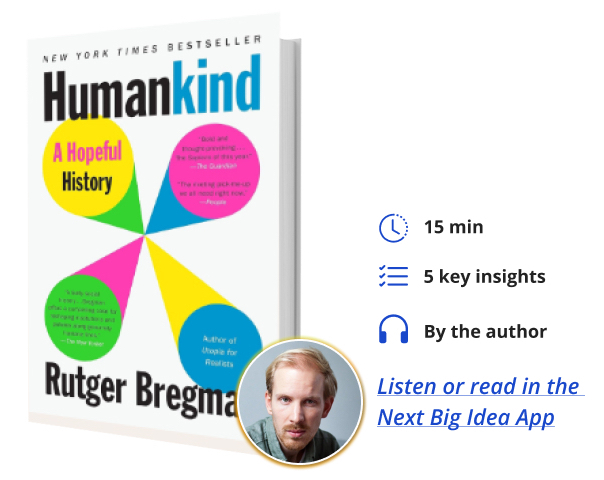 Humankind: A Hopeful History
By Rutger Bregman
Humankind provides new perspective on the past 200,000 years of human history, setting out to prove that we are hardwired for kindness, geared toward cooperation rather than competition, and more inclined to trust rather than distrust one another. Listen to our Book Bite summary, read by author Rutger Bregman, in the Next Big Idea App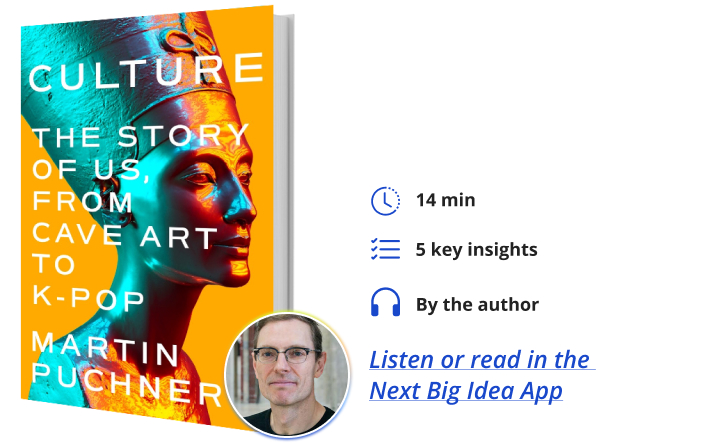 Culture: The Story of Us, from Cave Art to K-Pop
By Martin Puchner
An acclaimed author, professor, and public intellectual takes us on a breakneck tour through pivotal moments in world history, providing a global introduction to the arts and humanities in one engaging volume. Listen to our Book Bite summary, read by author Martin Puchner, in the Next Big Idea App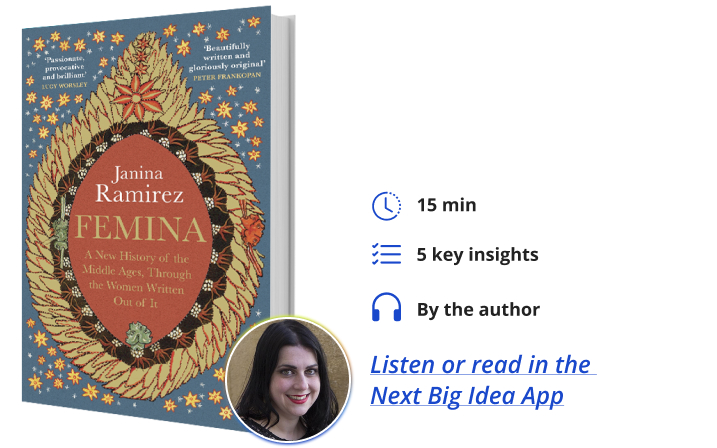 Femina: A New History of the Middle Ages, Through the Women Written Out of It
By Janina Ramirez
An Oxford and BBC historian offers a groundbreaking reappraisal of medieval femininity, revealing why women have been written out of history—and why it matters. Listen to our Book Bite summary, read by author Janina Ramirez, in the Next Big Idea App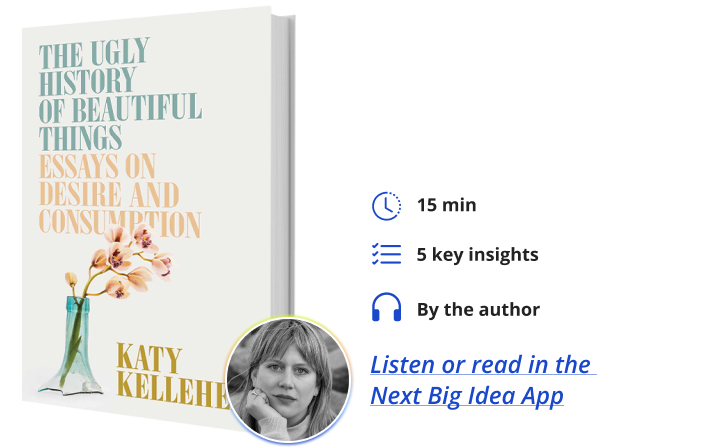 The Ugly History of Beautiful Things: Essays on Desire and Consumption
By Katy Kelleher
A beloved Paris Review contributor explores our obsession with gorgeous things, unveiling the fraught histories of makeup, flowers, perfume, silk, and other beautiful objects. Listen to our Book Bite summary, read by author Katy Kelleher, in the Next Big Idea App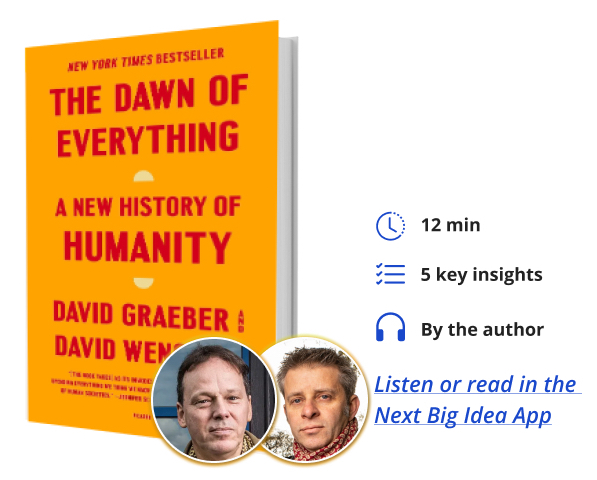 The Dawn of Everything: A New History of Humanity
By David Graeber and David Wengrow
A dramatically new understanding of human history, challenging our most fundamental assumptions about social evolution―from the development of agriculture and cities to the origins of the state, democracy, and inequality―and revealing new possibilities for human emancipation. Listen to our Book Bite summary, read by co-author David Wengrow, in the Next Big Idea App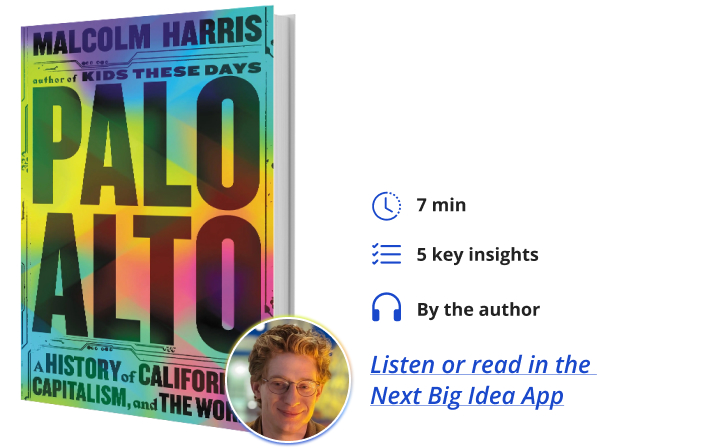 Palo Alto: A History of California, Capitalism, and the World
By Malcolm Harris
The first comprehensive, global history of Silicon Valley examines how and why Northern California evolved in the particular, consequential way it did, tracing the ideologies, technologies, and policies that have been engineered there over the course of 150 years of Anglo settler colonialism. Listen to our Book Bite summary, read by author Malcolm Harris, in the Next Big Idea App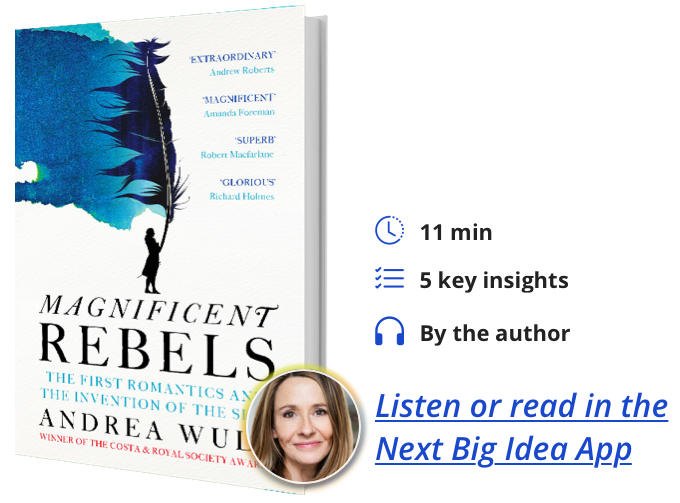 Magnificent Rebels: The First Romantics and the Invention of the Self
By Andrea Wulf
An exhilarating story about a remarkable group of young rebels—poets, novelists, philosophers—who, through their epic quarrels, passionate love stories, heartbreaking grief, and radical ideas launched Romanticism onto the world stage, inspiring some of the greatest thinkers of the time. Listen to our Book Bite summary, read by author Andrea Wulf, in the Next Big Idea App
The Key Ideas in 15 Minutes
"If you are going to get anywhere in life, you have to read a lot of books," Roald Dahl once famously said. The only trouble is, reading even one book from cover to cover takes hours—and you may not have many hours to spare.
But imagine for a moment: What if you could read a groundbreaking new book every day? Or even better, what if you could invite a world-renowned thinker into your earbuds, where they personally describe the 5 key takeaways from their work in just 15 minutes?
With the Next Big Idea App, we've turned this fantasy into a reality. We partnered with hundreds of acclaimed authors to create "Book Bites," short audio summaries of the latest nonfiction that are prepared and read aloud by the authors themselves. Discover cutting-edge leadership skills, productivity hacks, the science of happiness and well-being, and much more—all in the time it takes to drive to work or walk the dog.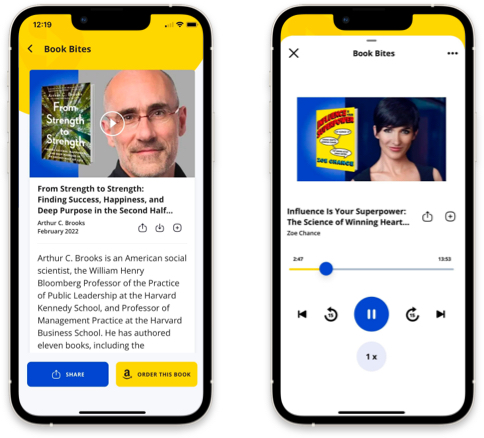 "I love this app! The Book Bites are brilliant, perfect to have in airports, waiting rooms, anywhere I need to not doomscroll… You guys are the best!" – Missy G.
Go Deeper with a Next Big Idea Club Membership
The Next Big Idea App is free for anyone to try—and if you love it, we invite you to become an official member of the Next Big Idea Club. Membership grants you unlimited access to Book Bites and unlocks early-release, ad-free episodes of our LinkedIn-partnered podcast. You also gain entry to our private online discussion group, where you can talk big ideas with fellow club members and join exclusive live Q&A sessions with featured authors.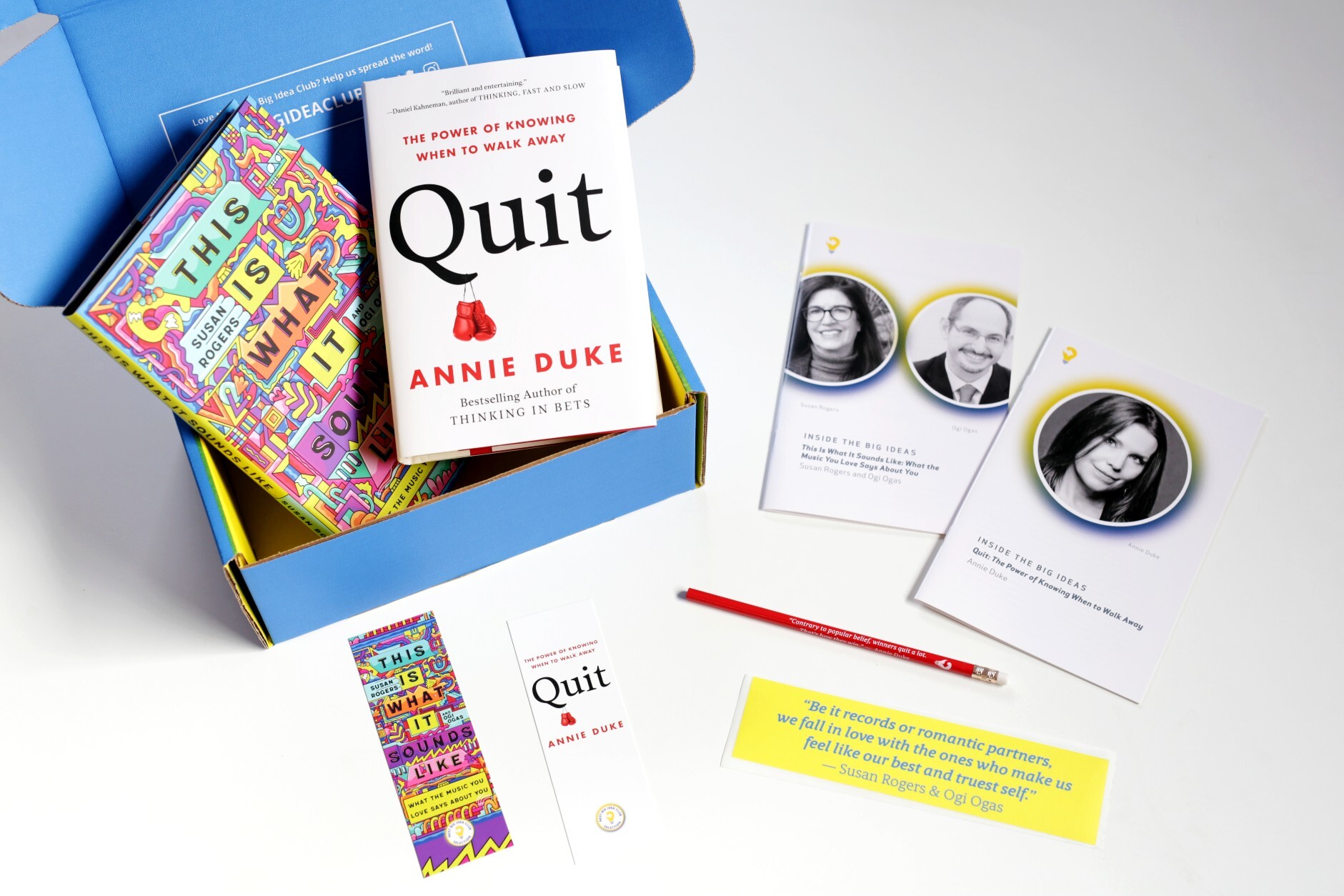 For a more focused learning experience, we recommend a Hardcover or eBook Membership. Every few months, legendary authors and club curators Malcolm Gladwell, Susan Cain, Adam Grant, and Daniel Pink select two new nonfiction books as the must-reads of the season. We then send hardcover copies straight to your doorstep, or eBook versions to your favorite digital device. We also collaborate with the authors of selected books to produce original reading guides and premium video e-courses, 50-minute master classes that take you step by step through their most life-changing ideas. And yes, it's all available through the Next Big Idea App.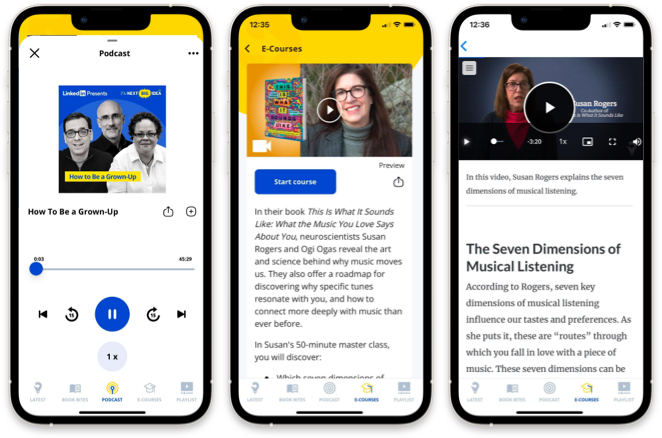 "My biggest Thank You is for the quality of book selections so far. I look on my shelf and see these great titles, and I find myself taking down one or two each month to reread an underlined passage. Full marks to all involved!" – Tim K.
Learn Faster, from the World's Leading Thinkers
Whether you prefer to read, listen, or watch, the Next Big Idea is here to help you work smarter and live better. Wake up with an always-fresh Idea of the Day, the perfect shot of inspiration to go with your morning coffee. Then dive into one of our Challenges, hand-picked collections of Book Bites that form crash courses in subjects like communication, motivation, and career acceleration. Later, watch the playback of an interview with U.S. Surgeon General Vivek Murthy, Stanford psychologist Jennifer Eberhardt, or philosopher John Kaag. And be sure to check the "Events" tab in the app, so that you can join an upcoming live Q&A and personally chat with the next featured thought leader.
If you're hoping to grow as a person or as a professional, we hope you'll join us and tens of thousands of others who enjoy the Next Big Idea. Get started by downloading the app today!