Does it arrive when you accomplish your goals, and reach your full potential? Do you find it by surrounding yourself with wealth and material comforts? Do you feel it when you start looking beyond yourself and living to serve others?
The truth is, everybody has their own ideas on how to find true, lasting happiness. But if you're looking for a bit of guidance, we believe that the seven wise, thought-provoking books below offer some especially good advice.
Learn something new every day with "Book Bites," 15-minute audio summaries of the latest and greatest nonfiction. Get started by downloading the Next Big Idea App today!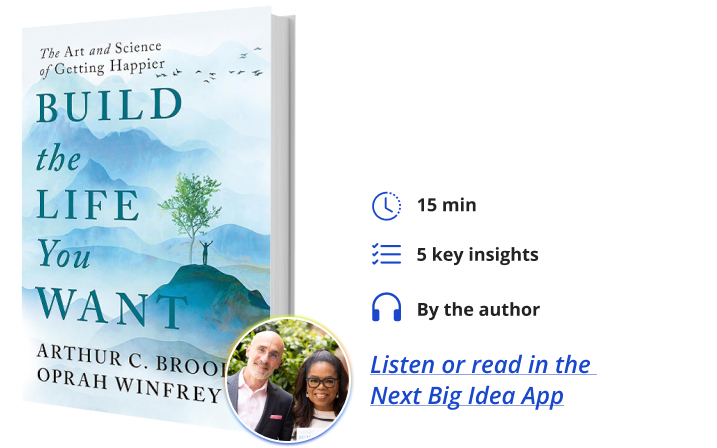 Build the Life You Want: The Art and Science of Getting Happier
By Arthur C. Brooks and Oprah Winfrey
With insight, compassion, and hope, a Harvard professor and a global icon reveal how the tools of emotional self-management can change your life―immediately. They recommend practical, research-based practices to build the four pillars of happiness: family, friendship, work, and faith. Listen to our Book Bite summary, read by co-author Arthur C. Brooks, in the Next Big Idea App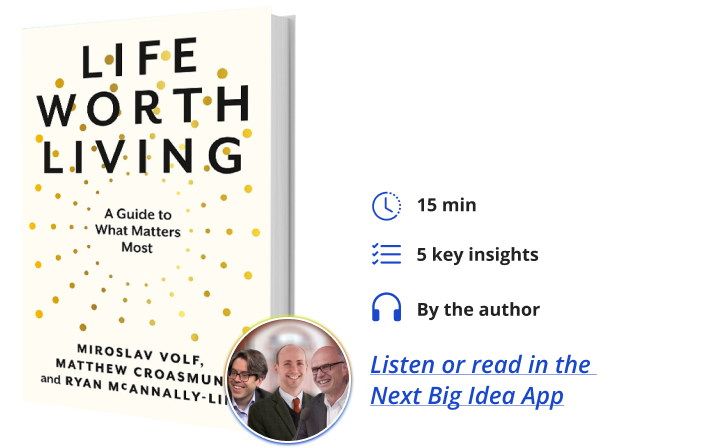 Life Worth Living: A Guide to What Matters Most
By Miroslav Volf, Matthew Croasmun, and Ryan McNally-Linz
In A Life Worth Living, named after its authors' highly sought-after undergraduate course, three Yale University professors provide readers with jumping-off points, road maps, and habits of reflection for figuring out where their lives hold meaning and where things need to change. Listen to our Book Bite summary, read by co-authors Miroslav Volf, Matthew Croasmun, and Ryan McNally-Linz, in the Next Big Idea App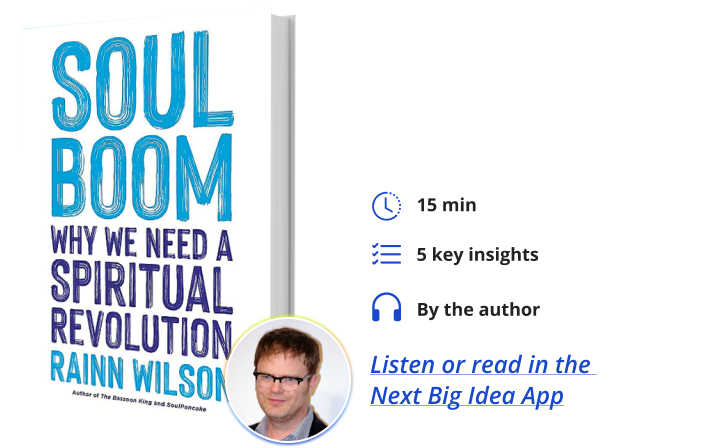 Soul Boom: Why We Need a Spiritual Revolution
By Rainn Wilson
Existing political and economic systems are not enough to bring the change that the world needs. In this enlightening book, a beloved comedic actor explores the possibility and hope for a spiritual revolution, a "Soul Boom," to find a healing transformation on both a personal and global level. Listen to our Book Bite summary, read by author Rainn Wilson, in the Next Big Idea App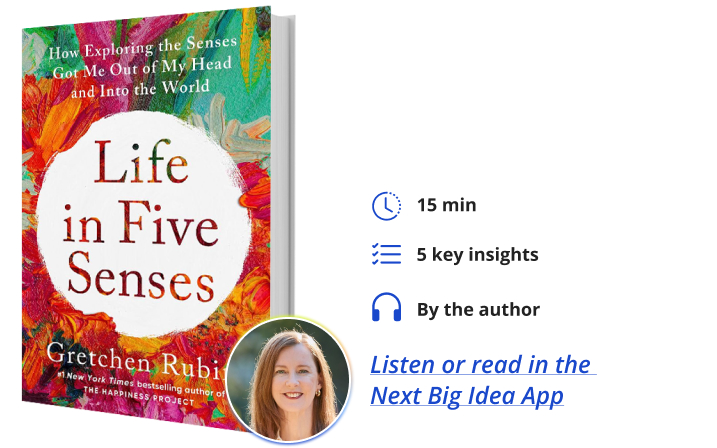 Life in Five Senses: How Exploring the Senses Got Me Out of My Head and Into the World
By Gretchen Rubin
The #1 New York Times bestselling author of The Happiness Project discovers a surprising path to a life of more energy, creativity, luck, and love: by tuning in to the five senses. Listen to our Book Bite summary, read by author Gretchen Rubin, in the Next Big Idea App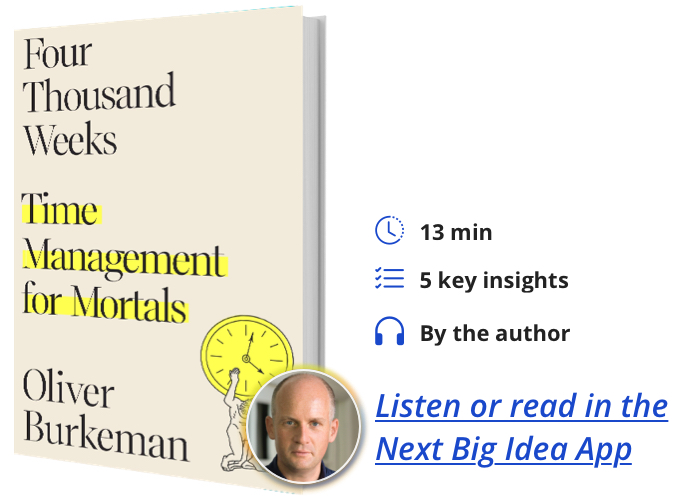 Four Thousand Weeks: Time Management for Mortals
By Oliver Burkeman
An acclaimed Guardian writer offers a lively, entertaining, philosophical guide to time and time management, setting aside superficial efficiency solutions in favor of reckoning with and finding joy in the finitude of human life. Listen to our Book Bite summary, read by author Oliver Burkeman, in the Next Big Idea App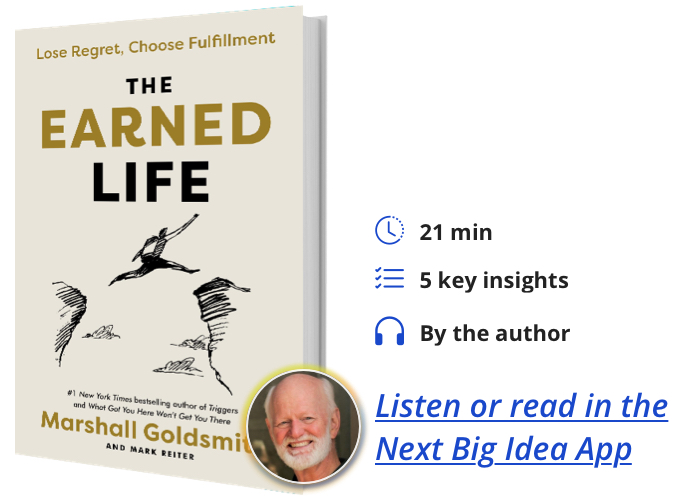 The Earned Life: Lose Regret, Choose Fulfillment
By Marshall Goldsmith and Mark Reiter
Discover the steps to earning your path to fulfillment and living without regrets—from the world-renowned executive coach and New York Times bestselling author of Triggers and What Got You Here Won't Get You There. Listen to our Book Bite summary, read by co-author Marshall Goldsmith, in the Next Big Idea App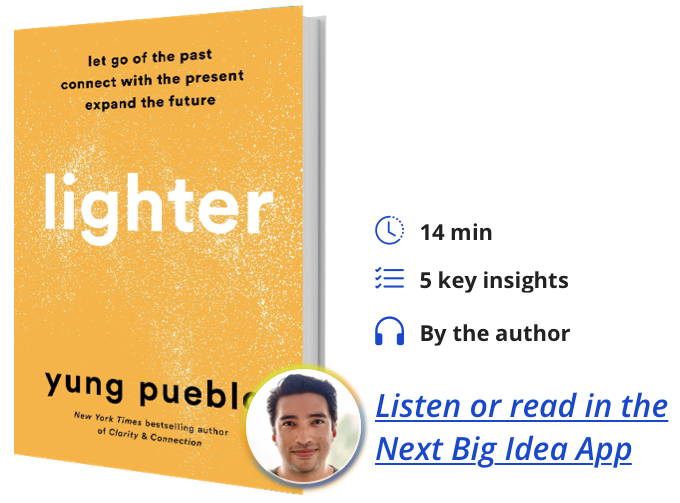 Lighter: Let Go of the Past, Connect with the Present, and Expand the Future
By Yung Pueblo
A radically compassionate plan for turning inward and lifting the heaviness that prevents us from healing ourselves and the world, from the New York Times bestselling author of Clarity & Connection. Listen to our Book Bite summary, read by author Yung Pueblo, in the Next Big Idea App
The Key Ideas in 15 Minutes
"If you are going to get anywhere in life, you have to read a lot of books," Roald Dahl once famously said. The only trouble is, reading even one book from cover to cover takes hours—and you may not have many hours to spare.
But imagine for a moment: What if you could read a groundbreaking new book every day? Or even better, what if you could invite a world-renowned thinker into your earbuds, where they personally describe the 5 key takeaways from their work in just 15 minutes?
With the Next Big Idea App, we've turned this fantasy into a reality. We partnered with hundreds of acclaimed authors to create "Book Bites," short audio summaries of the latest nonfiction that are prepared and read aloud by the authors themselves. Discover cutting-edge leadership skills, productivity hacks, the science of happiness and well-being, and much more—all in the time it takes to drive to work or walk the dog.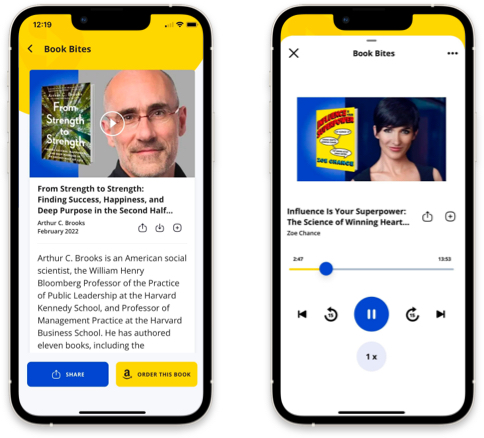 "I love this app! The Book Bites are brilliant, perfect to have in airports, waiting rooms, anywhere I need to not doomscroll… You guys are the best!" – Missy G.
Go Deeper with a Next Big Idea Club Membership
The Next Big Idea App is free for anyone to try—and if you love it, we invite you to become an official member of the Next Big Idea Club. Membership grants you unlimited access to Book Bites and unlocks early-release, ad-free episodes of our LinkedIn-partnered podcast. You also gain entry to our private online discussion group, where you can talk big ideas with fellow club members and join exclusive live Q&A sessions with featured authors.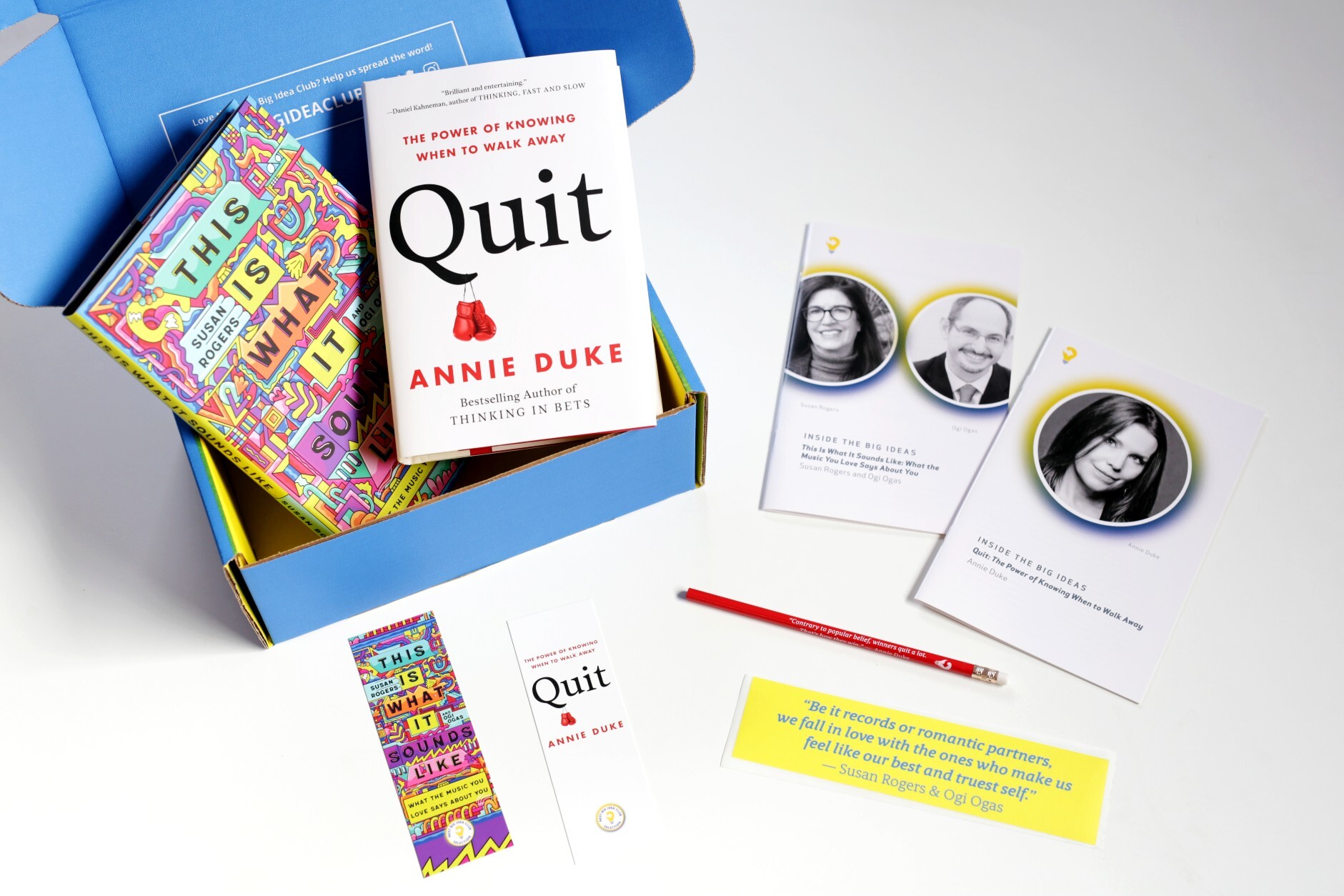 For a more focused learning experience, we recommend a Hardcover or eBook Membership. Every few months, legendary authors and club curators Malcolm Gladwell, Susan Cain, Adam Grant, and Daniel Pink select two new nonfiction books as the must-reads of the season. We then send hardcover copies straight to your doorstep, or eBook versions to your favorite digital device. We also collaborate with the authors of selected books to produce original reading guides and premium video e-courses, 50-minute master classes that take you step by step through their most life-changing ideas. And yes, it's all available through the Next Big Idea App.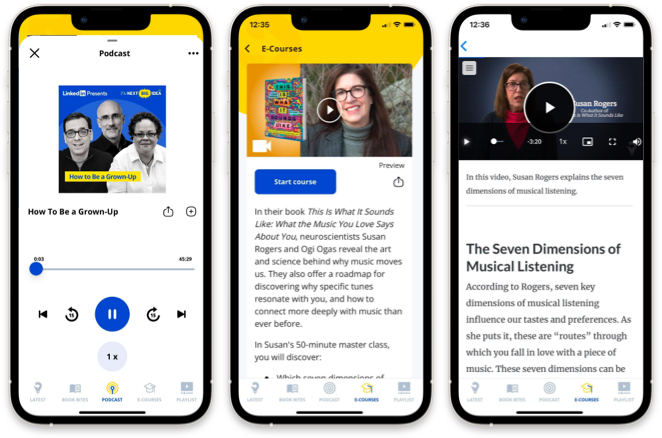 "My biggest Thank You is for the quality of book selections so far. I look on my shelf and see these great titles, and I find myself taking down one or two each month to reread an underlined passage. Full marks to all involved!" – Tim K.
Learn Faster, from the World's Leading Thinkers
Whether you prefer to read, listen, or watch, the Next Big Idea is here to help you work smarter and live better. Wake up with an always-fresh Idea of the Day, the perfect shot of inspiration to go with your morning coffee. Then dive into one of our Challenges, hand-picked collections of Book Bites that form crash courses in subjects like communication, motivation, and career acceleration. Later, watch the playback of an interview with U.S. Surgeon General Vivek Murthy, Stanford psychologist Jennifer Eberhardt, or philosopher John Kaag. And be sure to check the "Events" tab in the app, so that you can join an upcoming live Q&A and personally chat with the next featured thought leader.
If you're hoping to grow as a person or as a professional, we hope you'll join us and tens of thousands of others who enjoy the Next Big Idea. Get started by downloading the app today!