Looking back on 2022, many of us had a tough year. Maybe a cherished relationship fell apart, maybe we made a difficult move to a new city, or maybe the job we once loved started to feel meaningless. As a result, we're left feeling despondent and adrift.
But there's good news here: Whatever challenge you may be facing, a handful of new philosophy books can help. If you're ready to embrace a better, wiser 2023, the eight reads below point the way toward greater happiness, fulfillment, and meaning.
Download the Next Big Idea App for "Book Bite" summaries of hundreds of new nonfiction books like these—all prepared and read by the authors themselves.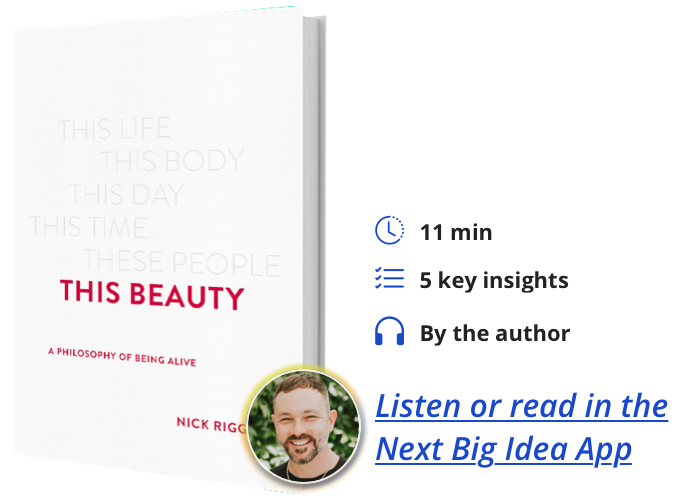 This Beauty: A Philosophy of Being Alive
By Nick Riggle
Drawing on insights from aesthetics and his experiences as a professional skater and new father, a University of San Diego philosopher shows us how we can understand the idea that life is beautiful enough to bear repeating. Listen to our Book Bite summary, read by author Nick Riggle, in the Next Big Idea App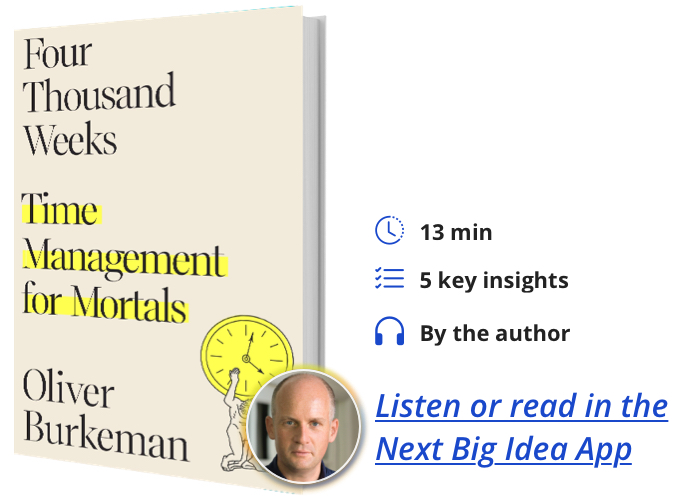 Four Thousand Weeks: Time Management for Mortals
By Oliver Burkeman
An acclaimed Guardian writer offers a lively, entertaining, philosophical guide to time and time management, setting aside superficial efficiency solutions in favor of reckoning with and finding joy in the finitude of human life. Listen to our Book Bite summary, read by author Oliver Burkeman, in the Next Big Idea App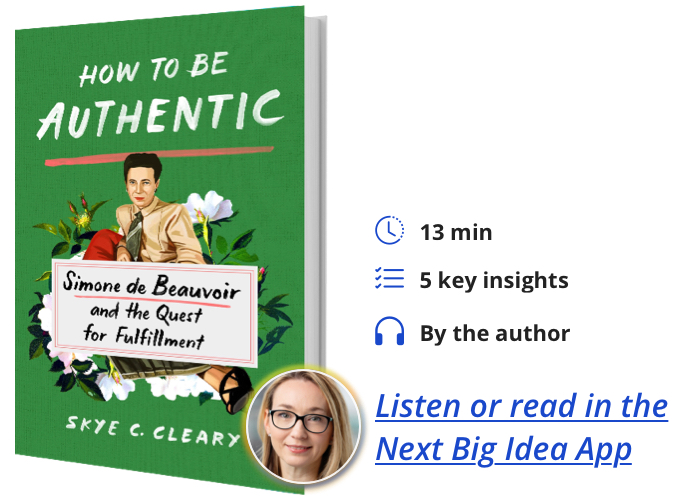 How to Be Authentic: Simone de Beauvoir and the Quest for Fulfillment
By Skye C. Cleary
How to Be Authentic is a lively introduction to Simone de Beauvoir's philosophy of existentialism, as well as an exploration of the successes and failures that Beauvoir and other women have experienced in striving towards authenticity. Listen to our Book Bite summary, read by author Skye Cleary, in the Next Big Idea App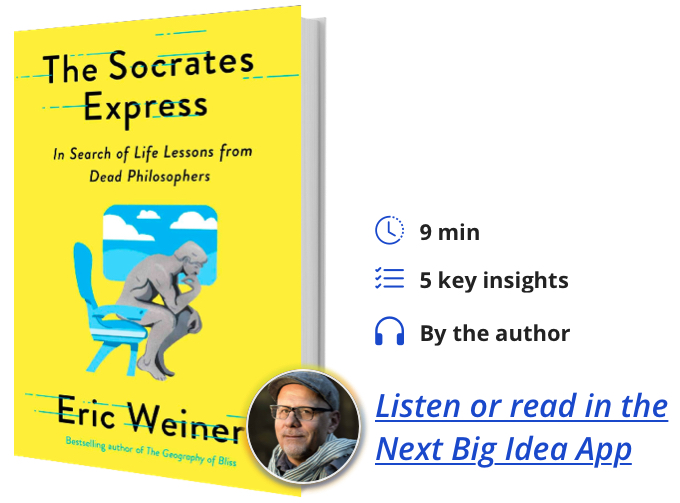 The Socrates Express: Searching for Life Lessons from Dead Philosophers
By Eric Weiner
The bestselling author of The Geography of Bliss embarks on a rollicking intellectual journey, following in the footsteps of history's greatest thinkers and showing us how each—from Epicurus to Gandhi, Thoreau to Beauvoir—offers practical and spiritual lessons for today's unsettled times. Listen to our Book Bite summary, read by author Eric Weiner, in the Next Big Idea App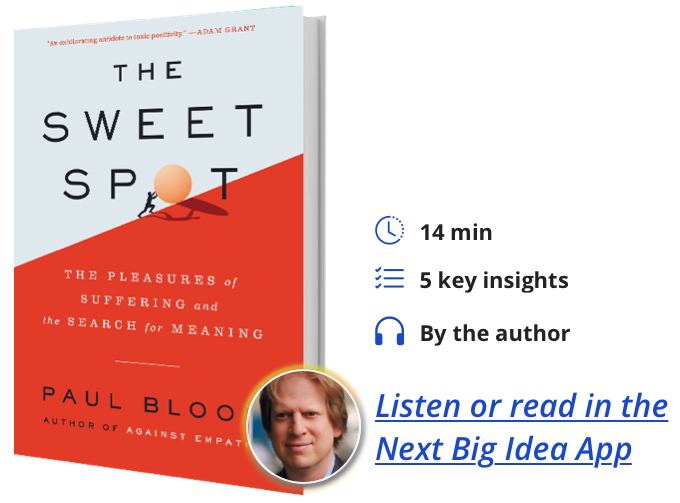 The Sweet Spot: The Pleasures of Suffering and the Search for Meaning
By Paul Bloom
Drawing on groundbreaking findings from psychology and brain science, a University of Toronto professor shows how the right kind of suffering sets the stage for enhanced pleasure. Listen to our Book Bite summary, read by author Paul Bloom, in the Next Big Idea App
The Good Life Method: Reasoning Through the Big Questions of Happiness, Faith, and Meaning
By Meghan Sullivan and Paul Blaschko
Two Notre Dame philosophy professors invite us into the classroom to investigate what figures such as Aristotle, Plato, Marcus Aurelius, Iris Murdoch, and W. E. B. Du Bois have to say about how to live well. Listen to our Book Bite summary, read by co-authors Meghan Sullivan and Paul Blaschko, in the Next Big Idea App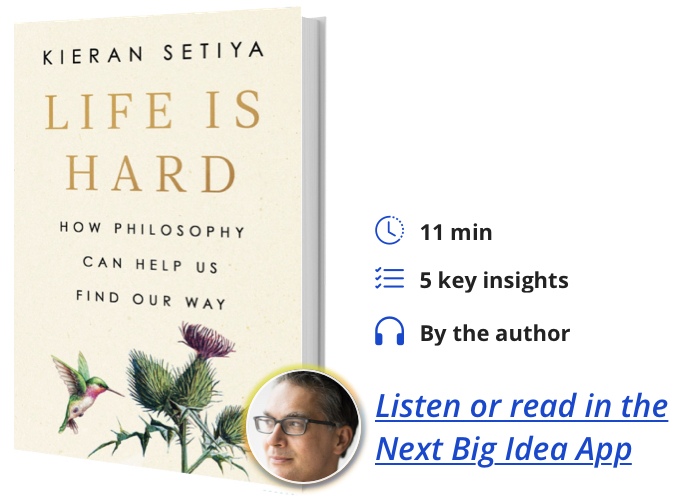 Life Is Hard: How Philosophy Can Help Us Find Our Way
By Kieran Setiya
Warm, accessible, and good-humored, this book is about making the best of a bad lot. It offers guidance for coping with pain and making new friends, for grieving the lost and failing with grace, for confronting injustice and searching for meaning in life. Listen to our Book Bite summary, read by author Kieran Setiya, in the Next Big Idea App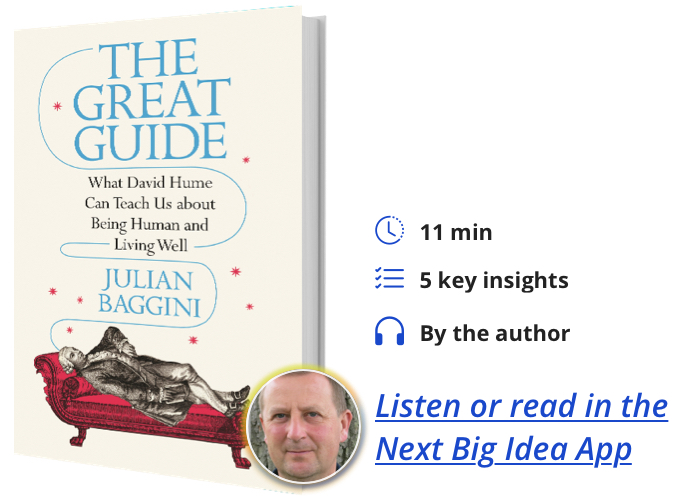 The Great Guide: What David Hume Can Teach Us About Being Human and Living Well
By Julian Baggini
An acclaimed philosopher gives us a complete vision of David Hume's guide to life, including topics ranging from the meaning of success and the value of travel to friendship, facing death, identity, and the importance of leisure. Listen to our Book Bite summary, read by author Julian Baggini, in the Next Big Idea App
To enjoy Book Bites from anywhere, download the Next Big Idea app today: