Career success looks different for everyone. Maybe you want the corner office, or maybe you want a home office. Maybe you want to start your own company, or maybe you care most about making a difference.
What these varied dreams of success have in common is the difficulty you may find in reaching them. So whatever it means for you to be successful, check out the nine excellent books below to move a little closer to your goals.
Learn something new every day with "Book Bites," 15-minute audio summaries of the latest and greatest nonfiction. Get started by downloading the Next Big Idea App today!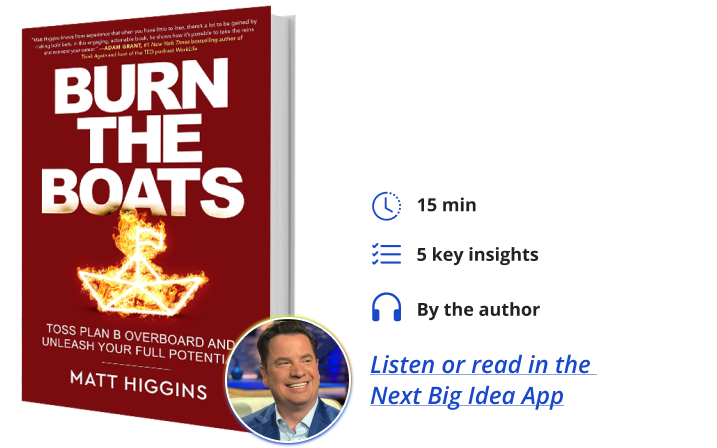 Burn the Boats: Toss Plan B Overboard and Unleash Your Full Potential
By Matt Higgins
An executive fellow at Harvard Business School and famed angel investor reveals the counterintuitive formula for a life of perpetual growth that has been practiced for thousands of years by military leaders and serial entrepreneurs alike. Listen to our Book Bite summary, read by author Matt Higgins, in the Next Big Idea App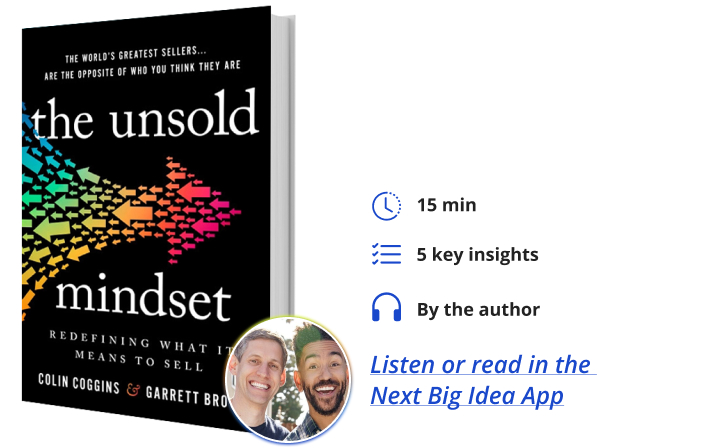 The Unsold Mindset: Redefining What It Means to Sell
By Colin Coggins and Garrett Brown
Being a good person and a good salesperson aren't mutually exclusive. The Unsold Mindset will change the way you think about selling and the way you think about yourself. Listen to our Book Bite summary, read by co-authors Colin Coggins and Garrett Brown, in the Next Big Idea App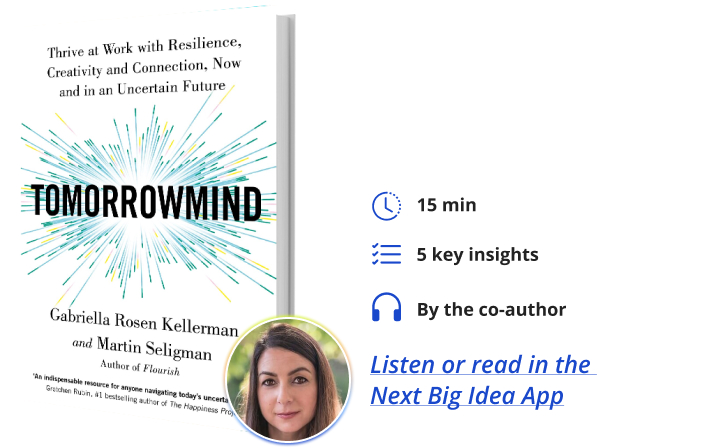 Tomorrowmind: Thriving at Work with Resilience, Creativity, and Connection―Now and in an Uncertain Future
By Gabriella Rosen Kellerman and Martin Seligman
Thrive in your career with this radical, future-proofed approach to work in a world where automation, globalization, and downsizing are an urgent and threatening reality. Listen to our Book Bite summary, read by co-author Gabriella Rosen Kellerman, in the Next Big Idea App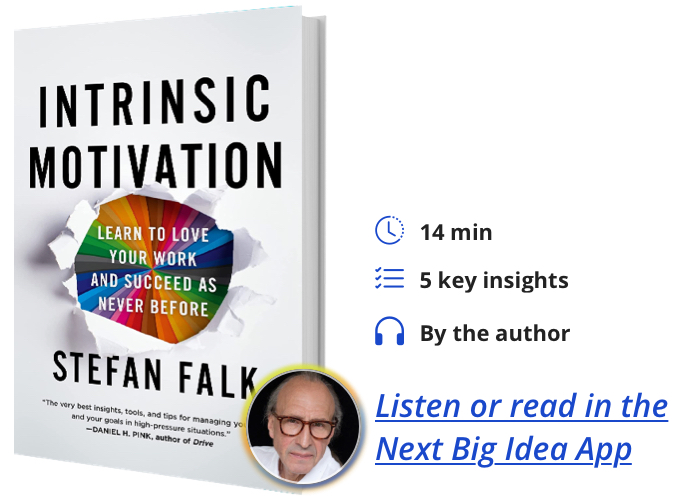 Intrinsic Motivation: Learn to Love Your Work and Succeed as Never Before
By Stefan Falk
Intrinsic motivation―doing a thing for its inherent satisfaction rather than external rewards―is the key to success and satisfaction in any endeavor. A legendary performance coach shares his simple, proven, and fun methods for cultivating and keeping it. Listen to our Book Bite summary, read by author Stefan Falk, in the Next Big Idea App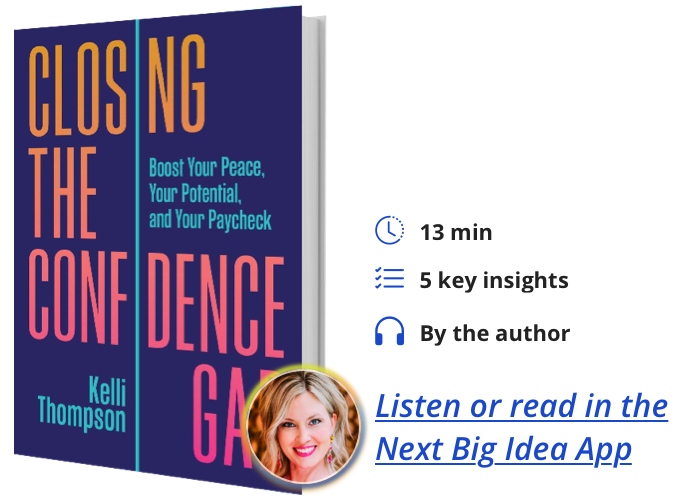 Closing the Confidence Gap: Boost Your Peace, Your Potential, and Your Paycheck
By Kelli Thompson
Closing the Confidence Gap will show you how to advance with confidence, despite the systemic issues that women face every day at work. You'll hear deeply personal stories and walk away with practical tools to show you how to claim your role as a confident leader. Listen to our Book Bite summary, read by author Kelli Thompson, in the Next Big Idea App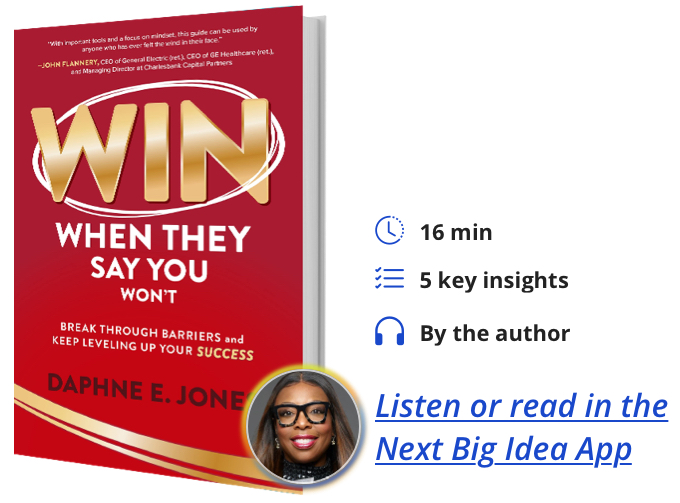 Win When They Say You Won't: Break Through Barriers and Keep Leveling Up Your Success
By Daphne Jones
Win When They Say You Won't provides the inspiration, insights, and tools you need to deconstruct any momentum that has been set against you and take your career to the next level―starting now. Listen to our Book Bite summary, read by author Daphne Jones, in the Next Big Idea App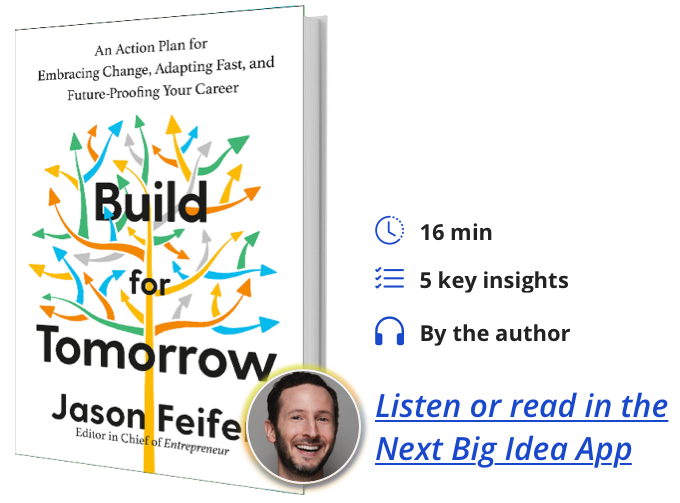 Build for Tomorrow: An Action Plan for Embracing Change, Adapting Fast, and Future-Proofing Your Career
By Jason Feifer
The moments of greatest change can also be the moments of greatest opportunity. Adapt more quickly and use the power of change to your advantage with this guide from the editor in chief of Entrepreneur magazine and host of the Build for Tomorrow podcast. Listen to our Book Bite summary, read by author Jason Feifer, in the Next Big Idea App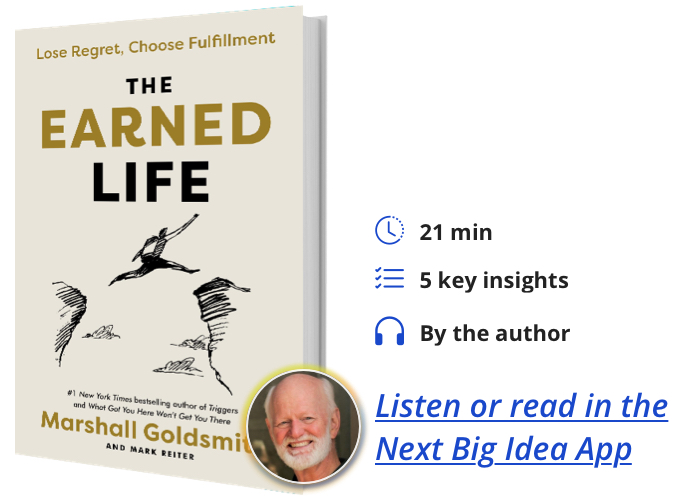 The Earned Life: Lose Regret, Choose Fulfillment
By Marshall Goldsmith and Mark Reiter
Discover the steps to earning your path to fulfillment and living without regrets—from the world-renowned executive coach and New York Times bestselling author of Triggers and What Got You Here Won't Get You There. Listen to our Book Bite summary, read by co-author Marshall Goldsmith, in the Next Big Idea App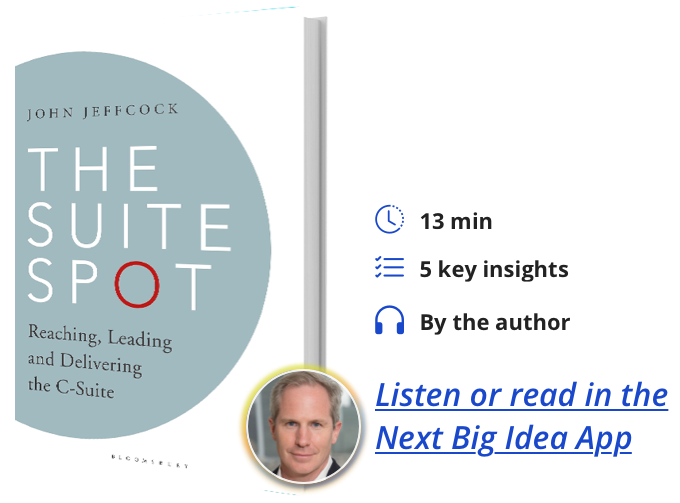 The Suite Spot: Reaching, Leading and Delivering the C-Suite
By John Jeffcock
The Suite Spot provides unique guidance on how to break into the C-Suite, and then how to be successful in the space through a unique combination of models, case studies, tables, and images that illustrate the key points in a practical and meaningful way. Listen to our Book Bite summary, read by author John Jeffcock, in the Next Big Idea App
The Key Ideas in 15 Minutes
"If you are going to get anywhere in life, you have to read a lot of books," Roald Dahl once famously said. The only trouble is, reading even one book from cover to cover takes hours—and you may not have many hours to spare.
But imagine for a moment: What if you could read a groundbreaking new book every day? Or even better, what if you could invite a world-renowned thinker into your earbuds, where they personally describe the 5 key takeaways from their work in just 15 minutes?
With the Next Big Idea App, we've turned this fantasy into a reality. We partnered with hundreds of acclaimed authors to create "Book Bites," short audio summaries of the latest nonfiction that are prepared and read aloud by the authors themselves. Discover cutting-edge leadership skills, productivity hacks, the science of happiness and well-being, and much more—all in the time it takes to drive to work or walk the dog.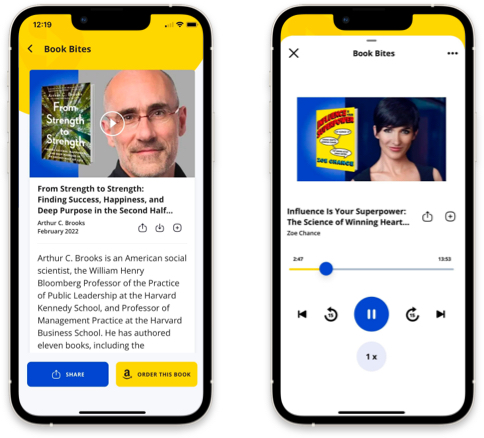 "I love this app! The Book Bites are brilliant, perfect to have in airports, waiting rooms, anywhere I need to not doomscroll… You guys are the best!" – Missy G.
Go Deeper with a Next Big Idea Club Membership
The Next Big Idea App is free for anyone to try—and if you love it, we invite you to become an official member of the Next Big Idea Club. Membership grants you unlimited access to Book Bites and unlocks early-release, ad-free episodes of our LinkedIn-partnered podcast. You also gain entry to our private online discussion group, where you can talk big ideas with fellow club members and join exclusive live Q&A sessions with featured authors.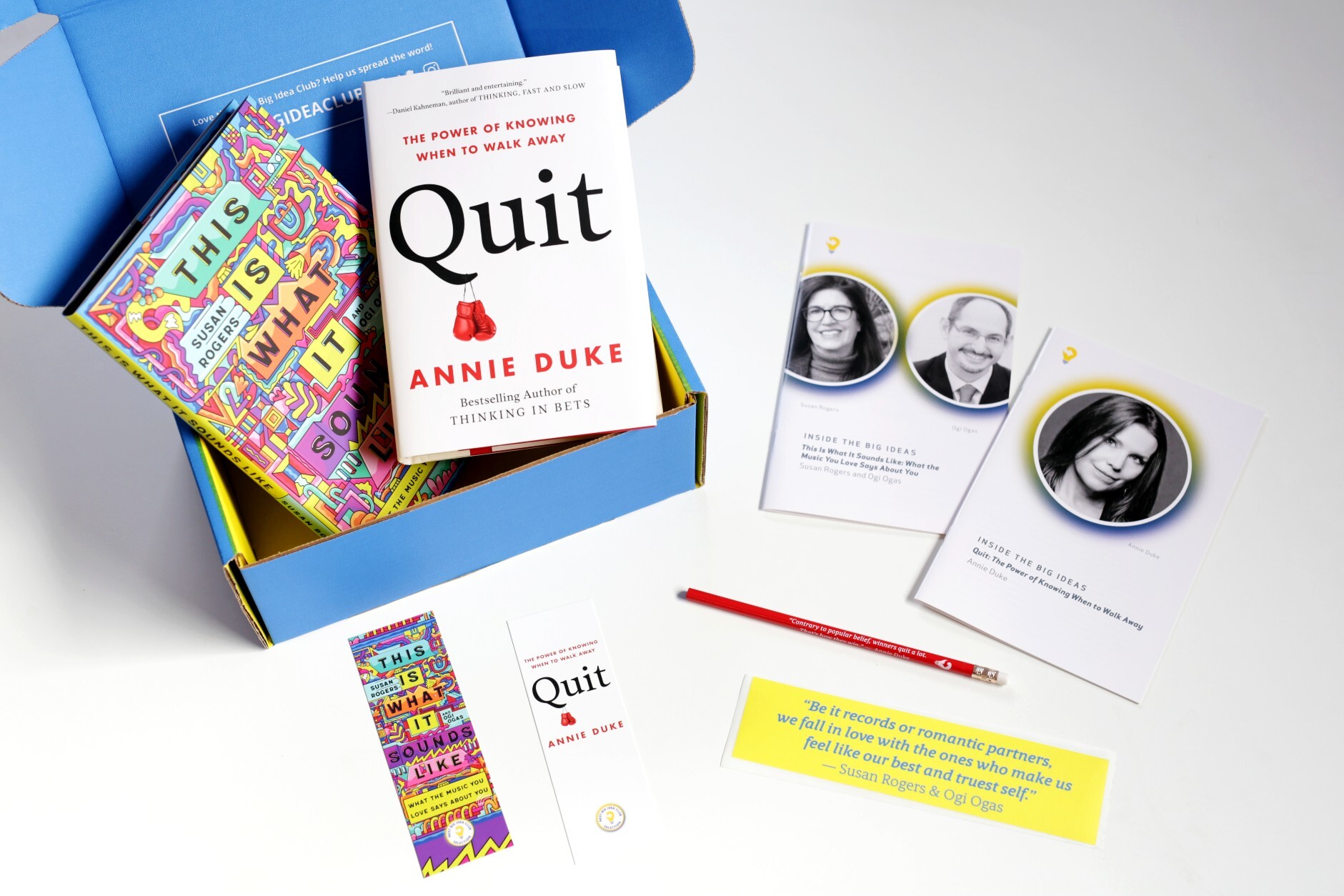 For a more focused learning experience, we recommend a Hardcover or eBook Membership. Every few months, legendary authors and club curators Malcolm Gladwell, Susan Cain, Adam Grant, and Daniel Pink select two new nonfiction books as the must-reads of the season. We then send hardcover copies straight to your doorstep, or eBook versions to your favorite digital device. We also collaborate with the authors of selected books to produce original reading guides and premium video e-courses, 50-minute master classes that take you step by step through their most life-changing ideas. And yes, it's all available through the Next Big Idea App.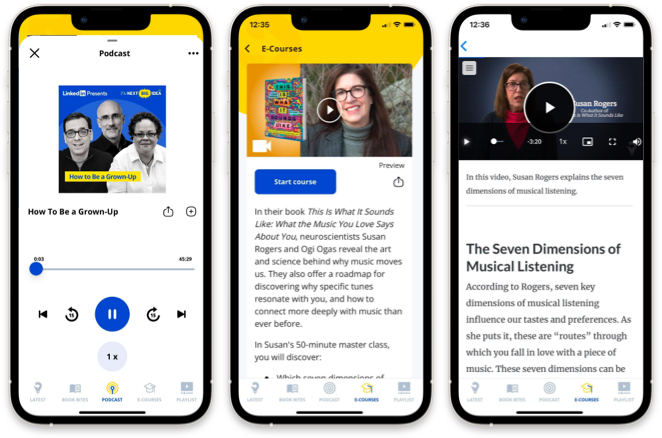 "My biggest Thank You is for the quality of book selections so far. I look on my shelf and see these great titles, and I find myself taking down one or two each month to reread an underlined passage. Full marks to all involved!" – Tim K.
Learn Faster, from the World's Leading Thinkers
Whether you prefer to read, listen, or watch, the Next Big Idea is here to help you work smarter and live better. Wake up with an always-fresh Idea of the Day, the perfect shot of inspiration to go with your morning coffee. Then dive into one of our Challenges, hand-picked collections of Book Bites that form crash courses in subjects like communication, motivation, and career acceleration. Later, watch the playback of an interview with U.S. Surgeon General Vivek Murthy, Stanford psychologist Jennifer Eberhardt, or philosopher John Kaag. And be sure to check the "Events" tab in the app, so that you can join an upcoming live Q&A and personally chat with the next featured thought leader.
If you're hoping to grow as a person or as a professional, we hope you'll join us and tens of thousands of others who enjoy the Next Big Idea. Get started by downloading the app today!