Neil Seeman is a Canadian writer, Internet entrepreneur, and mental health advocate. He is Founder and Chairman of RIWI, of which he was CEO until 2021. He is also a Senior Fellow at the University of Toronto's Institute of Health Policy, Management, and Evaluation, as well as a Senior Academic Advisor to the Investigative Journalism Department. He holds the title of Senior Fellow at Massey College as well.
Below, Neil shares five key insights from his new book, Accelerated Minds: Unlocking the Fascinating, Inspiring, and Often Destructive Impulses that Drive the Entrepreneurial Brain. Listen to the audio version—read by Neil himself—in the Next Big Idea App.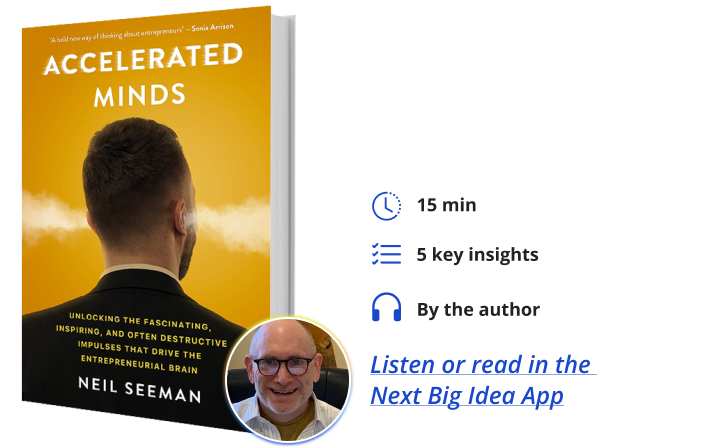 1. Dopamine brings important things sharply into focus.
Dopamine is a chemical that acts in your brain as a neurotransmitter. It gets released by one brain cell and is received by special receptors on other cells. There are five known dopamine receptors. My father's discovery was that one of them, now called the dopamine D2 receptor, is the one that all major antipsychotic drugs attach to. In other words, this is the major pathway by which these drugs work, which was a ground-breaking discovery in 1975.
But dopamine is involved in many functions, not just psychosis. It's involved, importantly, in movement, reward, and risk-taking. It's why I remember the number 82767, the highest number my Apple 1 computer could count to at the time President Ronald Reagan was shot in 1981. It's also why I remember my first word, which was "book," and my second word, which, by all accounts, was "dopamine."
My mom is a psychiatric researcher and my dad was a famous dopamine pharmacologist. When he died in January 2021, the final word he whispered to me was "book." When dopamine floods the brain, it makes whatever is happening, at that moment, important, salient, and pre-eminent. Once that happens, the memory is hard to unlearn.
"It's involved, importantly, in movement, reward, and risk-taking."
For an entrepreneur, particularly a values-based entrepreneur, starting a venture and seeing it through to a pre-determined outcome makes for a dopamine blast that is extraordinarily motivating. But it can also seal in undeserved trust in unreliable associates and predatory investors.
2. We don't talk nearly enough about the real hardships of entrepreneurialism.
You might have noticed that there is a significant lack of discussion around the immense mental health challenges faced by entrepreneurs, as compared to salaried employees. Media references and academic studies about work-life balance for entrepreneurs are significantly less common than articles about mental health for regular workers. Yet research shows that entrepreneurs experience much higher rates of depression, ADHD, substance use, and bipolar disorder, as compared to the general population.
This relative lack of general interest may be due to the misconception that entrepreneurs are typically young, tech-savvy, and financially successful, while the reality is that most entrepreneurs are middle-aged, have one or two decades of work experience, and struggle tremendously in the face of economic instability.
Entrepreneurs are also more likely than most to battle addictions, make irrational business investments, and attempt self-harm or suicide. The word I associate most with entrepreneurship is "failure." Too often, entrepreneurs see themselves as failures. After business ventures fail, they face huge hurdles in finding new employment opportunities.
3. We need straight talk about entrepreneurialism to promote mental health.
The portrayal of entrepreneurs in the media often focuses on high-profile figures with extreme wealth and eccentric behaviors, which overshadows the reality that the majority of entrepreneurs face hardship and huge mental health challenges.
"Many entrepreneurs suffer significant stress, anxiety, and work-life imbalance, often working long hours and struggling with economic troubles."
The typical entrepreneur is often socially awkward, older, and quieter than the media-presented role models. Most entrepreneurs are driven not by a desire to get rich, but by a mission to solve problems to benefit others. The misconception of the average entrepreneur contributes to the lack of attention to their mental health needs, as these are often overlooked in favor of sensational stories about those who are successful and flamboyant.
Many entrepreneurs suffer significant stress, anxiety, and work-life imbalance, often working long hours and struggling with economic troubles. In one job as a founder-operator CEO, I calculated that I worked six and a half days a week from 4 am to 10 pm, on average, each day, for six years. Every day I was paranoid and agitated. Recognizing and addressing the mental health challenges faced by entrepreneurs is crucial for supporting their well-being and overall success in business—and for all the people they employ.
At least 90 percent of future jobs in North America spring from what I call "accelerated minds," the fraught minds that start new ventures. That's why it is essential to highlight the realities faced by most entrepreneurs, rather than focus unduly on sensationalized portrayals of a few high-profile individuals.
4. There are solutions to help entrepreneurs manage dopamine sensitivity.
The dopamine risk-and-reward system plays a significant role in starting any new venture that an entrepreneur imbues with meaning; the entrepreneur then convinces other people to join in on that mission. Research suggests that entrepreneurs experience an acute dopaminergic high during the initial stages of launching their business, such as the initial raising of their first funding round, and first sharing their vision with close friends and family. However, as the journey progresses, entrepreneurs encounter problems and daily rejections that can undermine their health and tempt them toward addictions and self-harm.
"Research suggests that entrepreneurs experience an acute dopaminergic high during the initial stages of launching their business."
One potential way to mitigate this vulnerability is by protecting entrepreneurs from excessive debt and limiting their financial exposure by capping the amount of funds they can invest in their own businesses, especially early on. This could also level the playing field for first-time entrepreneurs who may not have significant personal wealth, while incentivizing financiers to take fledgling ideas seriously.
5. We need to scrutinize whether investors care about mental health.
The investment process could be improved by scrutinizing investors much more carefully and critically. Beyond financial accreditation, investors could be evaluated based on their commitment to patient investing and holding investments for the long term, as well as their demonstrated dedication to mental health.
If I ever invest in or advise an entrepreneur, the most important thing I want to know about is their mental health. Yet as an entrepreneur I learned that we have every incentive to avoid talking about that stuff. It makes us look weak, unworthy of investment from the alpha world of fast money.
The short-termism of investors hurts entrepreneurs' mental health and puts the jobs they create at risk. We need patient capital. Including mental health safeguards in investor term sheets could raise awareness of the potential risks associated with a founder's mental health and encourage investors to prioritize mental health promotion, prevention, and self-care. This would help create a more supportive environment for entrepreneurs, recognizing them as complete individuals and not simply investment opportunities.
To listen to the audio version read by author Neil Seeman, download the Next Big Idea App today: