Dr. Kelly Fradin is a pediatrician, mother of two, and childhood cancer survivor.
Below, Kelly shares 5 key insights from her new book, Advanced Parenting: Advice for Helping Kids Through Diagnoses, Differences, and Mental Health Challenges. Listen to the audio version—read by Kelly herself—in the Next Big Idea App.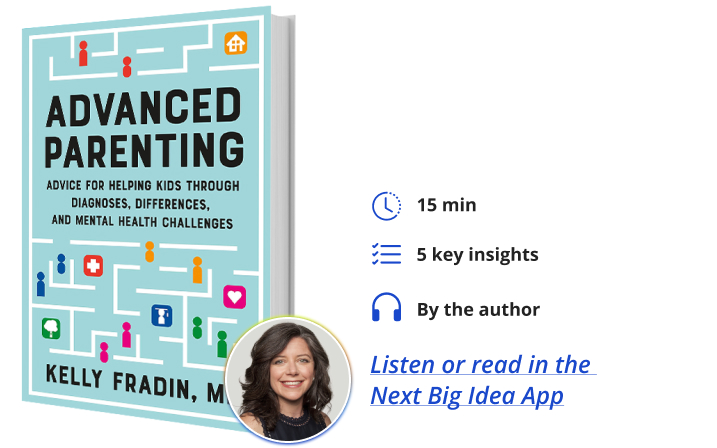 1. Parents are also caregivers.
There's been a cultural shift in understanding that many adults become caregivers for their elderly parents. To be a caregiver for an aging relative takes time, skills, money, and energy. And the truth of the matter is that not all parents have the same parenting experience.
However, most parents have to be caregivers at some point in their child's journey. Whether their child has asthma or eczema, a learning disability, a food allergy, or if their child was premature or has a developmental delay, parents need these extra skills and knowledge. They need to become caregivers and advocates to support their families.
2. Parents can get better at being caregivers.
As a pediatrician, I've seen over and over that the second time a parent faces a challenge, it's easier. The lived experience of taking one child through a diagnosis of asthma and learning how to make an appointment with a specialist, work with a pharmacy, inform the school, and make a safety plan, is a lot of work. Going through that the first time, a parent learns how to navigate their system and work with their team.
"You shouldn't have to live through something to learn the skills for success."
When the second child has something come up, even if it's something different, a parent can use what they learned with the first child's experience to better navigate the second child's challenge. The unfortunate truth is that you shouldn't have to live through something to learn the skills for success. In the book, I share tangible skills that parents can learn the easy way by reading rather than the hard way by struggling through it in real time.
3. The parent is the most important person to help a child.
Traditionally, parents look at the professionals surrounding their child as the most important part of the plan. They put a lot of pressure on themselves to find the right specialist, examine their credentials attentively, and advocate for the best team. The truth is that it's not the doctor or the educational consultant or the therapist that is the most important person: the most important person helping the child is the parent.
Nobody knows a child like their parent does. The details of the day-to-day that a child experiences give the most insight into what that child needs and will respond to. Only the parent can know what's most important to the family and communicate that to the team. No specialist, however bright, will be a mind reader about these things. They will only respond to the information shared with them and the priorities they hear vocalized. For that reason, there's simply nobody more impactful to a child's success at facing a challenge than their parent.
4. Every parent can be an effective advocate.
Many parents find it daunting: the size and scope of the responsibility they have in advocating for their child's well-being and representing their family's needs to professionals. They might think, "I don't know anything about this diagnosis," or, "I don't know as much as this specialist," but the parent is the best person to support their child. It's not about the jargon or the logistics of navigating the system. That's why those professionals are there to help educate, to help guide parents to the resources.
"Doing the research and gaining the skills are the first step to helping your child."
No parent should feel less than for needing to learn because needing to learn is one of the first jobs of an advocate. Doing the research and gaining the skills are the first step to helping your child. So don't feel defeated or overwhelmed, but simply view it as a growth opportunity. Many parents I know started from scratch when facing a diagnosis and found that they learned a lot along the way, and then they gained meaning from helping others in their circle who ended up in similar circumstances. The things parents learn while supporting a child will help others too.
5. It's a marathon, not a sprint.
Many families facing a challenge go all in right away. No parent wants to snooze when their child is facing a stressful moment, but that response is not necessarily sustainable. Many children, maybe a third of them, face chronic conditions that will require follow-ups and monitoring over the long term. As children grow, often they take on new responsibilities, remembering to take their own medicine or eventually making their own appointments and navigating the healthcare field independently. So, it's a long haul for most parents, and that's why it's so important to intelligently use all available resources. It doesn't make someone less of a parent to acknowledge that they can't do everything and be everything to their child.
"One of the most advanced parenting skills of all is to have empathy for yourself and others."
It's smart to use neighbors, family members, babysitters, teachers, colleagues, and friends, all as resources to support your family over the long haul. This way, parents can preserve energy for all those things only they can take on. Because parents are so important to a child's well-being, protecting their own health and energy is vital to the child's success. One of the most advanced parenting skills of all is to have empathy for yourself and others.
I'll share a story. One mother had a child diagnosed with a food allergy. This was more than 10 years ago, and there wasn't much to do other than to restrict the diet and keep the child's environment free of the allergen. But this mother advocated for her child by continuing to ask questions. At every appointment, she said, "Isn't there something we could try? Can't I learn more about this?" She sought out conferences about food allergies and met some of the researchers who did the first clinical trials about the oral induction of tolerance. Because her child was able to participate in the very first study about desensitization to peanuts, he was able to get over his peanut allergy years before the treatment became mainstream.
It's clear from stories like this that when a parent learns the skills to be an effective caregiver, they can help their child to get better care. While it would be nice if the healthcare system worked in a way that every child got the best treatment, the truth is that by being an effective caregiving parent, you can help your child to get the best care.
To listen to the audio version read by author Kelly Fradin, download the Next Big Idea App today: