Igor Tulchinsky is the Founder, Chairman, and CEO of WorldQuant, the global quantitative asset management firm. Chris Mason is a geneticist, computational biologist, and Director of the WorldQuant Initiative for Quantitative Prediction at Weill Cornell Medicine.
Below, co-authors Igor and Chris share 5 key insights from their new book, The Age of Prediction: Algorithms, AI, and the Shifting Shadows of Risk. Listen to the audio version—read by Igor—in the Next Big Idea App.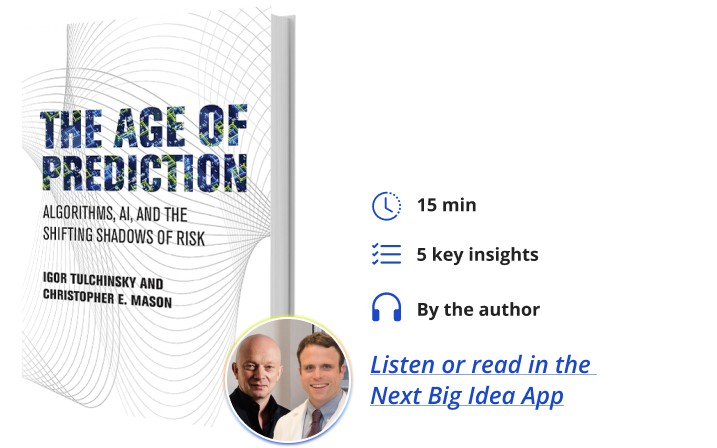 1. We must manage the insight and complexity that comes with AI.
There is a battle taking place between predictive AI's sophistication and the complexity of the world it is trying to predict. The range of potential outcomes is growing, particularly as we discover new uses. We call this new era The Age of Prediction, and navigating this situation requires focus, vision, and the right technology.
When Chris and I were working closely together in 2017, our goal was to use predictive tools to better diagnose and treat various illnesses. That initiative became a much bigger endeavor with the emergence of COVID-19. The pandemic helped show me how we can leverage predictive tools beyond traditional business applications.
Since then, the medical community has increasingly harnessed prediction's power, from understanding patterns of other emerging infectious diseases to improving DNA and RNA sequencing from human patients.
We are just beginning to understand the possibilities of predictive technology. But this initial progress is presenting significant opportunities to leverage predictive AI in impactful ways.
2. The Age of Prediction is here—what does that mean for the future?
The Age of Prediction was inevitable. The proliferation of data in recent years has provided clarity about what the future will look like. AI is already helping us process that data and use it to predict outcomes across a number of areas.
For example, the United Nations has been using data-based prediction methods to inform policy since 2009. The IPCC uses meteorology and satellite imagery data to track the factors driving climate change with far greater specificity. Similarly, frontline workers of disaster-relief efforts can utilize cellphone records to determine where supplies are most needed. Charities are also leveraging AI to predict famines and other areas of future need.
"Humans will need to continuously test results and closely monitor evolving risks that could diminish our predictions' quality."
Still, we must evolve with prediction's power. Humans will need to continuously test results and closely monitor evolving risks that could diminish our predictions' quality. But more importantly, humans will need to refine how we process and utilize this growing data so that we can best pursue untapped opportunities.
3. Human insight will unlock prediction's full potential.
While prediction's benefits are vast, we must understand the potential tradeoffs. The same technological advancements that make daily living easier could also lead to existential challenges.
Take autonomous fleet vehicles or AI manufacturing tools, for example. The cost-savings from less human labor will add business value, however, the increasing deployment of AI could create unintended disruptions. If autonomous vehicles are widely deployed, the U.S. workforce alone could lose about 4.5 million jobs.
We should view this dynamic as an opportunity. Humankind will always possess the intellectual capacity to course-correct rising challenges, regardless of prediction's capabilities. In the Age of Prediction, humans and machines will continue to have a symbiotic relationship. Prediction is an innovative tool that can drive progress, but humans must partner with the technology to improve its results.
The future could be very bright, or technology could entrench inequality and division: human decision-making will determine how this plays out.
4. We should expect prediction to touch every area of life.
We cannot escape the prevalence of predictive technologies as they become an even bigger part of our everyday lives. AI will have a transformational impact on financial markets, warfare, medicine, and criminology. Predictive technology will change our world.
"If autonomous vehicles are widely deployed, the U.S. workforce alone could lose about 4.5 million jobs."
One of the lasting consequences of the AI revolution is the fundamental alteration of our relationship with our own futures. We will be able to judge outcomes and predict the consequences of our actions, but with a sense of clarity that would have seemed unattainable just 50 years ago.
5. Start thinking about this now.
Soon, there will be no other option than to focus on how AI will change our relationship with the future. But right now, we can think deeply about the personal implications of this change.
If you could better predict unexpected outcomes, what steps would you take? How would this alter how you interact with people, and the things you spend your time doing, learning, or thinking about?
For those in the eye of this revolutionary storm, it is hard to know where to focus their attention. It is critical that we think creatively about how to tap into this opportunity of profound significance.
To listen to the audio version read by co-author Igor Tulchinsky, download the Next Big Idea App today: