Benjamin Weber is a historian who teaches African American studies at the University of California, Davis. Beyond academia, he has worked as a Senior Associate for the Vera Institute of Justice in New Orleans, as a Policy Associate at Alternate ROOTS, and as a public high school teacher in Los Angeles.
Below, Benjamin shares five key insights from his new book, American Purgatory: Prison Imperialism and the Rise of Mass Incarceration. Listen to the audio version—read by Benjamin himself—in the Next Big Idea App.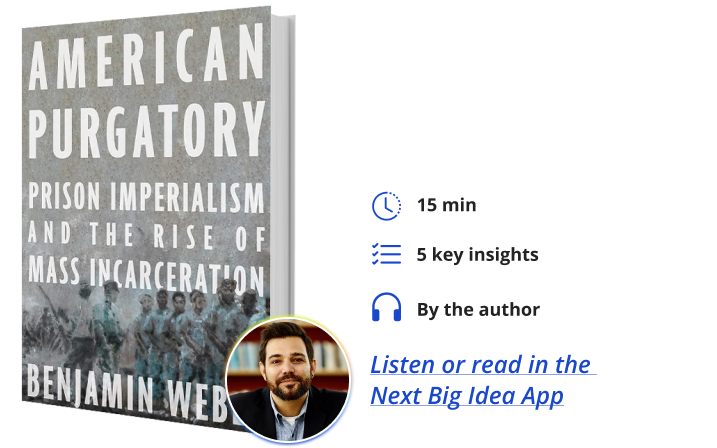 1. Mass incarceration's global reach.
We have largely missed the international dimension of this crisis. When I first sifted through prison records inside Bilibid Prison in Manila, the capital city of the Philippines, a decade ago, I realized how officials had turned thousands of anticolonial fighters into outlaws in their search for a "messiah" capable of leading the Katipunan brotherhood and uniting the liberation movement against U.S. occupation. How they had sentenced them to slavery and involuntary servitude and forced them into hard labor all around the archipelago.
The convict clause—allowing for slavery and involuntary servitude to be used as punishment for crime—applied not only within U.S. borders, but any place under their jurisdiction. Over successive eras of empire building, those places came to include Native American lands across North America, Alaska, Hawaii, Puerto Rico, the Philippines, and Panama Canal Zone. Convict labor at Parchman Farm in Mississippi looked similar to plantation labor at the Iwahig Penal Farm in the Philippines, which was said to be the largest penal colony in the world by the 1920s.
Whether we choose to ignore or disavow the history of American empire, the fact is that it crucially shaped the rise of the surveillance state, modern policing, and mass incarceration.
2. The search for root causes.
The story of mass incarceration stretches back further than we realize. You're probably familiar with how the 13th Amendment abolished slavery at the end of the Civil War, but it had an exception for slavery to continue as a punishment for crime. That exception originated much earlier (with the Northwest Ordinance) before the U.S. constitution was even ratified. It literally remains inscribed in federal and state law to this day.
"For over four-hundred years, policy makers have used "slaves of the state" to thwart freedom movements, establish racial hierarchy, and consolidate power."
As people in prison and Black studies scholars will tell you, the slave ship (chaining, transporting, and profiting off Black people) is America's archetypal prison. For over four-hundred years, policy makers have used "slaves of the state" to thwart freedom movements, establish racial hierarchy, and consolidate power.
While many date the rise of mass incarceration back to the 1970s, when incarceration rates skyrocketed, its roots stretch back to racial slavery and colonial expansion. That slavery and involuntary servitude can be used as punishment for crime may be the longest lasting—and farthest reaching—piece of federal policy.
3. The imperial boomerang.
These policies and practices circulated through sites of empire to produce new forms of social control over the growing number of people ensnared in the domestic prison system—in what the theorist Aime Ceasire called a colonial boomerang.
This boomerang flew from colonial headquarters to American streets. From places like Manila (where police amassed index cards on three-quarters of the city's population) to New York, Chicago, and Oakland, where J. Edgar Hoover's FBI frantically tried to put down revolutionary movements and destroy any "Black Messiah" capable of uniting rebellions, like Fred Hampton.
This kind of counterinsurgency campaign was summed up by one FBI agent's confidential letter to his director. In it, he wrote that Black youth and moderates must be made to understand that "if they succumb to revolutionary teaching, they will be dead revolutionaries…"
The imperial boomerang reveals how prison policy and foreign policy share a set of foundational theories. They have also employed common assumptions about things like preemption and deterrence, containment and incapacitation, or retribution and rehabilitation. These were developed by policymakers and globe-trotting experts not only within borders, but at overseas American colonies.
4. Internationalize the struggle.
People have always resisted state violence. There is a certain relationship between repression and freedom, a kind of historical dialectic. But we still have something important to learn from those who have internationalized the freedom struggle.
Before she was imprisoned and escaped to Cuba, Assata Shakur stood with the Indians of All Tribes during their take-over of Alcatraz, the abandoned federal prison in the San Francisco Bay. She had studied the lessons of Indigenous and Puerto Rican self-determination movements and incorporated them into her own thinking about Black liberation. The Alcatraz occupation and Assata's escape became loadstones for racial justice movements precisely because they internationalized the struggle.
"Black Studies has always been a global project, attending to the lives of African descended people worldwide."
At the same time as it broadens how we understand the history of the prison system, my book amplifies a rich history of Black intellectuals and activists who challenged the expansion of the prison system, and who offer a powerful tradition of decolonial practices.
Black Studies has always been a global project, attending to the lives of African descended people worldwide. My book applies this transnational framework, for understanding the roots of the problem and how activists have challenged oppressive systems, in order to open a wider set of alternative solutions in the present.
5. Decolonization: beneath the buzzwords.
The long history of those who internationalized the struggle against racist state violence shows that they had to go beyond the usual terms of domestic politics to find an anticolonial analysis.
This resonated with people's experience when groups like the Black Panthers, Brown Berets, and Young Lords began to describe their neighborhoods as suffering a kind of colonial occupation. It resonates when racial justice movements today carry forward Indigenous and Black protest traditions that center self-determination.
Today's politics is bedeviled by buzzwords. Many are racist dog whistles, pitched at a right-wing frequency. But social movements also develop a kind of shorthand, using what may seem like jargony expressions. Decolonization is one of these. It has been used a lot more lately. Decolonization is not just a metaphor, as the scholars Eve Tuck and Wayne Yang remind us.
Keywords can help us unlock solutions to the most real and urgent social and political problems. Just like we suffer from geographic blinders when it comes to the reach of massive policy problems, and shortsightedness when it comes to possible solutions, we must dig beneath the buzzwords. When we do, we may find that freedom is not an abstraction.
As Black and Indigenous scholars and activists remind us, freedom dreams and practices are rooted in the places we live, build, and dream. Our ongoing acts of place-making must center repair, dignity, equity, self-determination, and collective care.
To listen to the audio version read by author Benjamin Weber, download the Next Big Idea App today: