Sally Susman is Chief Corporate Affairs Officer at Pfizer, vice-chair of the Pfizer Foundation, and co-chair of Pfizer's Political Action Committee. She also serves as co-chair of The International Rescue Committee, one of the world's largest humanitarian aid organizations, and is on the board of UL, a global independent safety science company. In 2022, Forbes named Susman one of the World's Most Influential CMOs for Pfizer's efforts to combat vaccine misinformation. She received the prestigious Matrix Award from New York Women in Communications in 2019 and was named a LinkedIn Top Voice that same year.
Below, Sally shares 5 key insights from her new book, Breaking Through: Communicating to Open Minds, Move Hearts, and Change the World. Listen to the audio version—read by Sally herself—in the Next Big Idea App.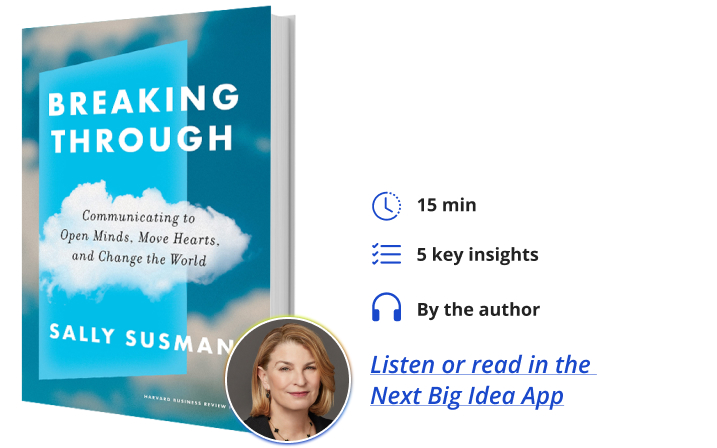 1. Communication is not a soft skill, it's a rock-hard competency.
A communications skill set is as crucial as any other discipline to business success today. The tenor of your voice, your word choices, and the attitude you bring to any human encounter allow you to reach and relate to others more profoundly. It's something that Ken Chenault, CEO of American Express, did in the wake of 9/11. Having recently been named CEO, he gathered employees together in a town hall session and spoke movingly. He was able to unite employees and inspire them to find a way to move forward. Now, more than ever, a communications skill set is essential to help you work to accomplish great things with others.
2. Brilliant communications begin with a clear intention.
What do you want to convey? Why are you talking? How do you want the listener to feel? Answering these questions and sharpening your focus is essential to delivering your message with clarity and impact. You should locate and land your intention before you start, even for basic things like a phone call or an email. It's not always easy, but it is worth the effort.
"In conversation, pausing briefly helps you collect your thoughts."
Whenever you have something important to say, you need to set a clear and bold intention for that narrative. You should embrace the power of a pause and use it strategically. In conversation, pausing briefly helps you collect your thoughts. In speeches, silence is a powerful way to underscore a point you just made. So, make sure you have a clear intention in mind when you begin a task. And embrace the power of a pause. Take that extra minute to think about what you want to say.
3. Being a powerful communicator is the first step to being a great leader.
Only exceptional communicators can inspire people, create momentum, and drive meaningful change. Most often people talk about their victories, but reflecting in a way that honors your wins and owns your failures will give you a greater impact. Dallas Mavericks owner Mark Cuban once commented about a star player who missed a game-tying free-throw shot. He said, "He made the first shot, and we missed the second." Cuban was reminding us that sports depend on teamwork to succeed, and players are in it together. We should give credit when an individual exceeds expectations, but we all take the fall together.
Humility is also an essential principle of communication as it opens others up to hear you and align with your mission. Think about some of the great leaders you admire who are also humble— the unexpected nature of it is powerful in its own way. Leaders also have the courage for candor. They take the chance because they are willing to suffer short-term consequences for longer-term gains in trust-building. They demonstrate bravery and are rewarded with peace and pride. Similarly, you must encourage those around you to be candid, and welcome it. Isolation is a grave danger to leaders. Remember, communicating with others is what will help you move mountains. Reflection, humility, and candor can help.
4. It's harder than ever today to break through the static and noise.
Anyone can be an outstanding communicator, and one surprising thing that can help is being relentlessly curious. Curiosity opens our minds and allows us to become more creative. It also leads us to learn new things, which helps us to see and make new connections between ideas. That is creativity in action and can help you come up with new approaches.
"Curiosity opens our minds and allows us to become more creative."
Leonard Lauder, Chairman of The Estee Lauder Company, is able to wield the power of gratitude to break through to people. From him, you can see that showing generosity can undermine someone's negativity, disarm them, and turn their mood or demeanor around. Similarly, Albert Bourla uses humor very effectively at times to diffuse tense situations. Humor, appropriately employed, can help you communicate tough feedback, beat back corporate bureaucracy, or let your idea shine. Breaking through is possible and you can do it.
5. Seeking harmony is more important than ever.
In our highly divided world, we don't all see things in the same way. Rather than argue, we should find more ways to disagree agreeably. We need to encourage people to co-exist with varying opinions, and to demonstrate respect for other people's points of view.
Harvard Kennedy scholar Robert Livingston's rules for a productive conversation can be adapted and used:
First, commit to active listening. Listen for understanding, not to prepare your response or rebuttal. Take time to respond thoughtfully, not merely react.
Second, do not be ashamed of vulnerability. Let people know how you're feeling and that you're struggling, they may cut you some slack. It's natural to be uncomfortable in stressful moments, by allowing yourself to be unguarded, you can be open to more possibilities.
Finally, co-create solutions. There may be no easy results at the moment, however, a remedy conceived of, and supported by many, has a greater chance of success.
Remember, if you can't agree with someone, at least seek harmony—find common ground so you can move forward.
To listen to the audio version read by author Sally Susman, download the Next Big Idea App today: