Black History Month is here, which means it's time to celebrate the past, present, and future of Black excellence. But it's also a time to reflect and educate ourselves on the hurdles that Black folks have overcome—and the ones they still face today.
So how can we combine celebration and reflection, and perhaps add a dash of hope? Well, we believe the nine superb books below are an ideal place to start.
Learn something new every day with "Book Bites," 15-minute audio summaries of the latest and greatest nonfiction. Get started by downloading the Next Big Idea App today!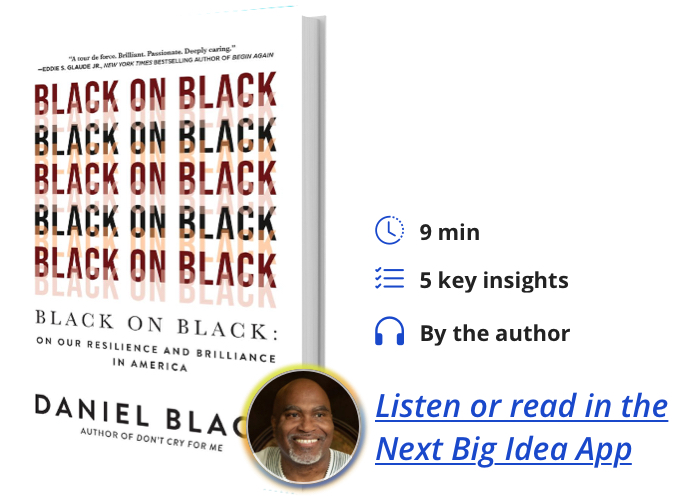 Black on Black: On Our Resilience and Brilliance in America
By Daniel Black
Tackling topics ranging from police brutality to the AIDS crisis to the role of HBCUs to queer representation in the Black church, Black on Black celebrates the resilience, fortitude, and survival of Black folks in a land where their body is always on display. Listen to our Book Bite summary, read by author Daniel Black, in the Next Big Idea App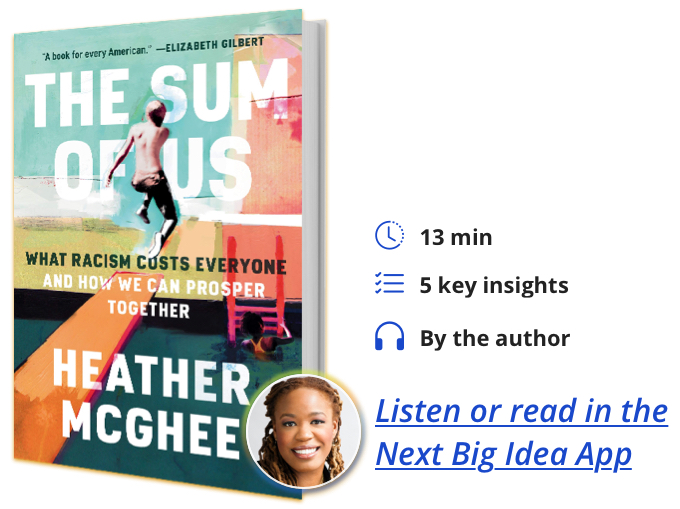 The Sum of Us: What Racism Costs Everyone and How We Can Prosper Together
By Heather McGhee
One of today's most insightful and influential thinkers offers a powerful exploration of inequality and the lesson that generations of Americans have failed to learn: Racism has a cost for everyone—not just for people of color. Listen to our Book Bite summary, read by author Heather McGhee, in the Next Big Idea App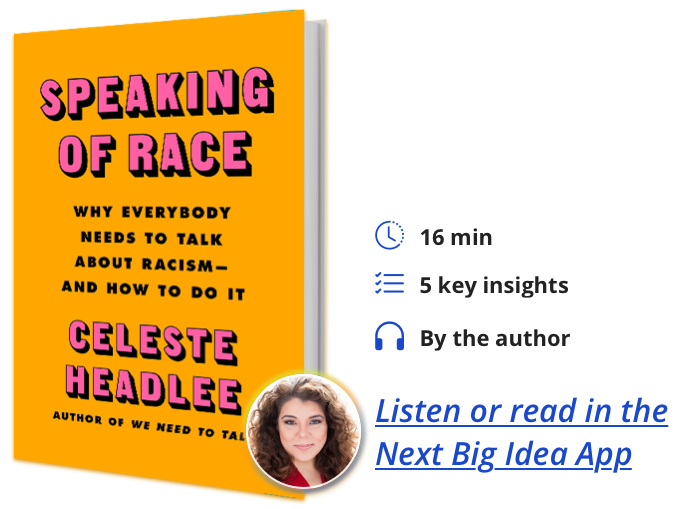 Speaking of Race: Why Everybody Needs to Talk About Racism―and How to Do It
By Celeste Headlee
An award-winning journalist draws from the latest research on bias, communication, and neuroscience to provide practical advice and insight for talking about race that will facilitate better conversations that can actually bring us closer together. Listen to our Book Bite summary, read by author Celeste Headlee, in the Next Big Idea App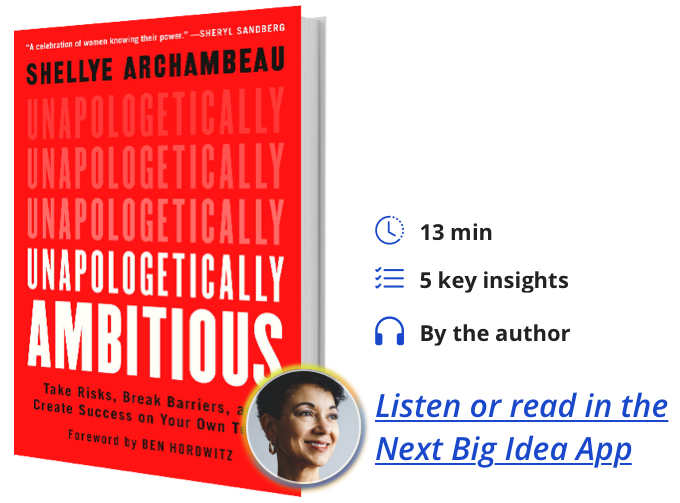 Unapologetically Ambitious: Take Risks, Break Barriers, and Create Success on Your Own Terms
By Shellye Archambeau
Full of empowering wisdom from one of Silicon Valley's first female African-American CEOs, this inspiring leadership book offers a blueprint for how to achieve your personal and professional goals. Listen to our Book Bite summary, read by author Shellye Archambeau, in the Next Big Idea App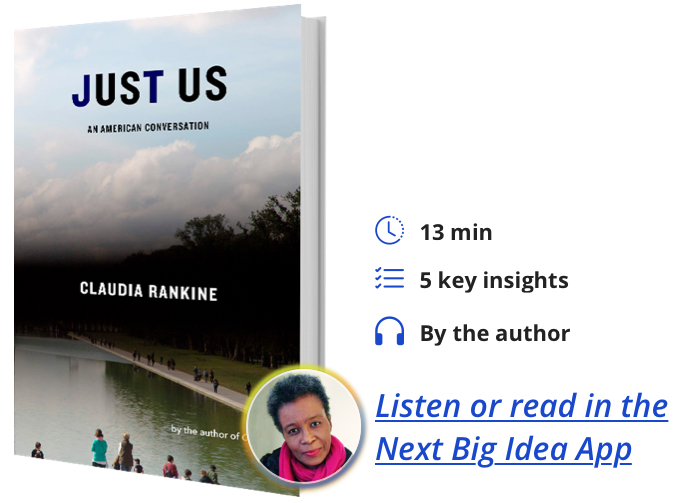 Just Us: An American Conversation
By Claudia Rankine
This brilliant assembly of essays, poems, documents, and images disrupts the false comfort of our culture's liminal and private spaces—the airport, the theater, the dinner party, the voting booth—where politeness deflects true engagement with the realities of race and racism. Listen to our Book Bite summary, read by author Claudia Rankine, in the Next Big Idea App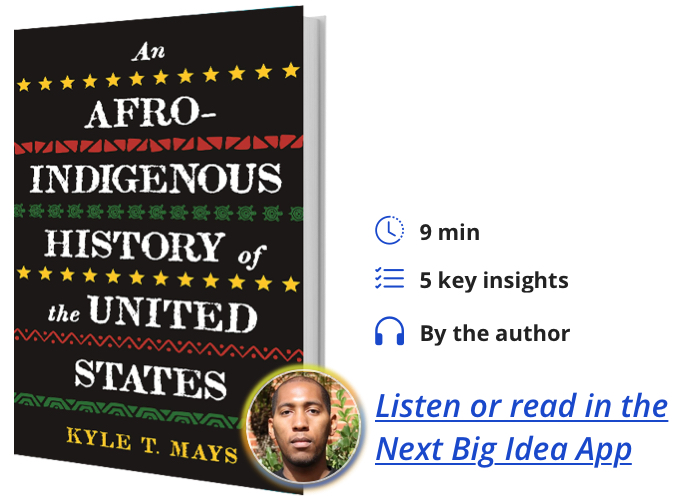 An Afro-Indigenous History of the United States
By Kyle T. Mays
Beginning with pre-Revolutionary America and moving into the movement for Black lives and contemporary Indigenous activism, a historian argues that the foundations of the U.S. are rooted in antiblackness and settler colonialism, and that these parallel oppressions continue into the present. Listen to our Book Bite summary, read by author Kyle T. Mays, in the Next Big Idea App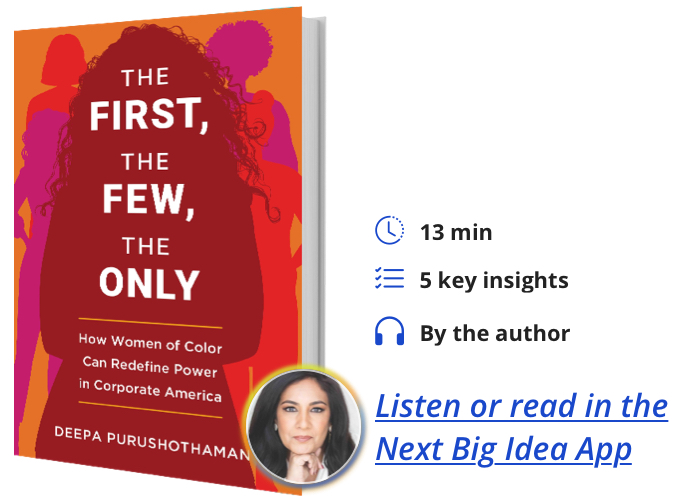 The First, the Few, the Only: How Women of Color Can Redefine Power in Corporate America
By Deepa Purushothaman
A deeply personal call to action for women of color to find power from within and to join together in community, advocating for a new corporate environment where we all belong—and are accepted—on our own terms. Listen to our Book Bite summary, read by author Deepa Purushothaman, in the Next Big Idea App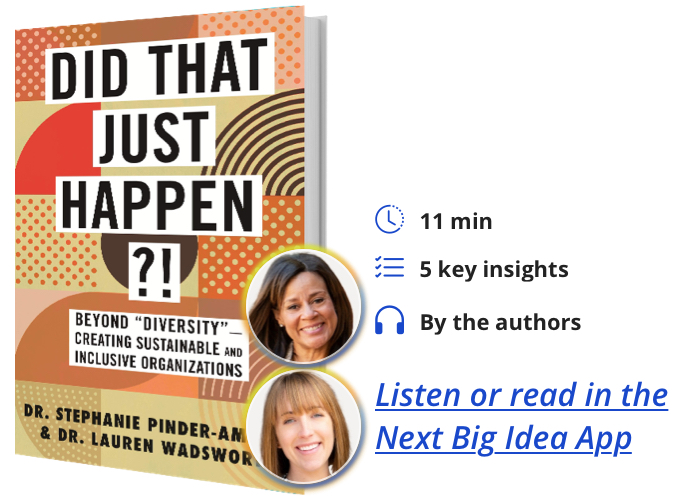 Did That Just Happen?!: Beyond "Diversity"―Creating Sustainable and Inclusive Organizations
By Stephanie Pinder-Amaker and Lauren Wadsworth
Offering real-life accounts that illustrate common workplace occurrences around inclusivity, this handbook breaks down ways that organizations (and all people) can improve their cultural awareness and become more equitable in their work and personal relationships. Listen to our Book Bite summary, read by co-authors Stephanie Pinder-Amaker and Lauren Wadsworth, in the Next Big Idea App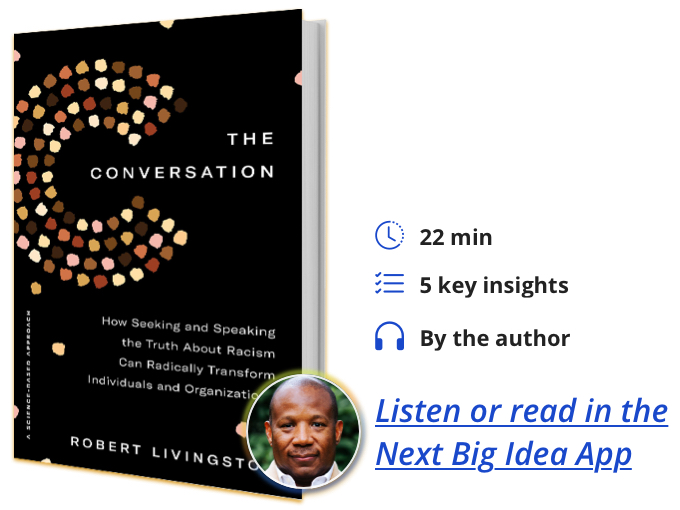 The Conversation: How Seeking and Speaking the Truth About Racism Can Radically Transform Individuals and Organizations
By Robert Livingston
From a Harvard social psychologist comes an essential guide for individuals, organizations, and communities of all sizes to jump-start dialogue on racism and bias, and to transform well-intentioned statements on diversity into concrete actions. Listen to our Book Bite summary, read by author Robert Livingston, in the Next Big Idea App
The Key Ideas in 15 Minutes
"If you are going to get anywhere in life, you have to read a lot of books," Roald Dahl once famously said. The only trouble is, reading even one book from cover to cover takes hours—and you may not have many hours to spare.
But imagine for a moment: What if you could read a groundbreaking new book every day? Or even better, what if you could invite a world-renowned thinker into your earbuds, where they personally describe the 5 key takeaways from their work in just 15 minutes?
With the Next Big Idea App, we've turned this fantasy into a reality. We partnered with hundreds of acclaimed authors to create "Book Bites," short audio summaries of the latest nonfiction that are prepared and read aloud by the authors themselves. Discover cutting-edge leadership skills, productivity hacks, the science of happiness and well-being, and much more—all in the time it takes to drive to work or walk the dog.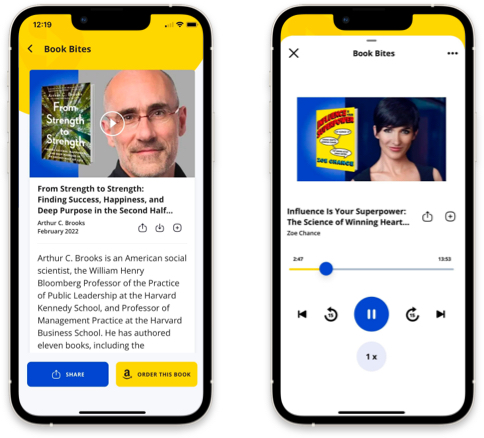 "I love this app! The Book Bites are brilliant, perfect to have in airports, waiting rooms, anywhere I need to not doomscroll… You guys are the best!" – Missy G.
Go Deeper with a Next Big Idea Club Membership
The Next Big Idea App is free for anyone to try—and if you love it, we invite you to become an official member of the Next Big Idea Club. Membership grants you unlimited access to Book Bites and unlocks early-release, ad-free episodes of our LinkedIn-partnered podcast. You also gain entry to our private online discussion group, where you can talk big ideas with fellow club members and join exclusive live Q&A sessions with featured authors.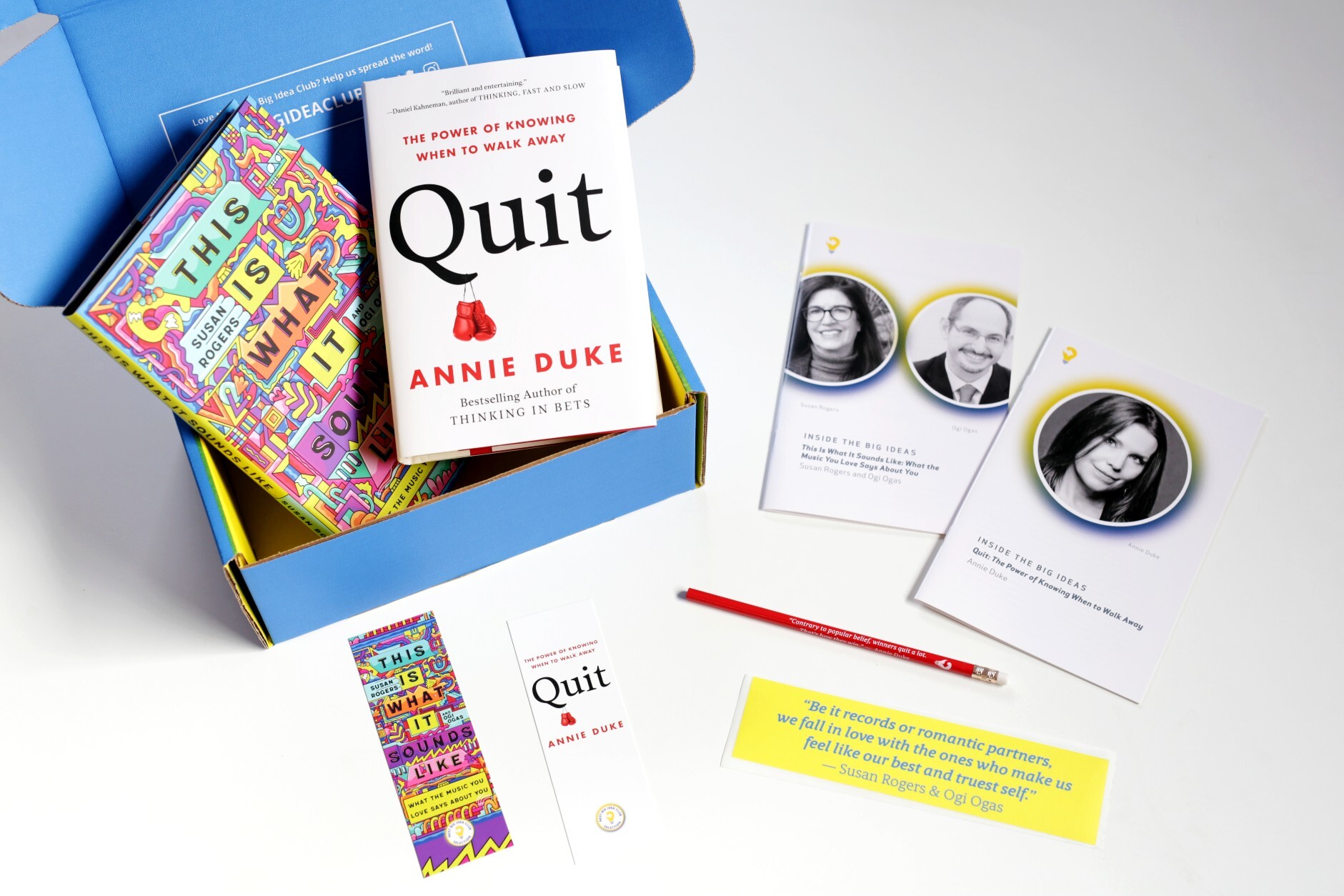 For a more focused learning experience, we recommend a Hardcover or eBook Membership. Every few months, legendary authors and club curators Malcolm Gladwell, Susan Cain, Adam Grant, and Daniel Pink select two new nonfiction books as the must-reads of the season. We then send hardcover copies straight to your doorstep, or eBook versions to your favorite digital device. We also collaborate with the authors of selected books to produce original reading guides and premium video e-courses, 50-minute master classes that take you step by step through their most life-changing ideas. And yes, it's all available through the Next Big Idea App.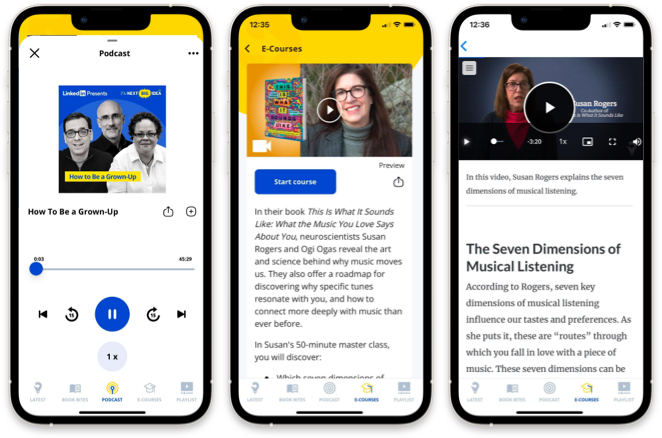 "My biggest Thank You is for the quality of book selections so far. I look on my shelf and see these great titles, and I find myself taking down one or two each month to reread an underlined passage. Full marks to all involved!" – Tim K.
Learn Faster, from the World's Leading Thinkers
Whether you prefer to read, listen, or watch, the Next Big Idea is here to help you work smarter and live better. Wake up with an always-fresh Idea of the Day, the perfect shot of inspiration to go with your morning coffee. Then dive into one of our Challenges, hand-picked collections of Book Bites that form crash courses in subjects like communication, motivation, and career acceleration. Later, watch the playback of an interview with U.S. Surgeon General Vivek Murthy, Stanford psychologist Jennifer Eberhardt, or philosopher John Kaag. And be sure to check the "Events" tab in the app, so that you can join an upcoming live Q&A and personally chat with the next featured thought leader.
If you're hoping to grow as a person or as a professional, we hope you'll join us and tens of thousands of others who enjoy the Next Big Idea. Get started by downloading the app today!
To enjoy Book Bites from anywhere, download the Next Big Idea app today: