Paco Underhill is the founder of Envirosell, Inc., a global research and consulting firm. His clients include more than a third of the Fortune 100 list, and he has worked on supermarket, convenience store, food, beverage, and restaurant issues in 50 countries. He has written articles for or been profiled in the New York Times, the Wall Street Journal, the Washington Post, The New Yorker, Smithsonian Magazine, and more.
Below, Paco shares 5 key insights from his new book, How We Eat: The Brave New World of Food and Drink. Listen to the audio version—read by Paco himself—in the Next Big Idea App.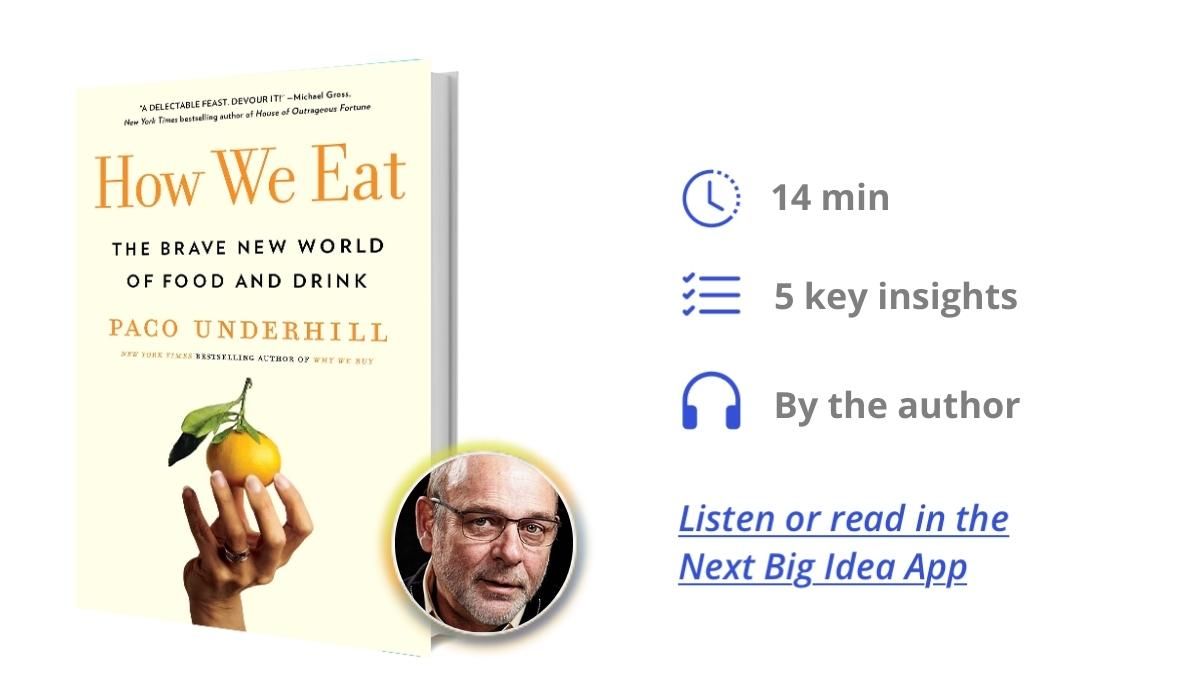 1. Walk a mile in her shoes.
The grocery and food industry is completely dominated by men who design, own, and manage things, but our most important customers are increasingly female. Here in North America, the number of households where the woman is the primary breadwinner goes up with every passing month. Particularly during the era of COVID, she is often not only trying to do her job, but also take care of her children, take care of the house, do the cooking, and look after her husband.
Looking at the world through female eyes is fundamentally good for all of us, and this is particularly true when it comes to food and beverages. For example, we tracked how women bought their first drink in a restaurant or a bar, and a remarkable number of them made a choice based on what they were wearing. The male researchers were confused, but the female researchers went, "Duh! If I'm wearing a white dress, am I going to order a glass of red wine? It doesn't make sense!"
2. The evolution of the home.
The fundamental design of how we live is undergoing a transformation, and so our kitchens are changing. The kitchen of the 1950s was a utilitarian place where one went to cook and clean, and not much else. But the kitchen of today is often the epicenter of the home. It's where kids are doing their homework, because the parents want to make sure they're not surfing the internet in the privacy of their bedrooms. It's also a place of recreational need, since for many of us cooking is not only a necessity, but a source of pleasure. During the pandemic, the sale of small kitchen appliances went through the roof, as people bought bread makers and rice cookers. Today, people want more out of their kitchens than ever before.
"Looking at the world through female eyes is fundamentally good for all of us, and this is particularly true when it comes to food and beverages."
3. Digital technology is changing cooking.
Is there a future for the cookbook? I don't think so. I haven't touched a cookbook in at least 10 years; my primary information about food comes from social media. I remember looking at something on Facebook where they taught me how to peel a butternut squash, and it changed my relationship to that vegetable. That ability to access information and the meeting of art and science as that happens is something that is changing how things work. If I'm buying the same product over and over again, do I really need to get it in a colorful box which is meant to scream at me from the store shelf? Or can I buy it through a subscription model where it comes to me in a compostable, recyclable package?
4. The balance between global and local consumption is shifting.
Dresses that fly off the shelf in Dallas go untouched in Philadelphia. Similarly, the way people shop for food and beverages in El Paso, Texas is different from how they do down the road in Austin. Our access to food is often governed by where we sit.
In 1950, the agricultural pundits said that the small family farm was dead. And in a way, they were right, as the small family farm was tied to selling what they produced to distributors, to wholesalers. But today I can have a small family farm—even one that's four or five acres, with greenhouses and solar power—and if I find a way to sell directly to the consumer, I can send my kids to college. I can have a pretty good life.
"Many of us have realized that buying locally is tastier, more exclusive, and also good for us, since the products change with the seasons."
This is a revolution that is happening all across North America and the world; that small family farmer is not only going direct, but also doing a little processing. If you go to the farmers' market here in New York City, not only will you find somebody selling cabbage, but you'll find somebody selling kimchi. And in the beverage industry, people are making whiskey and vodka within a hundred miles of where you buy it at the farmers' market. As a result, the global manufacturers of spirits are scared. Many of us have realized that buying locally is tastier, more exclusive, and also good for us, since the products change with the seasons.
5. More earned money and more food diversity.
In the 1990s, we passed a magic moment in the history of humanity. Up until that moment, the majority of global wealth was in the hands of an aristocracy, but today, the overwhelming majority of wealth is in hands of people who earned it in the course of their own lifetime.
This suggests a change in how we consume food from other cultures. 25 years ago, if I went to an ethnic restaurant in a big city, it was because I was trying to save money. Today, down the street from my home in New York City is a very elegant, expensive Indian restaurant. So that change in wealth has brought a change in the range of things we eat.
In 1970, the typical North American ate about 30 things. But the typical French peasant in the 18th and 19th centuries consumed somewhere between 60 and 70 things, based on seasonality. So today, one of the things that's going to get us healthier—and get us to a healthier planet—is to change the range of things we eat, and to do it based on the season.
To listen to the audio version read by author Paco Underhill, download the Next Big Idea App today: