Owen Ullmann is the executive editor at the International Economy Magazine and has worked as a journalist for various publications including USA Today, Business Week and the Associated Press.
Below, Owen shares 5 key insights from his new book, Empathy Economics: Janet Yellen's Remarkable Rise to Power and Her Drive to Spread Prosperity to All. Listen to the audio version—read by Owen himself—in the Next Big Idea App.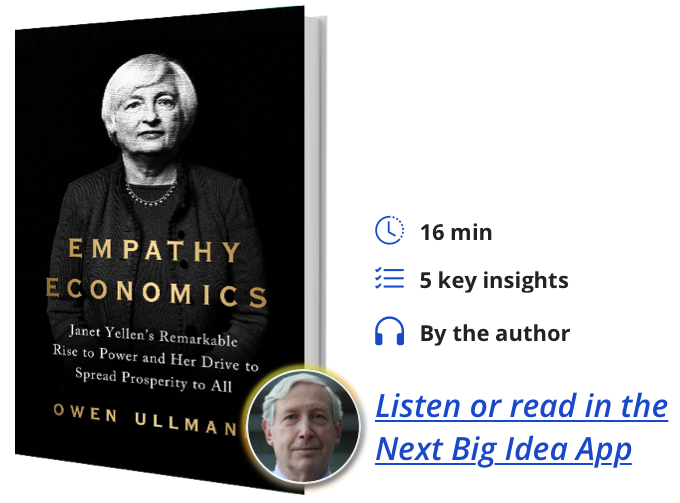 1. Janet Yellen's life began with excellence.
From her early childhood growing up in Brooklyn as part of the first wave of post-World War II Baby Boomers, Yellen was driven to achieve perfection. It was a goal drilled into her by a loving but demanding mother. Her mother, Ruth, was an elementary school teacher who quit her job to raise Janet and her older brother, John. Ruth insisted that her children get all A's in school, that they speak with proper diction, dress well, aspire to professional careers, and learn about the wider-world on the international cruises during family summer vacations.
Ruth stressed the importance of being organized and prepared, both character traits that Yellen famously and faithfully observes. Aides joke that Yellen always insists on getting to the airport two hours early and she is known to refine and rehearse her speeches for hours on end. Yellen, now 76, is truly her mother's daughter. In every job, she has strived to do her best with determination and gusto. That's why she has succeeded in the most demanding posts.
No one is perfect, of course, as Yellen well knows. When she has fallen short or failed at something, as has occurred throughout her career, she readily admits it without excuse. In a recent interview on CNN, she conceded she was wrong in predicting that inflation would be a fleeting problem. That blunt honesty, rare in Washington, is one of her strengths.
2. Yellen's empathy gave purpose to her career path.
Janet Yellen truly can put herself in others' shoes, feeling their pain and disappointment. It is a trait she inherited from her father, Julius, a family doctor who treated patients in a basement office of the family's two-story rowhouse. Young Janet watched neighbors who were out of work, as they trudged into her father's office, where he would tenderly care for them. He never turned anyone away who was unable to pay, and accepted any payment they could afford. She saw the anguish in their faces and the embarrassment displayed by those who were unemployed. She came to understand a job as a means to survive financially, but to also as a means to bolster one's sense of self-respect and accomplishment.
"Young Janet watched neighbors who were out of work, as they trudged into her father's office, where he would tenderly care for them."
Those faces remained ever-present in Yellen's mind and propelled her toward a career in economics. Her purpose was simple: she wanted to use her training to create a healthy economy in which everyone could find a decent-paying job and earn a comfortable living. That is her North Star. It is a stark memory she often recalls in speeches today, and has guided her thinking and actions in every academic and government post she has held.
Her research has focused on ways to boost wages and employment. In Washington, achieving full employment is her top priority. As a member of the Federal Reserve's Board of Governors in the 1990s and as Fed chair two decades later, she argued for policies that would reduce the unemployment rate and help lower-paid workers earn more. She even expressed the importance of finding jobs for ex-felons, a group that often encounters the greatest obstacles to employment.
As Treasury secretary, Yellen has argued for a greater investment in people to make America's workforce better educated, more highly-skilled and more productive. People and their welfare are always at the heart of her policies.
3. Yellen's endurance advanced her professionally despite workplace bias and discrimination.
It took more than intelligence and hard work for Janet Yellen to achieve historic accomplishments. She also had to exhibit endurance to succeed in a profession dominated by men, especially the Alpha Males who rule in academia and Washington's halls of power.
When Janet entered high school in the early 1960s, she had the aptitude to enroll at Brooklyn Tech, a special public school for gifted students. Girls were barred entry at the time. So, Janet and her talented female friends went to the regular neighborhood school, Fort Hamilton High. That proved to be a serendipitous experience for them. With no competition from bright boys, the girls ruled. They ran the school newspaper, where Janet was editor-in-chief. In class, they hogged the teachers' attention and dominated the honor roll. They thrived and went on to successful professional careers thanks to the high self-esteem nurtured at "The Fort," as the high school is known.
In college, Yellen once again encountered gender segregation. In the mid-1960s, Ivy League schools had separate colleges for male and female undergraduates. Yellen earned her BA degree in economics from Brown University's Pembroke College for women. From Pembroke, she went to Yale, where she was one of the very few women to get a PhD in economics. In the 1970s, she felt like an outsider as a junior professor in Harvard's economics department, where women professors were an oddity and didn't earn tenure until 1990. Throughout these decades, Yellen endured, proving she could succeed.
"She proved she could outcompete the men by putting her head down and doing her best."
During her government career, Yellen encountered similar barriers. As chair of the Council of Economic Advisers, she put up with male bullies in the Clinton White House, which operated like a Good Old Boys Club. She became Fed chair because President Obama's first choice, former Treasury Secretary Lawrence Summers, alienated too many senators who would have refused to confirm him because of his haughty manner. Donald Trump wouldn't reappoint her as Fed chair despite her strong record because—among other reasons—he thought the barely 5-foot-tall Yellen was too short and lacked gravitas.
Despite, or perhaps because of these obstacles, Yellen endured. She proved she could outcompete the men by putting her head down and doing her best. She never harbored a grudge or felt like an aggrieved victim of sex discrimination. Her keen awareness of workplace gender bias has since driven her to push policies that would close the gender inequality gap by creating more opportunities for women.
4. Equality is a pillar of Janet Yellen's work and research.
In all her policy-making experiences and research as an academic, Yellen has focused on ways to make the American economy spread its prosperity to everyone. Over the past four decades, as the economic pie has grown, the well-to-do have grabbed ever-bigger slices, leaving crumbs for the bottom half. Since 1979, inflation-adjusted wages for the average worker have barely grown at all. Yet those owning stock have seen their portfolios grow 2,800 percent after adjusting for inflation.
As Fed chair and now as Treasury Secretary, Yellen has plowed new ground in warning about the political and social instability sparked by growing economic inequality. Her warnings have proven prescient. She has taken steps to help women and minorities get good-paying jobs and loans to establish businesses. Her predecessors never focused much attention on this problem. Yellen raises it in every one of her speeches about the economy.
During her first 18 months at the Treasury Department, Yellen has met with groups representing Black, Latino, and Native American communities, and she has created offices devoted to addressing their needs. Recently, she became the first Treasury Secretary to visit an Indian Reservation, where she talked about the economic plight of Native Americans. She used the historic trip to point out that today's economy leaves too many minorities behind. She also has met with groups representing women of all backgrounds and used those occasions to stress the need to make women equal partners with men in the labor force.
"As Fed chair and now as Treasury Secretary, Yellen has plowed new ground in warning about the political and social instability sparked by growing economic inequality."
While she is deeply concerned about the need to combat the high inflation afflicting American consumers, she takes pride in the fact that the labor market has been the strongest ever during the past year. There also has been some narrowing of the inequality gap on her watch, as the lowest-paid workers have gotten the biggest wage gains on a percentage basis.
5. Janet Yellen's endearing personality sets her apart.
Not surprisingly, many people in government and economic jobs are aggressive, power-hungry, and arrogant. It takes a super-competitive, super-confident person to reach the top rungs of government service. Of course, they have personality skills that make them affable on the surface, but underneath they can be driven and full of themselves.
Janet Yellen, on the other hand, is a genuinely humble cabinet officer. She is down-to-earth, has a good sense of humor, and shuns the perks that come with her position. In a recent picture of her flying to an event in Detroit, she sits in the middle seat of the plane's economy section studying a speech. She would rather carry her own bag than expect an aide to handle it.
Dozens of friends and colleagues comment on how personable, caring, and sincere Janet is. It's not an act. It may be a key reason why she defied all odds last year and managed to persuade her counterparts from more than 130 countries to sign an international accord setting a minimum tax for multinational corporations. Talks on the issue had proven elusive for more than a decade until Yellen got involved.
She considered writing a memoir after leaving the Fed, but decided her life was not remarkable enough and scrapped the project. During our many interviews, she said she considered her life's story as mundane. After all, there wasn't trauma in her background, such as extreme poverty or abuse. As the physician's daughter growing up in affluence, there was no dramatic story to weave about adversities overcome.
When Yellen first was offered the Treasury job, she demurred, saying surely others were more qualified. The status and opportunity to smash another glass-ceiling were not alluring enough. She accepted only after President Biden's advisers reached out to her a second time and her family urged her to say 'yes.' By then, she had become convinced she could use the position to better the lives of millions of Americans. In a city where so many come to do well for themselves, Yellen remains the dedicated public servant, committed to do good for others.
To listen to the audio version read by author Owen Ullman, download the Next Big Idea App today: