Latanya Mapp Frett is president and CEO of Global Fund for Women. She also serves on the Board of Directors for Global Fund for Women and Global Fund for Women UK, as well as Oxfam, and Management Sciences for Health (MSH). Previously she was the executive director of Planned Parenthood Global and a human rights officer for UNICEF.
Below, Latanya shares 5 key insights from her new book, The Everyday Feminist: The Key to Sustainable Social Impact – Driving Movements We Need Now More Than Ever. Listen to the audio version—read by Latanya herself—in the Next Big Idea App.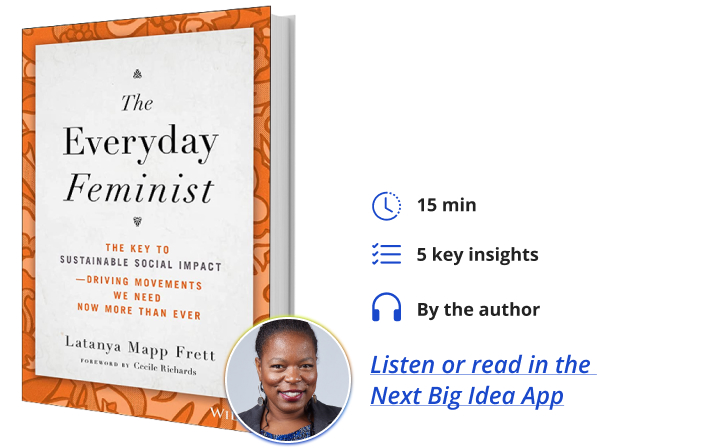 1. Look all around you.
There is a common misconception that presidents and heads of state are the only people who can make change happen. However, if you look around your community, where you live and work, you likely already know those with extraordinary passion and commitment who are working toward lasting change. They are the ones who show up, push forward, and who get the hard stuff done. These are the people I call everyday feminists. You'll find them everywhere, and they make life better. They are nurses, teachers, soccer moms, and soup kitchen volunteers.
2. These everyday feminists are key to change in their communities.
There is a woman in Nairobi called Innocent, who runs a braiding salon. She wore expertly braided styles, and always dressed as if she was going to a gala. She was a wealth of resources for her community; her offerings went beyond beauty styling. She was an immigration lawyer, bought medications, counseled women in situations of violence, gifted contraceptives, and was a master recruiter; anyone meeting her became a member of her network.
"She was a wealth of resources for her community; her offerings went beyond beauty styling."
She held meetings after the salon had closed for the day. In these meetings, Innocent was joined by community elders with intel on what was happening back in their home country of Rwanda. One evening, a woman, who appeared to be nearly one hundred years old, told Innocent, "We need food for 200, housing for 35 families, schools to accommodate 75 primary-age children, and jobs for 50 men. They will be here this weekend or soon after, so there is no time to spare. We don't have any money, but we will ask in church this Sunday for donations. Can you help?" Innocent's response was always a resounding "yes." She would dole out commands to several younger women, and the organizing took place right there in that one little salon.
3. These everyday feminists can unlock large-scale social progress.
Innocent helped an entire community of refugees in Nairobi without any formal support; imagine what she could have done with support from international philanthropic or corporate aid. Through Innocent, we can understand Uruguayan writer Eduardo Galeano's quote: "Many little people, in little places, doing little things, can change the world."
This book celebrates the work that women activists like Innocent do every day. The organizations they set up to sustain their work, and the feminist movements they create and grow on a broad range of social issues that affect us all. These everyday feminists are the backbone of modern, transformative social movements like Black Lives Matter, Me Too, Ni Una Menos, and many more. But we only hear about these women and their work in very limited ways. Most of us working in the social sector cheer them on one way or another, counting on them to sustain catalytic social change. Yet, their contributions to the work of social change are often overlooked, undervalued, or simply misunderstood.
4. We can resource these everyday feminists to propel change.
If we are serious about our social impact goals and our giving efforts, we can no longer afford to underestimate, overlook, and underfund what has historically been our most crucial lever for transformative social change: Everyday feminist women.
"Only one percent of gender equality funding gets to the grassroots."
The modern, everyday feminist has proven to be critical for maximizing success, and not just for women's and gender issues, but for causes that span the social spectrum. Resourcing the everyday feminist and the movements they champion is today's most neglected but powerful pathway to real, sustainable social change across the globe, especially for communities in greatest need.
So, how do we do it? Fund them directly to pursue change in their communities. Feminist funds, like Global Fund for Women, channel resources to these everyday feminists. In reality, the amount of funding that gets to everyday feminists is tiny. Only one percent of gender equality funding gets to the grassroots. Imagine the change that would be possible if we, as individuals, foundations, and governments, resourced this work.
5. Don't step aside, join the movement.
The reality is that we need more leaders, everyday feminists, and supporters of everyday feminists in all sectors. For those of you working in the private sector, find ways to work with everyday feminists. For those going into government, allocate more funds to everyday feminists and their causes. For those who want to work in philanthropy, partner with everyday feminists. For those of you who are already or would like to become everyday feminists, thank you. Now, let's all get to work.
To listen to the audio version read by author Latanya Mapp Frett, download the Next Big Idea App today: