Over dinner one night my dad started telling me about his first day in Canada.
It was 1968 and he was twenty-three, arriving on a plane with eight dollars in his pocket to start a new life by himself in a country he had never visited.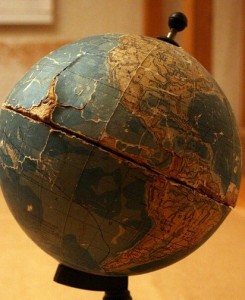 "A community group had a welcome dinner for new immigrants," he started excitedly "And they had a big table of food!" I was unimpressed. "A table of food," I agreed flatly while staring straight ahead and flipping past baseball highlights on TV.
"A table of food," he continued. "Basically Neil, all the presentation of the picnic food on the table, I didn't recognize. There were two or three kinds of salad. Potato salad, macaroni salad, maybe coleslaw. Probably four different kinds of sandwiches, ham sandwich, turkey sandwich, chicken sandwich, roast beef sandwich. Then there were the main courses they called it, you know, tuna casserole? Then the desserts was pies. Which I never seen pies before."
I put down the remote and glanced at him cock-eyed. Behind the thick, boxy
glasses, I could see his eyes darting wildly.
"How did you know what everything was?"
"My brother was there, so I will ask him and he told me whatever it is. The trays of cold cuts was different, instead of regular chicken they have sliced them, sometimes they have them rolled with the toothpick in them. I had never seen cold cuts before, I seen chicken in chicken form, but not rolled up. Same for cheese… some were in slices, some of them in squares."
"What did you eat?" I asked.
"I ate everything, that's the only way to get to know! That's how you get exposed when you don't know, just try different things. I can't believe how many things you can get here!"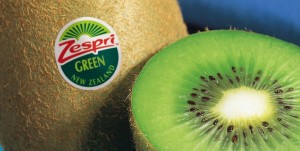 My dad would take me to the grocery store and marvel at the signs beside every fruit. He was fascinated that pineapples came from Costa Rica and kiwis were shipped from New Zealand. Sometimes he came home and opened an atlas to find out where the countries were. "Somebody brought dates from Morocco and dropped them five minutes from the home."
Trending: Have Big Dreams? These 7 Books Will Help You Reach Them
He'd just smile and shake his head.
But if I really stop to think about it, a lot had to happen before we could be here right now. A lot had to happen before we could buy bananas from Ecuador and eat turkey cold cuts, before we could scroll through blogs about warm underwear and cool pillows, before we learned to read anything at all, before we grew tall, before we could talk, before we could walk, before we were even born…
So let's stop for a second and pull back. Let's pull way, way, way, way back.
You used to be a sperm.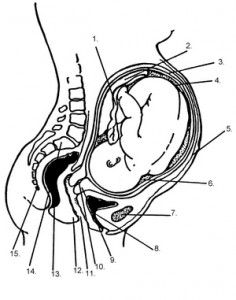 Before they had you, none of your ancestors drowned in a pond, got strangled by a python, or skied into a tree. None of your ancestors choked on a peach pit, were trampled by buffalo, or got their tie stuck in an assembly line.
None of your ancestors was a virgin. You are the most modern, brightest spark of years and years and years of survivors who all had to meet each other in order to eventually make you.
Your nineteenth century Grandma met your nineteenth century Grandpa down at the candle-making shoppe. She liked his muttonchops and he thought she looked cute churning butter.
Your Middle Ages Grandpa met your Middle Ages Grandma while they both poured hot oil from the castle turrets on pillaging vikings. She liked his grunts and he thought the flowers in her hair made her heaving bosoms jump out.
Your Ice Age Grandpa crossing the Bering Bridge in a woolly mammoth fur met your Ice Age Grandma dragging a club in the opposite direction. He liked her saber-tooth necklace and she dug his unibrow.
Your ancient rainforest Grandpa was picking berries naked in the bush while your ancient rainforest Grandma was spearing dodos for dinner. She liked his jungle funk and he liked her cave drawings. If it wasn't for the picnic they had afterwards, maybe you wouldn't be here.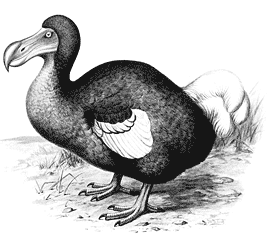 Take a bowling ball and drop it on the edge of your driveway. That's our Sun. Yeah, the ball is only eight inches across and the actual Sun is eight hundred thousand miles across but that's our scale for this little brainwave. Okay, now walk down your street ten big paces and drop a grain of salt on your neighbor's lawn. That's Mercury. Take nine more paces down the street and drop a peppercorn for Venus. And then take another seven paces, so you're now two or three houses down the block, and toss down another peppercorn.
You got it.
That peppercorn is Earth.
Here we are, basking in the blazing sun, twenty-six big steps away from the bowling ball. Our giant planet is just a tiny speck in the middle of nowhere but here's the crazy part: It gets a whole lot bigger.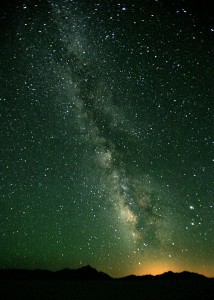 If you keep walking, Mars is only couple more houses away, but Jupiter ends up ninety-five big paces down the street, out of the neighborhood, and halfway to the corner store. By now a dog is probably slobbering in the bowling ball finger holes and kids are flying by you on their bikes, slurping drippy popsicles, and wondering what's up with this nut tossing crumbs on the sidewalk, acting out some demented suburban version of Hansel and Gretel.
If you want to finish up our solar system, you're going to have to start taking two- and three-hundred paces for the remaining planets, eventually dropping a grain of salt for Pluto half a mile away from the bowling ball. You can't see the bowling ball with binoculars and it's getting cold out for your long walk home.
But here's the crazier part: That's just our solar system. That's just our bunch of rocks flying around our big bright bowling ball star.
Turns out our big bright star and all its salt and peppercorns are racing around a cosmic race track with two hundred billion other big bright bowling ball stars. You'd have to cover the entire Earth with bowling balls eight thousand times to represent the number of stars in our race track. Did we mention this race track has a name? Yup, it's called the Milky Way galaxy, presumably because the scientists who first noticed it were all eating delicious Milky Way candy bars late that Friday night down at the telescopes.
So basically our bowling ball, salt, and peppercorns are flying in the fast lane around a ridiculously giant race track galaxy called the Milky Way with billions and billions of other bowling balls, salt grains, and peppercorns, too.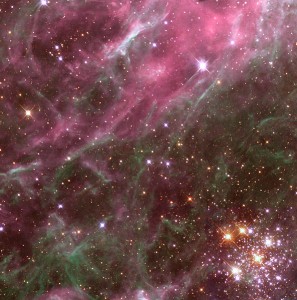 But are you ready for the craziest part: That's just our galaxy. Guess how many giant racetrack galaxies are in all of outer space? Oh, not many. Just more than we can possibly count. Honestly, nobody knows how many galaxies are out there in the big blackness. All we know is that every few years somebody stares out a little further and finds millions more of them just shining way out in the void. We don't know how deep it goes because our rocketships don't blast off that far and our thickest, fattest telescopes can't see that far.
Trending: What Work Will Look Like in the Future, According to 5 New Books
Now, all this space talk might make us feel small and insignificant, but here's the thing, here's the big thing, here's the biggest thing of all: Of the millions of places we've ever seen it appears as though Earth is the only place that can support life. The only place! Oh sure, there could be other life-giving planets we haven't seen yet, but the point is that Earth could easily have been a clump of sulphur gas, be lying in darkness forever, or have a winter that dips a couple hundred degrees and lasts twenty years like Uranus.
On this planet Earth, the only one in the giant dark blackness where anything can live, we ended up being humans. Congratulations, us!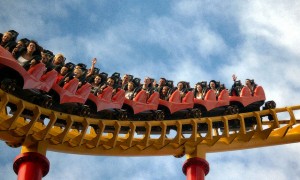 We are the only species on the only life-giving rock capable of love and magic, architecture and agriculture, jewelry and democracy, airplanes and highway lanes. We're the only ones with interior design and horoscope signs, fashion magazines and house party scenes, horror flicks with monsters, guitar jams at concerts. We got books, buffets and radio waves, wedding brides and roller coaster rides, clean sheets and good movie seats, bakery air and rain hair, bubble wrap and illegal naps.
We got all that. But people, listen up. We only get a hundred years to enjoy it, I'm sorry but it's true.
Every single person you know will be dead in a hundred years — the foreman at your plant, the cashiers at your grocery store, every teacher you've ever had, anyone you've ever woken up beside, all the kids on your street, every baby you've ever held, every bride who's walked down the aisle, every telemarketer who's called you at dinner, every politician in every country, every actor in every movie, everyone who's cut you off on the highway, everyone in the room you're sitting in right now, everyone you love, and you.
Life is so great that we only get a tiny moment to enjoy everything we see. And that moment is right now. And that moment is counting down. And that moment is always, always fleeting.

You will never be as young as you are right now.
So whether you're enjoying your first toothpicked turkey cold cuts and marveling at apples from South Africa, dreaming of strange and distant relatives from thousands of years ago, or staring into the blackness of deep, deep space, just remember how lucky we all are to be here right now.
If you feel that sense of wonder and beauty in all the tiny joys in life then you're part of an international band of old souls and optimists, smiling on sidewalks, dancing at weddings, and flipping to the other side of the pillow. Let's all high five and keep thinking wild thoughts, dreaming big dreams, and laughing loud laughs.
---
A version of this post originally appeared on Neil Pasricha's blog, 1000 Awesome Things.