Ramon Hervey II founded Hervey & Company, one of the most respected boutique entertainment management and brand consultant companies in the business for over the past four decades. He has a superstar client list that includes names like Bette Midler, the Bee Gees, Vanessa Williams, and Paul McCartney.
Below, Ramon shares 5 key insights from his new book, The Fame Game: An Insider's Playbook for Earning Your 15 Minutes. Listen to the audio version—read by Ramon himself—in the Next Big Idea App.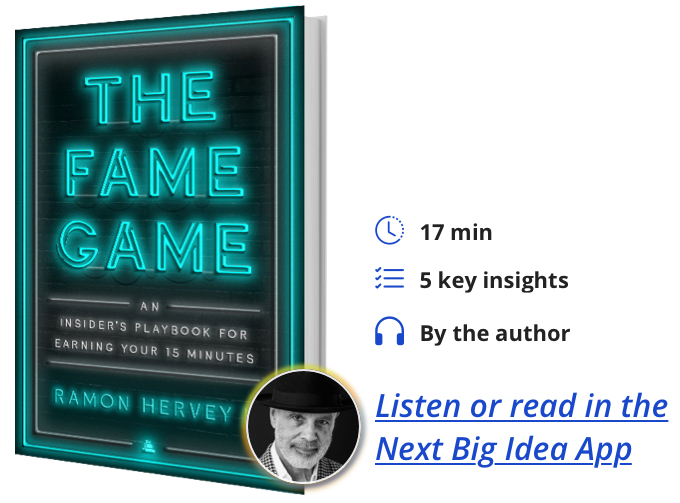 1. Think outside the box.
The entertainment industry is uber competitive. There is an abundance of inflated egos and heightened feelings of self-worth. The level of success and fame one achieves is assessed, judged, and affects your currency and financial worth. Everything from your image, content, glam squad, and fashion sensibility needs to be unique to set you apart from your competitors. The last thing any artist wants to hear is that they sound or look like someone else.
As a manager or publicist, I've constantly tried to come up with novel ideas for my clients. When Bette Midler released her book Saga of Baby Divine, I convinced her to do an eight-city national book tour that would feature in-store appearances where she signed books until the last person in line met her. Thousands showed up, and she signed books for 6 – 8 hours in every market, which helped keep her book on the New York Times best-sellers list for 14 consecutive weeks. Normal book in-store appearances are less than two hours. Without a cutoff time, hers turned into special events that garnered far more media attention.
It's also important to tailor your idea to fit your client. Bette's innate charisma as a performer, her adulated personality, and her loyal fan base were critical to bringing my idea to life. She also personally designed a special hat for each event and took time to walk outside and speak to her fans who had been waiting in line for hours, which again was not customary for authors.
"Don't obsess about being famous because only a fraction of people ever attains it."
Great ideas are only great if you can implement them. Bill Sargent, a known impresario and producer who famously offered the Beatles $50 million to perform one reunion concert, asked me if I could convince Richard Pryor to let him film one of his live arena concerts. No one had done it on that level at the time. I was convinced it would be a huge success, so I pitched it to Richard and his manager. After negotiations, we pulled off the first "Richard Pryor Live in Concert" film which launched a series of successful live concert films Richard released for several years. My ability to think outside of the box has contributed to my success and longevity more than anything else.
2. Don't obsess about fame, obsess about being your best.
Fame is an accolade that comes from being successful. The origins of fame date back to over 180,000 years ago in ancient Mesopotamia when the Akkadian Empire was ruled by Sargon of Akkad. He is recognized as the first emperor, first famous human, and his empire is considered the first famous empire. Did you know that Jesus is still recognized as the most famous human ever? In the past three years, Dwayne "The Rock" Johnson is considered the most famous person on the planet.
The common thread is that becoming successful fueled their fame. Many of my clients spent years honing their craft to attain success, then earned fame as their reward. Don't obsess about being famous because only a fraction of people ever attains it. In 2017, mathematician Samuel Arbesman developed a formula which estimates that of the over 7 billion global population, only 0.000086 are considered famous.
When you strive to achieve your best, no one can ever take that away, whether you achieve fame or not. Fame is mercurial, and it doesn't last forever. It's not a destination, but an accolade.
3. Face crises with honesty. The first lie triggers more lies.
I've managed several major crises throughout my career, and I've studied many more unfold and get botched because they were hamstrung by lies or indignation. Everything from Watergate, the Clinton scandal, Martha Stewart, Lance Armstrong, The Enron Scandal, Trump claiming he won the election, to the recent Dave Chappelle and Will Smith debacles.
"If a crisis is self-inflicted, the best approach is honesty and authenticity."
I personally handled drug scandals involving Natalie Cole, who at one of her lowest points appeared on Good Morning America shortly after freebasing cocaine, and legendary nine-time Grammy Award-winning gospel legend Andrae Crouch, who was arrested for possession of cocaine (although the charges were dropped). I also staged a press conference for Rick James to announce he was filing a $350 million lawsuit against United Press International for wrongfully reporting that he was bald. During the press conference, Rick yanked his dreads to show that they were real. It was by far my funniest and most absurd crisis.
However, my most famous crisis involved my former client and ex-wife Vanessa Williams. She initially gained fame for becoming the first Black Miss America in the pageant's 63-year history. Ten months later, she became even more famous when she had to relinquish her crown over nude photos that were published in Penthouse. After seeing the photos, Alpert Marks, CEO of the Miss America Pageant, requested that she resign and gave her 72 hours to respond. I was hired and given autonomy to strategize her response. I helped craft the statement she read at the historical and frenzied press conference, attended by some 400 media reps, at the Sheraton Hotel in New York to announce her decision to resign.
The idea that publicists or crisis managers can play spin doctor and make a crisis go away is a fallacy. We can limit the collateral damage, but we can't control the outcome. If a crisis is self-inflicted, the best approach is honesty and authenticity. If you lie, it will trigger more lies. If you tell the truth, are contrite, and repentant, there's more likelihood that you'll earn a second chance from the public.
4. Success and fame don't come with a warranty.
Success and fame are not guaranteed, nor do they come with a warranty. How you honor and respect both will impact your ability to sustain it. Andy Warhol was credited with contributing to the iconic phrase: "everyone will get 15 minutes of fame." I don't believe that's the case. The public dictates who becomes famous and for how long. Once they tire of you, they can reduce the number of minutes that you've accrued, or cancel you altogether. They can also enable a talent to regain lost fame. There's also always the possibility that an artist can become famous in another art form, industry, or business than that which initially made them famous.
"The public dictates who becomes famous and for how long."
One of my favorite cases is Quincy Jones, who earned his first wave of fame as an award-winning composer for film and television. He was a talented trumpet player who never achieved fame as a musician. His fame as a film composer was waning, he endured major brain surgery, and then achieved an elevated level of fame that far exceeded his past when he produced three consecutive and transformative albums (Off the Wall, Thriller, and BAD) for Michael Jackson. Michael earned the title "King of Pop," and as a pair they revolutionized the perception of what becoming a mega global superstar meant in the music industry.
There are hundreds of stories of major pop stars who gained fame as one hit or one album wonders, quickly fading into obscurity. A few that stand out are the German/French pop duo Milli Vanilli, rapper Vanilla Ice, and the UK's Bay City Rollers, who were once touted as the next Beatles. I worked at the talent agency in London that represented them, and they ultimately disappeared just as fast as they came on the scene.
5. Don't let fame define you.
This last insight may be the hardest for stars to implement. Since its inception, the entertainment industry was built upon the illusion that superstars or celebrities are not normal people. Their lifestyles were promoted as glamorous and unimaginable. They were more beautiful, sexy, mysterious, and were placed on a rarified pedestal.
All of their handlers earn income by finding ways to maintain the allure and fascination that embodies being a famous person. We voraciously leverage their entitlement to gain perks, favoritism, privileges, and considerably more access to the finer things in life than even moderately successful people will ever experience.
But, if you're a celebrity and lose your authentic self by buying into the hyperbole that you're better than everyone else, then it's almost impossible to regain your sense of self. If a star allows fame to define who they are, they will be trapped in a lonely abyss when they no longer possess relevant fame. All of my most famous clients perceived fame differently: some were defined by it, others weren't. Bette Midler, Richard Pryor, Quincy Jones, Kenny "Babyface" Edmonds, and Don Cornelius were not defined by it. Rick James was obsessed and addicted to fame, craved the adulation, and made sure everyone knew that he was a star.
"If a star allows fame to define who they are, they will be trapped in a lonely abyss when they no longer possess relevant fame."
In the mid-60s when Herb Alpert fronted Tijuana Brass and became one of the biggest pop stars in the world, he walked away from being famous after learning that an album he had yet to record had accumulated advance orders close to one million units. He freaked out because he felt his level of fame was defining him—rather than his music. He gave up recording and took a hiatus. He later continued his artist career and recorded several hit albums as a solo artist—and one with South African trumpeter Hugh Masekela, "The Main Event," that I represented. In the process he redefined himself and changed his relationship to fame.
I always hope for my clients that once the applause ends, the sound and lights are turned off, and the limo has taken them home, that they can escape the shackles of stardom, and feel a sense of calm and relief that allows them to enjoy being in their own skin—at least for a night!
To listen to the audio version read by author Ramon Hervey II, download the Next Big Idea App today: