John Horn is a professor of practice in Economics at the Olin Business School at Washington University in St. Louis. Before joining Olin, he was a senior expert in the Strategy Practice at McKinsey & Company. John has a Ph.D. in economics from Harvard University, where he also received a Master's degree in economics.
Below, John shares five key insights from his new book, Inside the Competitor's Mindset: How to Predict Their Next Move and Position Yourself for Success. Listen to the audio version—read by John himself—in the Next Big Idea App.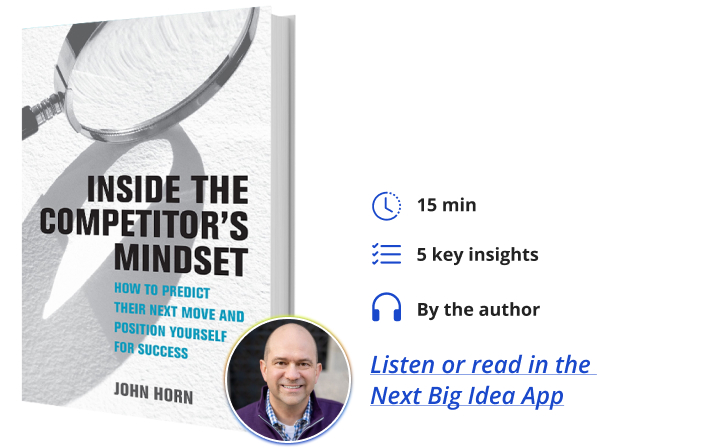 1. Competitors are not irrational.
If you've ever thought a competitor was acting irrationally, you're not alone. In a recent survey, the median response was that competitors acted irrationally 26 to 50 percent of the time across 13 types of strategic decisions. From a different perspective, 30 to 40 percent of respondents assessed that competitors acted irrationally over half the time! These numbers are far too large to reflect actual irrational behavior, so what's driving this perception?
We often view competitors who make decisions we would not make or that are not good for us as acting irrationally. But, they're acting in their own best interests. They have different objectives and goals, in addition to different assets and resources. Every business leader is taught to seek points of differentiation—niche markets or targeted customer segments, or innovative products and services. Because of this, they will almost certainly be making choices that are not the same ones you would make. If they were truly acting irrationally—making choices that would not help them achieve their objectives—they would likely not have lasted long enough and grown large enough to be your competitor.
2. You need to empathize with competitors.
If they're not acting irrationally, the way to understand them is to view the world from their perspective. This is cognitive empathy: an understanding of why they make their choices. You don't have to like their choices or agree with them. You don't have to sympathize with them (that is, feel sorry for them). You do need to understand their perspective if you want to make better predictions about what they will do. This can be challenging because research has shown that individuals with greater power show less neurological activity in the areas of the brain that govern our ability to empathize.
"The point is to identify patterns in statements and behavior that can inform future actions."
There are some simple frameworks to empathize with competitors. First, pay attention to what they say and do. Then, create a description of their assets, resources, and capabilities and ask yourself, "If I were running their company and had access to their resources, what would I do?" Next, the decision will be made by a person—not a black box organization—so explore that individual's past to ascertain their functional and industry experience. Finally, make a prediction and track it in the future to see how accurate you were. The point is to identify patterns in statements and behavior that can inform future actions. Identify additional frameworks for thinking about how competitors will respond to your actions and whether and how they will make spontaneous moves.
3. Develop an inquisitive mindset.
This is said by most business thinkers, but let's focus on one area of inquisitiveness that isn't always mentioned: learning from others. It's not enough just to read widely and set aside time for thinking—though that is also important for a competitive strategist. What I mean by learning from others is actively interacting with others to ask questions. You can pick up tips and tricks for how to approach understanding your competitors.
One group you cannot directly interact with is your set of competitors. You can't inquire from them about their pricing or product portfolio or market entry plans. This clearly runs afoul of most countries' anti-competitive laws.
In the spirit of seeking advice from a wider audience, I interviewed paleontologists, archaeologists, NICU nurses, and a homicide detective to get insight into how they approach their jobs. They are also constrained by not being able to directly interrogate the subject of their inquiry. Originally, I hoped to pick up three to five insights from these conversations, but I learned even more than I expected: I synthesized 10 lessons for competitive insight strategists.
"The unsolicited advice to my question about how to avoid locking into one viewpoint was to build a diverse team."
One lesson I'd like to highlight is Build a Diverse Team. The unsolicited advice to my question about how to avoid locking into one viewpoint was to build a diverse team: different backgrounds, different expertise, different ages, different histories, different cultures, etc. For example, one archaeologist talked with a hunter in their home country to help understand figurines carved from antlers found at a foreign dig site. The hunter's perspective on the blood flow and warmth in antlers opened up a new avenue for the researcher to think about why the material was used. A learning mindset means that you keep your eyes and ears open to input from many different sources.
4. Competition is still relevant in today's world.
Much of today's business strategy focuses on partnerships, platforms, and ecosystems. Rightly so—hardware and software are often created by different companies and have to work together with all the other products and services that combine into the final end-consumer offering. Many think this partnership-focused construct means competition is less relevant.
However, competition is still as relevant as ever for three reasons. First, competitors can arise from within the ecosystem. A supplier, distributor, or complementor could innovate a new offering that disintermediates you. Second, even if those partners don't become competitors—and even though you can talk directly with them—they won't always give you all the information you need. Are you an open book and reveal every detail to them? Why would you think they tell you everything? You still need to get inside their mindset to figure out why they're doing what they do. Especially if you've ever walked away from a meeting thinking "What just happened? What are they really thinking?" They won't tell you everything partly because you are still in competition to capture the ecosystem's value created, which is the third reason.
"The pie may get bigger, but you have to make sure you get the slice you want, and there's a competitive nature to that."
You jointly create value, but the others are not going to willingly hand over all that value to you. The pie may get bigger, but you have to make sure you get the slice you want, and there's a competitive nature to that. Competitive frameworks and processes can help you understand anyone: a partner, a supplier, a regulator, a distributor, a complementor, or a non-profit. Oftentimes, you are also competing with these other entities.
5. Don't fight the organization.
Competitive insight only has impact if it's integrated into the organization's strategic choices. You must have the right people in the competitive insight function, supported by the right processes, and evaluated along the right performance metrics. The key to this is to integrate this new capability as seamlessly as possible.
Employees already have many different dashboards to monitor and reports to fill out. Collecting competitive data needs to fit within the organization's existing data collection structures. It can't be a "new form to fill out" by staff because it will be ignored (or at least create strong resistance by the staff who have to populate it). Instead, add a few entry fields to existing trackers, like CRM systems or business analytics dashboards.
One quick note about technology supports like dashboards: they are incredibly helpful for gathering, storing, and collating data. They can also identify existing patterns. But be careful when using these to understand and predict competitors. The dashboard needs to link the outcomes tracked with the choices competitors have made in order to gauge cause-and-effect patterns. AI tools are great at predicting from past trends, but we are often surprised when competitors make moves that are not a continuation of past behavior, which is not something machine learning has yet perfected. You still need a human element to interpret the data for predicting future competitor actions.
To listen to the audio version read by author John Horn, download the Next Big Idea App today: