Michelle Segar, Ph.D. is a sustainable change researcher at the University of Michigan, where she directs the Sport, Health, and Activity Research and Policy Center. She is also a practicing health coach who has spent almost 30 years iterating between research and real life, aiming to understand what gets in people's way of sticking with healthy lifestyle changes.
Below, Michelle shares 5 key insights from her new book, The Joy Choice: How to Finally Achieve Lasting Changes in Eating and Exercise. Listen to the audio version—read by Michelle herself—in the Next Big Idea App.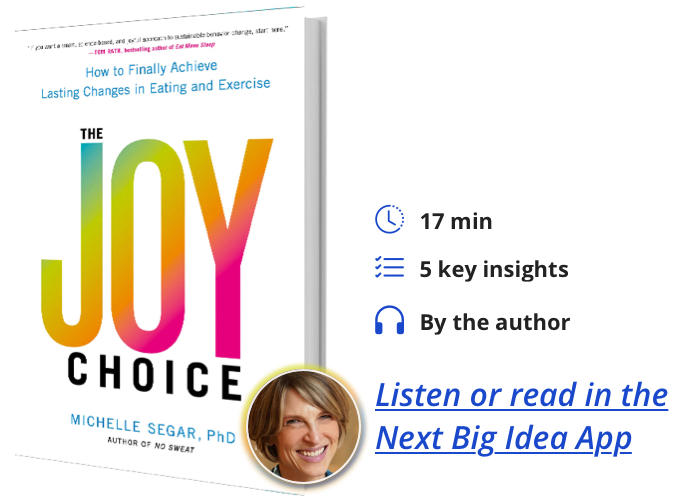 1. Habit formation is not all it's cracked up to be.
Habit formation has become one of the most popular behavior-change strategies because it promises to reduce our mental load by putting healthy choices on autopilot—no need for thinking or willpower. There's an assumption that everyone can form a habit for any behavior, but this isn't the case. Habit formation is considered a three-part process: the cue, behavior, and feel-good reward. To work correctly, the habit loop requires stability and predictability.
For a simple behavior, like flossing, that's easy. It predictably occurs at the same time of day, and in the bathroom (a place that tends to have few distractions). But exercise and eating both involve a number of variables and steps: grocery shopping, cooking, changing clothes, showering, weather. And our best-laid plans interact with the changing needs of our schedule, work, and the needs of family, pets, and other loved ones.
Our ever-changing needs hinder the creation of the rigid cues we've been taught that habit formation depends on. In fact, the latest habit research is grappling with this issue. Leading scientists, like Dr. Allison Phillips, are asking how habit methods might better accommodate the dynamic nature that accompanies complex behaviors, like eating and exercise. Even habit researchers themselves acknowledge that much habit research has been run outside of real-life context.
And contrary to popular belief, there's little evidence that habit formation produces lasting changes in behavior. While I depend on my nightly flossing habit, habit interventions for flossing have actually shown disappointing long-term results. However, once we learn that a change strategy isn't all it's cracked up to be, then we're free to find one that is.
2. Eating and exercise are unique and need their own behavior change solutions.
Consider how you might feel about deciding to get more sleep, or trying to meditate. These behavioral aspirations may give you a twinge of hope or trepidation, but do they hold the same emotional charge as thinking about exercising or cutting out foods you love? Most tell me no. In popular change narratives, eating and exercise often get bundled with other changes in behavior, but in reality, healthier eating and exercise are in a class of their own—for an important reason.
"Weight loss commonly infuses our better eating and exercise projects with negative memories and associations that our life history has firmly rooted in our memories, minds, and bodies."
In our society, both of these behaviors have been inextricably tied to losing weight. In contrast to other behaviors, weight loss commonly infuses our better eating and exercise projects with negative memories and associations that our life history has firmly rooted in our memories, minds, and bodies. This may include things like stigma, failure, and powerful emotions like angst, shame, stress, anger, and trauma. But when eating and exercise get lumped with other behaviors, these underlying issues don't get addressed because they simply aren't relevant to the other behaviors. New theories help explain why, if left unchecked, these negative associations disrupt our best intentions.
Research is emerging that looks at exercise goals in isolation, coming from people like Ralf Brand and Patty Ekkekakis. This is complemented by the rise of studies looking at eating, in isolation, by scientists such as Esther Papies. These researchers are creating ways to understand decisions about eating and exercise through the complex lens of culture, bodily experiences, and brain function. From the theories this research is generating, increasingly effective behavioral solutions will be devised for successfully adopting healthier eating and regular exercise.
3. Break the rules of behavior change to change your behavior for good.
A few years ago, I was training clinicians how to counsel their patients for sustainable lifestyle changes. As I was discussing the science-backed importance of giving patients permission to do less than they planned to do, I got something unexpected: one of the clinicians abruptly stood up to challenge me. She was angry that I had said she should give her patients permission to not follow her exercise prescription to a T. I knew that my response would either get the training back on track, or send it spiraling out of control. She was concerned about their health, so I got right to the point. I asked with a smile, "How's that working for you?" She sat right down.
It's not just clinicians; virtually all of my clients initially have identical concerns. And when I consult on digital behavior change solutions, I often discover that all-or-nothing thinking has been designed into the algorithms and user experiences.
"Doing something, no matter how small, keeps us on track with our greater goals by keeping us moving forward despite the conflicts we face."
For decades we've been bombarded by messages that there are right ways to exercise. We accept that we have to stick to the plan, no matter what. Yet mounting research suggests that doing less and aiming for imperfection when it comes to exercise and eating actually better predicts behavior. For example, one study showed that people with flexible, less rigid eating plans on the weekends (called "flexible restraint") were more successful long-term, compared to those who tried to stick to their plan on the weekends. Another study assessed the impact of being flexible with exercise plans. The investigators reported that changing exercise plans (what they referred to as activity substitution) predicted higher levels of exercise. My research and coaching experience align with these findings.
It's hard to break out of the perfection box. All-or-nothing thinking is so entrenched, it feels like it's baked into our DNA. But letting go of perfection allows us to see our real options. Doing something, no matter how small, keeps us on track with our greater goals by keeping us moving forward despite the conflicts we face. Rejecting the all-or-nothing mindset is not only liberating—science shows it's what most of us need to create changes that stand the test of time.
4. Train yourself in trade-off thinking.
We typically initiate a change in a motivation bubble. Whether it's the New Year, an upcoming reunion, or some image on social media, we get inspired to achieve ambitious eating or exercise goals. Filled with inspiration and commitment, the goal feels attainable, and we believe that this time we're really going to do it. But this bubble is huge and fragile, so as soon as it comes into contact with an everyday challenge, it bursts. When it does, our intended plans go down the drain—along with the goal.
We keep doing the same thing, despite disappointing results, because we've been socialized to over-focus on the end game instead of the journey. When we're focused on idealized aspirations, we're not focused on what's in our way to get there. Plans go awry, and we accept that things simply can't go well all the time in other life areas. We don't feel like failures when we adjust our schedules for a dental emergency or a sick child—we don't quit our dentist or abandon our kids. We bring flexibility to our careers, education, and other important life areas. We stay the course, take the challenges as they come, learn what works, and keep moving forward.
"We don't feel like failures when we adjust our schedules for a dental emergency or a sick child—we don't quit our dentist or abandon our kids."
Goals and plans are important foundations for starting any behavior change, but the solution for lasting change needs something else. It necessitates that we learn how to make trade-offs when facing in-the-moment challenges (choice points) to our plan. Most choice points are resolved by either extreme solutions or mixed solutions. Extreme solutions reflect all-or-nothing thinking, while mixed solutions are compromises that partially satisfy multiple life areas.
Mounting research suggests that by learning to make trade-offs at eating and exercise choice points, we can make the consistent decisions that underlie sustainability.
5. Pick the Joy Choice.
First, it's strategic. The Joy Choice was designed to help healthy eating and exercise survive the complexity of the real world. When picking the Joy Choice at a point of conflict, we're choosing the perfectly imperfect option. It's the antidote to the all-or-nothing rigid thinking that sets most of us up to fail. And importantly, this is what science suggests is needed to stay the path long-term. "Something is better than nothing" isn't a sexy message, but it reflects an essential truism that doing anything maintains momentum. That allows us to feel positive about our decision, boosts our confidence, and reinforces the use of this pragmatic strategy the next time.
Second, the Joy Choice honors unique life values and priorities. This hit home for me years ago in a study that my colleagues and I conducted with funding from the National Cancer Institute. We aimed to understand differences among people who were regularly physically active compared to those who weren't. We found that regularly active participants discussed physical activity as congruent with their core identity and life goals. It supported their sense of autonomy, competence, and connection with others. In contrast, the low-activity participants didn't suggest that they viewed physical activity as a way to support their greater values or daily priorities. Referred to as "value-based choice" by researchers like Elliot Berkman and Emily Falk, when our choices are congruent with our core values, they are inherently and deeply rewarding.
Emerging science suggests that people can be taught to consider exercise and eating goals as part of their identity. When they do, they make healthier choices, perceive their goals as easier to pursue, and are more likely to sustain their desired change. Every time we pick the Joy Choice, we're affirming our values, our sense of self, and fueling up for the people and projects that matter most.
To listen to the audio version read by author Michelle Segar, download the Next Big Idea App today: