Todd Harra is a licensed funeral director and embalmer. He has over a decade of professional experience, and comes from a long line of family members in the industry, going all the way back to the Civil War when his great-great-great grandfather was the town's undertaker.
Below, Todd shares 5 key insights from his new book, Last Rites: The Evolution of the American Funeral. Listen to the audio version—read by Todd himself—in the Next Big Idea App.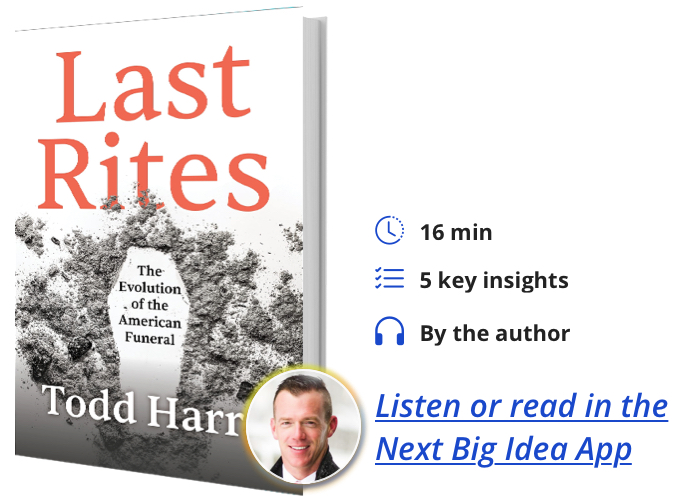 1. The new sanitary science.
In 1840, a little-known physician named Richard Harlan, who ran a dissecting theater in Philadelphia, translated a textbook about a relatively obscure scientific procedure called embalming. The textbook, written by French chemist Jean-Nicolas Gannal, was the first of its kind and was mainly for anatomical specimen preservation. However, Gannal was also promoting embalming for funerary purposes.
Harlan's translation was largely ignored for the next two decades, but then suddenly it was necessary with the outbreak of the Civil War. The Adams Express refused to ship remains unless they were sealed in a metallic coffin or had been preserved. The tacit approval for the cadre of embalmers who flocked to the nation's capital to ply their skills came from the president himself.
On May 24, 1861, the day after Virginia ratified their secession, the first Union officer, Colonel Elmer Ellsworth, was killed. Ellsworth landed in Alexandria as part of an amphibious assault, and after securing the telegraph office, raced to the Marshall House (an inn) to take down a secession flag so big it could be seen from the White House with binoculars. As he came down the steps wearing the flag, James Jackson, the innkeeper and ardent secessionist, shot him in the chest with a shotgun. Ellsworth had been Lincoln's law clerk and was a brilliant military commander who had been assigned as Lincoln's bodyguard during his inaugural train ride to Washington.
Thomas Holmes, a Brooklyn physician, approached the president and asked permission to preserve his friend's body so that it might be returned to his family in Mechanicville, New York. The president reluctantly agreed and requested Ellsworth be laid out in the White House for a funeral ceremony.
Embalming, seemingly, stood death on its head. Before this moment, Americans were accustomed to the sights and smells of their dead leading up to burial. Yet here, in the East Room lay a man who had been shot in the chest—a wound that would have rendered viewing almost impossible before—that Mary Todd Lincoln commented, "He looks like he's only sleeping."
2. Formation of the traditional funeral.
The assassination of President Lincoln made it the template for funerals over the next century-and-a-half. It was the visage of Elmer Ellsworth that caused the president and Mrs. Lincoln to have their son, Willie, embalmed in 1862, and why a distraught Mary Todd agreed to have her martyred husband embalmed in April of 1865.
"Embalming, seemingly, stood death on its head."
Lincoln's funeral train was an 11-stop funeral, covering 1,662 miles and passing through 404 cities, towns, villages, and crossroads. Millions of people witnessed or participated in the funeral rites, and 880,000 people cast their eyes upon the president's embalmed remains between the first viewing at the White House on April 19 and his interment in Springfield, Illinois on May 4.
George Townsend, correspondent for the New York World wrote, "Death has fastened into his frozen face all the character and idiosyncrasy of life. He has not changed one line of his grave, grotesque countenance, nor smoothed out a single feature . . . No corpse in the world is better prepared according to appearances." After seeing their slain president, the people's thought was, If it's good enough for the president then it's good enough for me.
In addition to Lincoln's funeral becoming the driving force behind the acceptance of embalming, his funeral solidified other elements like copious and grand floral displays, acceptance of post-mortem photography, as well as the prominence of the coffin and hearse.
For example, each city went out of their way to build the grandest transport vehicle for the president. Undertaker Peter Relyea was tasked with such a feat for New York. Working around the clock for three days with sixty workers, Relyea produced a grand vehicle fourteen feet long by eight feet wide pulled by sixteen gray caparisoned horses. The hearse cost the city a whopping $9,000—or about $165,000 in today's money.
Another piece of the funeral puzzle thrust into the spotlight was mourning garb. Mary Todd Lincoln put on mourning clothing, never to take it off until her death seventeen years later.
3. The phantom body crisis.
Victorian-era Americans were obsessed with death and adopted a rigid set of overt mourning rules that affected the way they dressed and interacted. Women (and men to a lesser extent) were required to follow social mores when a family member died. Not only did this include dress etiquette, but the bereaved were expected to conduct correspondence on stationary bordered in black, smoke black cigarettes, and sometimes even to have black bedsheets.
Dr. Timothy Blade, the former curator of decorative arts of the University of Minnesota, explains these rigid Victorian rules, saying they, "accomplished two important things: easing the bereaved through the mourning period by providing a series of pre-made decisions, and identifying to the rest of society a family who had suffered a loss, thus assuring that the members would be treated with extra consideration and kindness."
Mourning rules were adopted immediately followed the Civil War. 650,000 husbands, sons, brothers, and fathers died. It's estimated that only 6 percent were embalmed and thus able to be sent home. That means roughly 610,000 people simply vanished from their family's lives. The entire nation was in mourning for these phantoms, and the rules of mourning helped the nation cope.
Just as quickly, we see the nation shed them off during another phantom body crisis—the Great War. Not only did 106,000 doughboys die on European soil, but the world was rocked by a flu pandemic, and on home soil everyone was scrambling to get the remains into the ground to prevent further spread of the disease.
"The entire nation was in mourning for these phantoms, and the rules of mourning helped the nation cope."
Overt displays of mourning became a morale issue during WWI. There were too many dead and there was a war effort. Almost overnight, Americans cast off the Victorian customs of mourning garb, though they held on to the ritual of burial in the newly invented cemetery. No longer were Americans satisfied with burying their dead in moldering churchyards, but in rural places of tranquility outside the city limits called cemeteries.
4. Flame burial.
The Victorian tradition of inhumation is also no longer the norm. Cremation is now the preferred method of disposition for Americans, with the cremation rate expected to pass the 60 percent mark in 2023. This explosion of popularity of turning our dead into ash is a recent one.
Cremation started out as sanitary reform. An eccentric Pennsylvania physician named Dr. Julius LeMoyne was worried that effluvia from graveyards was contaminating underground drinking water, so he erected the first crematorium on his own land in 1876. The issue of producing sustained heat vexed cremationists for years, but was solved with Professor Lodovico Brunetti's invention of a cremation chamber which he displayed at the 1873 Vienna Exposition with a sample of cremated remains and a sign that read: "Reject ignorance. Strive for restored reason."
LeMoyne built the crematorium for use when he died, but Colonel Henry Steel Olcott, head of the Theosophical Society, approached Dr. LeMoyne prior to the crematorium's completion to plead his case for cremating a penniless Bavarian nobleman named Baron de Palm. On December 6, 1876 Baron de Palm became the first cremation.
"The "traditional" American funeral isn't static."
The first public crematory wouldn't open for another eight years, and cremation was slow to catch on in the face of centuries of inhumation. By 1963, the cremation rate was at 3.7 percent when two things happened: The Catholic Holy Office published Piam et constantem, a document allowing Catholics to cremate, and Jessica Mitford published The American Way of Death, her scathing expose of American burial practices. Those two pieces, along with the proliferation of cremation societies, pushed cremation into the preferred method of disposition in just half a century.
5. The future of funerary practices.
Much of what's talked about as far as the future of funeral service has to do with disposition—what we do with the body after death. Traditionally, the two choices have been burial and cremation, with a twist on burial emerging in the form of the eco-friendly Green Burial. The number of cemeteries offering Green Burial has expanded by 500 percent in the past decade. Human Composting, or Natural Organic Reduction (NOR), was legalized in Washington State in 2020 and is now also legal in Colorado and Oregon, with several other states considering legalization. NOR involves reducing the body to a cubic yard of sterile soil over the course of a month. There's a little-known form of disposition called alkaline hydrolysis, or water cremation, that's been around for almost a decade. The resulting remains are similar to that of flame cremation, but are achieved with heated water, an alkaline chemical (like potassium hydroxide), and sometimes a little pressure.
Disposition isn't the only thing changing. More Americans are choosing to die at home, guided by a death doula, have in-home funerals, and talk about death at Death Cafes and "Before I Die Festivals." With more and more Americans identifying as "not religious," the new norm for funerals is a celebration of life rather than a religious service.
The "traditional" American funeral isn't static. It's in a constant state of flux. No matter what happens fifty, a hundred, or two hundred years from now, people will still die and need a funeral, and the American funeral rite will continue to morph to meet the demands of the culture.
To listen to the audio version read by author Todd Harra, download the Next Big Idea App today: