Released in 2021, Tom Peters' Excellence Now: Extreme Humanism has quickly become a must-read for business leaders in any industry. Peters' first book, In Search of Excellence, established him as a leading name in management literature. In Excellence Now: Extreme Humanism, he tackles the state of leadership today. Supported by quotes from successful leaders across industries and inflected with tips gleaned from leadership experience during COVID-19, this latest work dives into what it means to lead with compassion and humanity.
In our series of "Book Bite Classics," we share five key insights from groundbreaking, beloved books that everyone should read. Below you'll find one big idea from Excellence Now—to read or listen to the remaining four, download the Next Big Idea App today.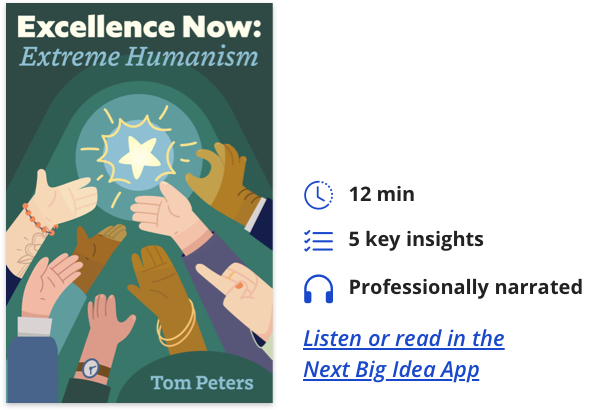 Big Idea: Build a culture of joy.
Richard Sheridan, CEO of Menlo Innovations, a successful software firm, shared that the core guiding value of his company is joy. This may be hard to believe. But throughout Excellence Now: Extreme Humanism, Tom Peters advocates for the role of happiness in the workplace.
Happiness transcends mere job satisfaction; it is a driving force for employee-company engagement and investment. Tom Peters reminds us that to build this culture of joy, we must remember that each employee is a person outside of the office, with unique dreams, needs, interests, and values. He argues that the company should be fulfilling to people by helping them realize their dreams and pursue their interests. People feel joy when they love what they're doing and when they feel like they're working to make a better life for themselves, or working toward achieving their dreams. As such, the businesses people work for should play a role in helping their employees achieve their dreams.
For example, take the Ritz Carlton. Frequently voted one of the best employers, the hotel chain values each individual employee, and makes it a point to treat their employees the same way they treat their guests. This means that the employees, from the housekeepers to the front desk staff, feel valued and respected. They are also offered plenty of professional development opportunities, like training or education, so that they can move up in the company, move on, or come closer to achieving their dreams.
The message here is clear: help your employees find the joy in their work. Make your company a happy place to work, founded on mutual respect and a culture of engagement and trust. At the same time, help your employees take the steps they're hoping to take in life, advancing their education or getting a promotion. In this way, employees become dedicated to performing their jobs well, they feel invested in the company's success, and they feel that the company they work for is invested in their happiness.
To read or listen to the rest of this Book Bite, download the Next Big Idea App today: