On some days, we wake up ready to take on the world. We spring out of bed, down a cup of coffee, and get cranking on our latest project without a second thought or moment's hesitation.
Those days don't come around as often as we'd like, but there's something we can do to increase their frequency: fill our minds with inspiring stories and mind-blowing science. So if you're ready rekindle the fire of your motivation, start by checking out the ten excellent reads below.
Learn something new every day with "Book Bites," 15-minute audio summaries of the latest and greatest nonfiction. Get started by downloading the Next Big Idea App today!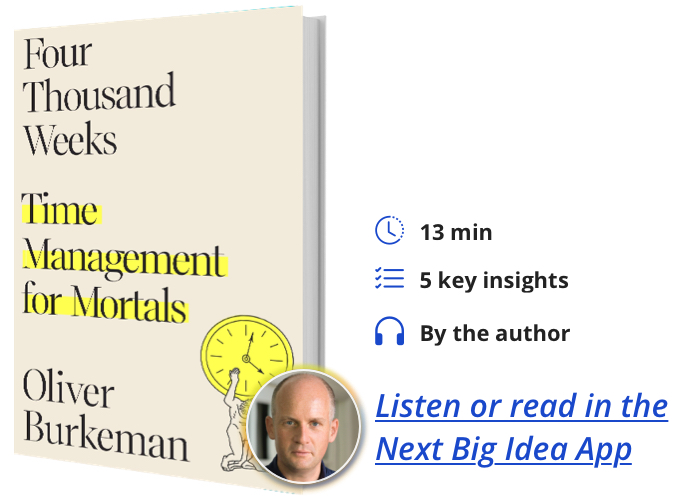 Four Thousand Weeks: Time Management for Mortals
By Oliver Burkeman
An acclaimed Guardian writer offers a lively, entertaining, philosophical guide to time and time management, setting aside superficial efficiency solutions in favor of reckoning with and finding joy in the finitude of human life. Listen to our Book Bite summary, read by author Oliver Burkeman, in the Next Big Idea App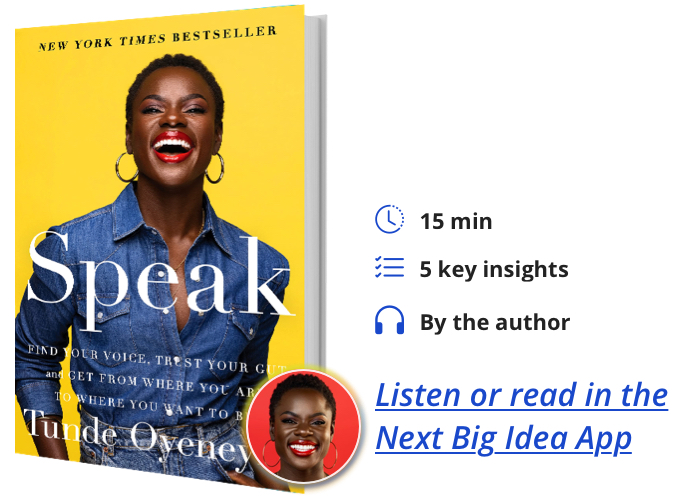 Speak: Find Your Voice, Trust Your Gut, and Get from Where You Are to Where You Want to Be
By Tunde Oyeneyin
From the massively popular Peloton instructor, fitness star, and founder of SPEAK comes an empowering, inspiring book about how she transformed grief, setbacks, and flaws into growth, self-confidence, and triumph. Listen to our Book Bite summary, read by author Tunde Oyeneyin, in the Next Big Idea App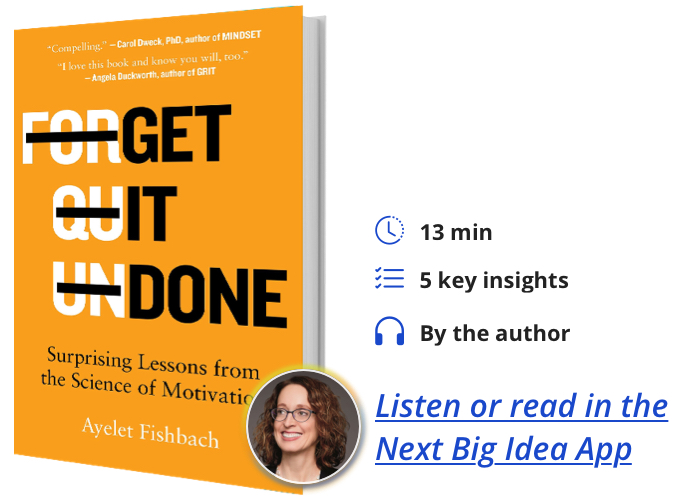 Get It Done: Surprising Lessons from the Science of Motivation
By Ayelet Fishbach
With fascinating research from the field of motivation science and compelling stories of people who learned to motivate themselves, Get It Done illuminates invaluable strategies for pulling yourself in whatever direction you want to go—so you can achieve your goals while staying healthy, clearheaded, and happy. Listen to our Book Bite summary, read by author Ayelet Fishbach, in the Next Big Idea App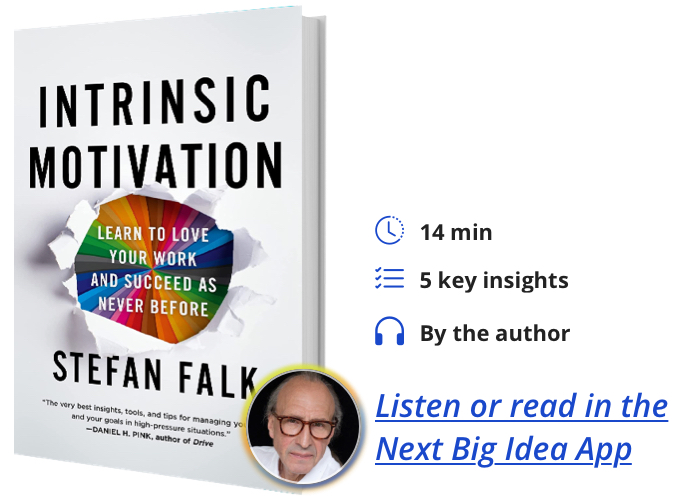 Intrinsic Motivation: Learn to Love Your Work and Succeed as Never Before
By Stefan Falk
Intrinsic motivation―doing a thing for its inherent satisfaction rather than external rewards―is the key to success and satisfaction in any endeavor. A legendary performance coach shares his simple, proven, and fun methods for cultivating and keeping it. Listen to our Book Bite summary, read by author Stefan Falk, in the Next Big Idea App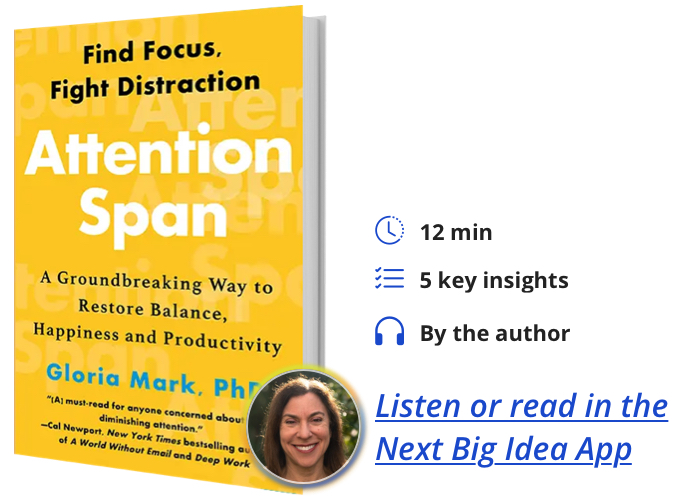 Attention Span: A Groundbreaking Way to Restore Balance, Happiness and Productivity
By Gloria Mark
It takes 25 minutes to bring our attention back to a task after an interruption—and we interrupt ourselves more than we're interrupted by others. In Attention Span, a renowned psychologist reveals these and more surprising results from her decades of research into how technology affects our attention. Listen to our Book Bite summary, read by author Gloria Mark, in the Next Big Idea App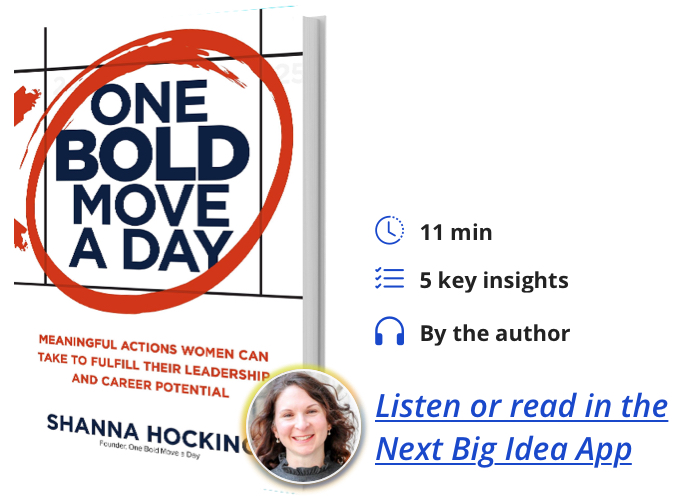 One Bold Move a Day: Meaningful Actions Women Can Take to Fulfill Their Leadership and Career Potential
By Shanna Hocking
More than just a career guide, One Bold Move a Day shows you how a single, measurable act each day will help you fulfill your potential, both personally and professionally. Listen to our Book Bite summary, read by author Shanna Hocking, in the Next Big Idea App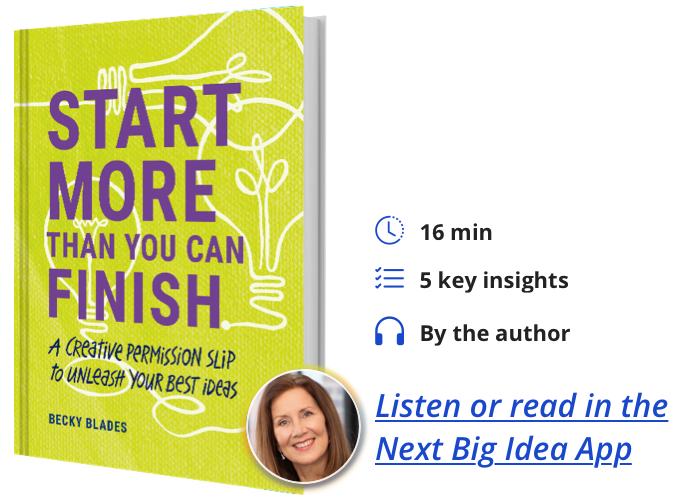 Start More Than You Can Finish: A Creative Permission Slip to Unleash Your Best Ideas
By Becky Blades
Using digestible data, humorous and honest personal experience, interviews with artists and entrepreneurs, and assignments to help you get started, Start More Than You Can Finish challenges the tropes our dads, moms, and third-grade teachers told us about finishing. Listen to our Book Bite summary, read by author Becky Blades, in the Next Big Idea App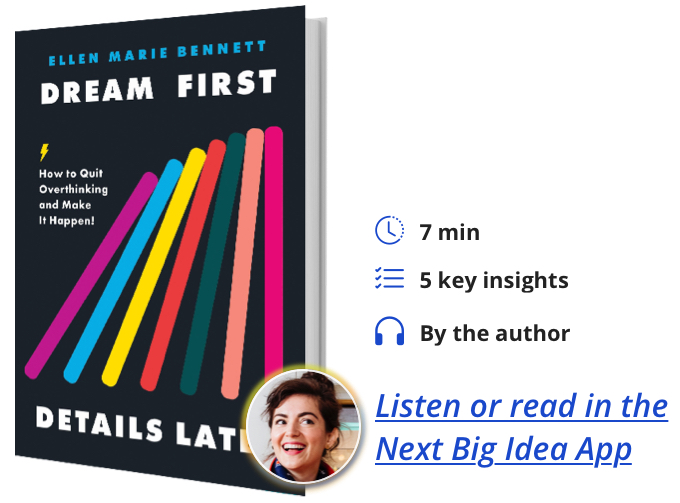 Dream First, Details Later: How to Quit Overthinking & Make It Happen!
By Ellen Marie Bennett
The author shares her incredible journey from young line cook to the founder and CEO of Hedley & Bennett, an apron and kitchen gear brand that outfits the world's best chefs. Her book will help anyone who's procrastinating on a goal, career change, or business idea to stop the obsessive worrying and leap into action. Listen to our Book Bite summary, read by author Ellen Marie Bennett, in the Next Big Idea App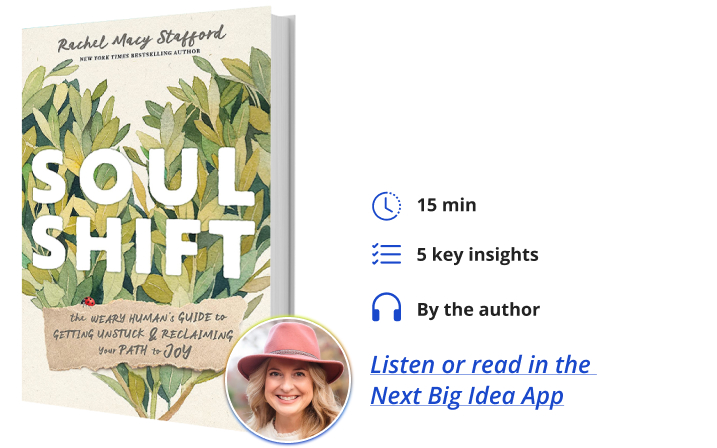 Soul Shift: The Weary Human's Guide to Getting Unstuck and Reclaiming Your Path to Joy
By Rachel Macy Stafford
An acclaimed blogger and special education teacher offers a practical, inclusive guide to navigating a culture of distraction and depletion to find our way back to what delights our heart, makes us feel alive, and brings us peace. Listen to our Book Bite summary, read by author Rachel Macy Stafford, in the Next Big Idea App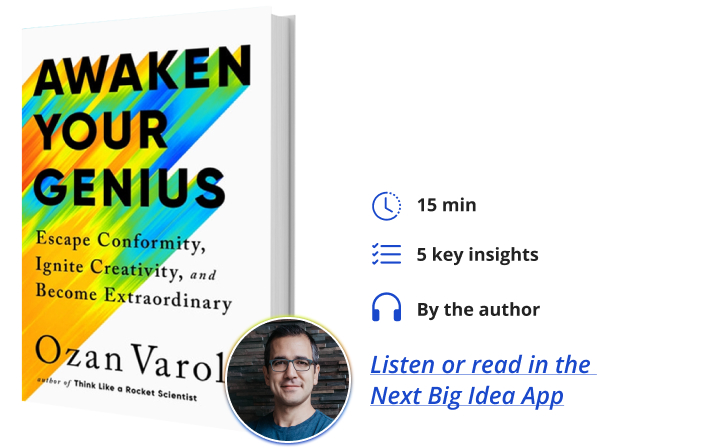 Awaken Your Genius: Escape Conformity, Ignite Creativity, and Become Extraordinary
By Ozan Varol
Extraordinary people carve their own paths as leaders and creators. They stand out from the crowd because they embody their own shape and color. We call these people geniuses—as if they're another breed. But genius isn't for a special few. It can be cultivated. Listen to our Book Bite summary, read by author Ozan Varol, in the Next Big Idea App
The Key Ideas in 15 Minutes
"If you are going to get anywhere in life, you have to read a lot of books," Roald Dahl once famously said. The only trouble is, reading even one book from cover to cover takes hours—and you may not have many hours to spare.
But imagine for a moment: What if you could read a groundbreaking new book every day? Or even better, what if you could invite a world-renowned thinker into your earbuds, where they personally describe the 5 key takeaways from their work in just 15 minutes?
With the Next Big Idea App, we've turned this fantasy into a reality. We partnered with hundreds of acclaimed authors to create "Book Bites," short audio summaries of the latest nonfiction that are prepared and read aloud by the authors themselves. Discover cutting-edge leadership skills, productivity hacks, the science of happiness and well-being, and much more—all in the time it takes to drive to work or walk the dog.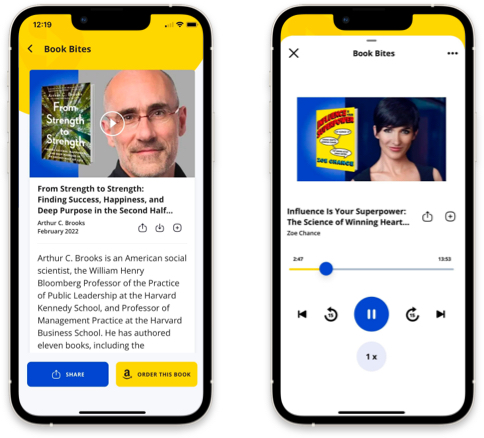 "I love this app! The Book Bites are brilliant, perfect to have in airports, waiting rooms, anywhere I need to not doomscroll… You guys are the best!" – Missy G.
Go Deeper with a Next Big Idea Club Membership
The Next Big Idea App is free for anyone to try—and if you love it, we invite you to become an official member of the Next Big Idea Club. Membership grants you unlimited access to Book Bites and unlocks early-release, ad-free episodes of our LinkedIn-partnered podcast. You also gain entry to our private online discussion group, where you can talk big ideas with fellow club members and join exclusive live Q&A sessions with featured authors.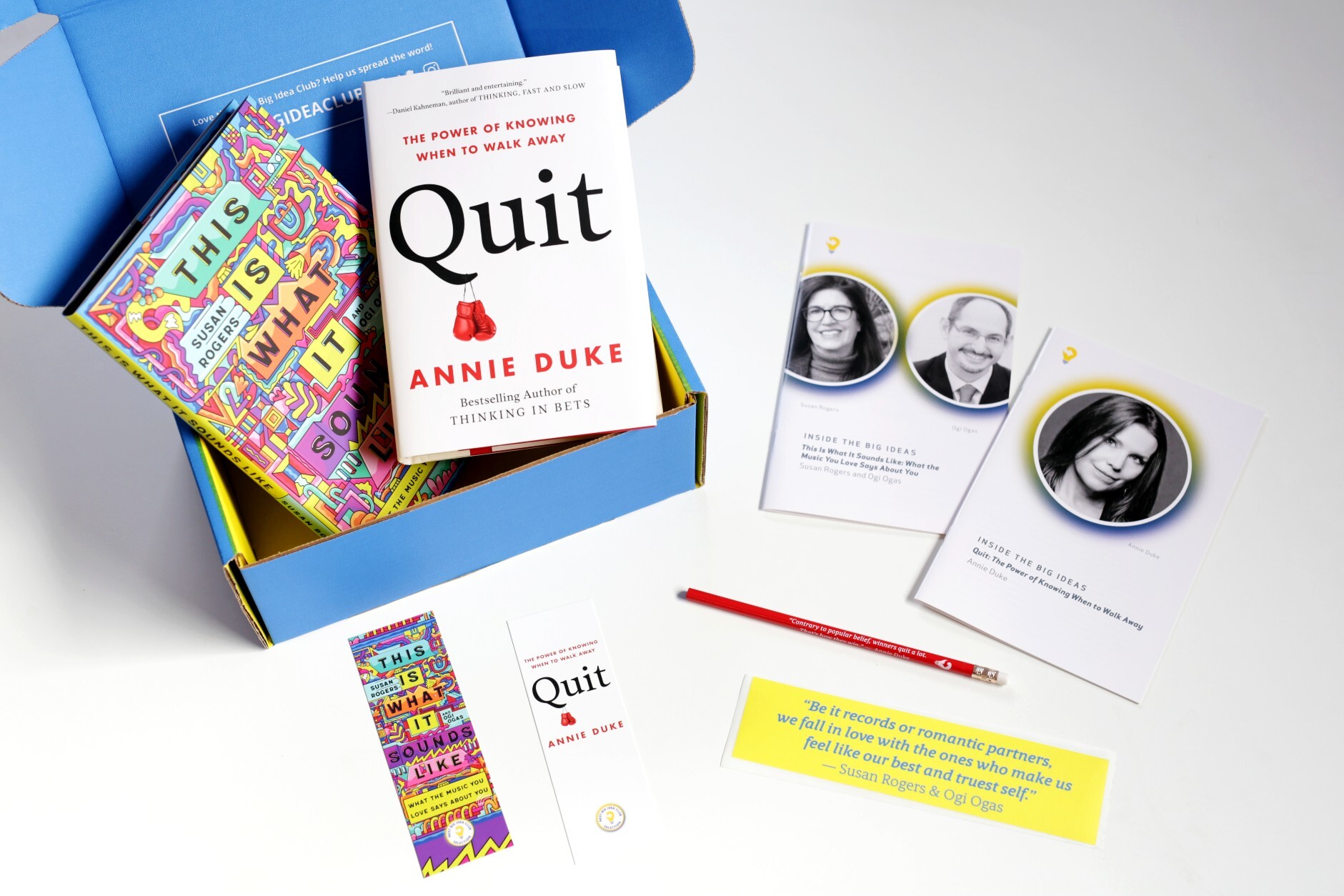 For a more focused learning experience, we recommend a Hardcover or eBook Membership. Every few months, legendary authors and club curators Malcolm Gladwell, Susan Cain, Adam Grant, and Daniel Pink select two new nonfiction books as the must-reads of the season. We then send hardcover copies straight to your doorstep, or eBook versions to your favorite digital device. We also collaborate with the authors of selected books to produce original reading guides and premium video e-courses, 50-minute master classes that take you step by step through their most life-changing ideas. And yes, it's all available through the Next Big Idea App.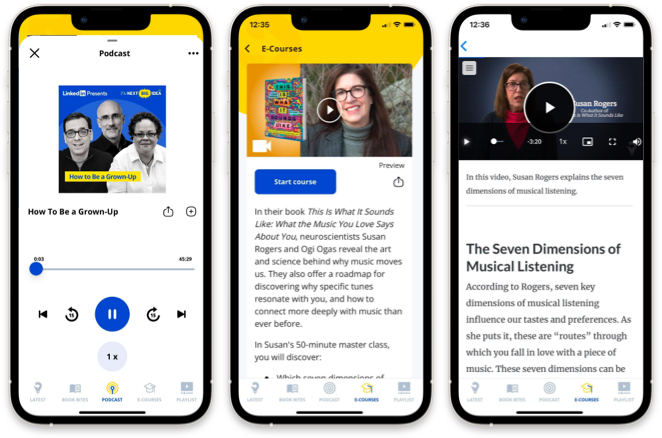 "My biggest Thank You is for the quality of book selections so far. I look on my shelf and see these great titles, and I find myself taking down one or two each month to reread an underlined passage. Full marks to all involved!" – Tim K.
Learn Faster, from the World's Leading Thinkers
Whether you prefer to read, listen, or watch, the Next Big Idea is here to help you work smarter and live better. Wake up with an always-fresh Idea of the Day, the perfect shot of inspiration to go with your morning coffee. Then dive into one of our Challenges, hand-picked collections of Book Bites that form crash courses in subjects like communication, motivation, and career acceleration. Later, watch the playback of an interview with U.S. Surgeon General Vivek Murthy, Stanford psychologist Jennifer Eberhardt, or philosopher John Kaag. And be sure to check the "Events" tab in the app, so that you can join an upcoming live Q&A and personally chat with the next featured thought leader.
If you're hoping to grow as a person or as a professional, we hope you'll join us and tens of thousands of others who enjoy the Next Big Idea. Get started by downloading the app today!