I'm pleased to share what I consider the most promising, must-read nonfiction titles scheduled for release in October of 2022. These titles make up our third and final group of nominees for Season 19 of the Next Big Idea Club (the August group was announced here, and the September group here).
All nominated books will be shared with our Next Big Idea Club curators—Susan Cain, Malcolm Gladwell, Adam Grant, and Daniel Pink—who will narrow the list down to a handful of finalists and, ultimately, two official season selections.
Authors will also be invited to create a "Book Bite", a 15-minute audio self-recording that features 5 big ideas from their book. It's kind of like chatting with a stranger at a party—only that person just happened to write a fascinating nonfiction book!
And now, the October 2022 titles are…

Hunting: A Cultural History
By Jan Dizard & Mary Zeiss Stange
Publication Date: October 4, 2022
Humans have been hunting since we became human—but did hunting make us human? The authors consider and question the "hunting hypothesis of human origins." View on Amazon

Decisions Over Decimals: Striking the Balance Between Intuition and Information
By Christopher Frank & Paul Magnone & Oded Netzer
Publication Date: October 4, 2022
Successful decision-makers are fierce interrogators. They square critical thinking with open-mindedness by blending information, intuition, and experience. Balancing these elements is at the heart of Decisions Over Decimals. View on Amazon

Lighter: Let Go of the Past, Connect with the Present, and Expand the Future
By Yung Pueblo
Publication Date: October 4, 2022
A radically compassionate plan for turning inward and lifting the heaviness that prevents us from healing ourselves and the world. Pueblo's path to deep healing began only after years of drug abuse had taken a toll on his mind and body. Searching for a way forward, he found that by honestly examining and addressing the anxieties and fears that he had been running away from, he no longer felt like a stranger inside of his heart and mind. View on Amazon

Feral City: On Finding Liberation in Lockdown New York
By Jeremiah Moss
Publication Date: October 4, 2022
In this genre-bending work of "autotheory," Moss gives an account of his renewed sense of place as a transgender man, braiding the narrative with psychoanalysis, literature, and queer theory, as he offers valuable insight into the way public space―and the spaces inside us―are controlled and can be set free. View on Amazon

Modern Wisdom, Ancient Roots: The Movers and Shakers' Guide to Unstoppable Success
By Srikumar S. Rao
Publication Date: October 4, 2022
Profound wisdom for today's busy thinker. Unconventional and highly successful coach Dr. Srikumar Rao distills and condenses valuable life lessons, from ancient sources, literature, and his own experience, into quick-to-read, easily digestible chapters. View on Amazon

Body Am I: The New Science of Self-Consciousness
By Moheb Costandi
Publication Date: October 4, 2022
Costandi examines how the brain perceives the body, how that perception translates into our conscious experience of the body, and how that experience contributes to our sense of self. Along the way, he explores what can happen when the mechanisms of bodily awareness are disturbed, leading to such phenomena as phantom limbs, alien hands, and amputee fetishes. View on Amazon

The Family Outing
By Jessi Hempel
Publication Date: October 4, 2022
By the time Jessi reached adulthood, everyone in her family had come out: Jessi as gay, her sister as bisexual, her father as gay, her brother as transgender, and her mother as a survivor of a traumatic experience with an alleged serial killer. Yet coming out was just the beginning, starting a chain reaction of other personal revelations and reckonings that caused each of them to question their place in the world in new and ultimately liberating ways. View on Amazon

The Fight for Privacy: Protecting Dignity, Identity, and Love in the Digital Age
By Danielle Keats Citron
Publication Date: October 4, 2022
Wherever we live, laws have failed miserably to keep up with corporate or individual violators, letting our privacy wash out with the technological tide. With vivid examples drawn from interviews with victims, activists, and lawmakers from around the world, The Fight for Privacy argues urgently and forcefully for a reassessment of privacy as a human right. View on Amazon

Quit: The Power of Knowing When to Walk Away
By Annie Duke
Publication Date: October 4, 2022
Whether you're facing a make-or-break business decision or life-altering personal choice, mastering the skill of quitting will help you make the best next move. View on Amazon

Why Managers Matter: The Perils of the Bossless Company
By Nicolai Foss & Peter Klein
Publication Date: October 4, 2022
A new, important and pragmatic vision on what the job of the boss is in an age of lean/flat/agile organizations, self-organizing teams, and mass collaboration, .when bosses are expected to disappear, countering conventional wisdom of the media and management gurus. View on Amazon

The Cashless Revolution: China's Reinvention of Money and the End of America's Domination of Finance and Technology
By Martin Chorzempa
Publication Date: October 4, 2022
The startling picture of how China's revolution in finance and technology is changing both Wall Street and the way individuals manage their personal finances. View on Amazon

When McKinsey Comes to Town: The Hidden Influence of the World's Most Powerful Consulting Firm
By Walt Bogdanich & Michael Forsyth
Publication Date: October 4, 2022
An explosive, deeply-reported expose of McKinsey & Co., the international consulting firm that advises corporations and governments, that highlights the often drastic impact of their work on employees and citizens around the world. View on Amazon

Life Is Hard: How Philosophy Can Help Us Find Our Way
By Kieran Setiya
Publication Date: October 4, 2022
Warm, accessible, and good-humored, this book is about making the best of a bad lot. It offers guidance for coping with pain and making new friends, for grieving the lost and failing with grace, for confronting injustice and searching for meaning in life. Countering pop psychologists and online influencers who admonish us to "find our bliss" and "live our best lives," Setiya acknowledges that the best is often out of reach. Instead, he asks how we can weather life's adversities, finding hope and living well when life is hard. View on Amazon

Rest Is Resistance: A Manifesto
By Tricia Hersey
Publication Date: October 11, 2022
Disrupt and push back against capitalism and white supremacy by connecting to the liberating power of rest, daydreaming, and naps as a foundation for healing and justice. Tricia Hersey, aka The Nap Bishop, encourages us to elevate rest as a form of resistance and a divine human right. View on Amazon

The Book of Boundaries: End Resentment, Burnout, and Anxiety–and Reclaim Your Time, Energy, Health, and Relationships
By Melissa Urban
Publication Date: October 11, 2022
Set the limits that will set you free. As the co-founder of the Whole30, Melissa Urban helped millions of people transform their relationship with food. Now, in this powerful and practical guide to setting boundaries, she shows you how to prioritize your needs and revolutionize your relationships. View on Amazon

Virtual Society: The Metaverse and the New Frontiers of Human Experience
By Herman Narula
Publication Date: October 11, 2022
An eye-opening, myth-busting exploration of the metaverse—and how it is poised to expand the possibilities of human life—from the visionary co-founder of one of today's most innovative technology companies. View on Amazon

When Women Lead: What They Achieve, Why They Succeed, and How We Can Learn from Them
By Julia Boorstin
Publication Date: October 11, 2022
Outliers meets Lean In in a groundbreaking, deeply reported work from CNBC's Julia Boorstin that reveals the odds-defying leadership and counterintuitive approaches of women running the world's most innovative (and successful) companies—and what we can learn from them. View on Amazon

Viral Justice: How We Grow the World We Want
By Ruha Benjamin
Publication Date: October 11, 2022
Born of a stubborn hopefulness, Viral Justice offers a passionate, inspiring, and practical vision of how small changes can add up to large ones, transforming our relationships and communities and helping us build a more just and joyful world. View on Amazon

A Silent Fire: The Story of Inflammation, Diet, and Disease
By Shilpa Ravella
Publication Date: October 11, 2022
In A Silent Fire, gastroenterologist Shilpa Ravella takes us on a lyrical quest across time, around the world, and into the body to reveal hidden inflammation at the root of modern disease―and how we can control it. We meet an eccentric Russian zoologist, the passionate yet flawed inventor of Kellogg's Cornflakes, and dedicated researchers working on the frontiers of medical and nutritional science today. View on Amazon

Hold the Line: The Insurrection and One Cop's Battle for America's Soul
By Michael Fanone
Publication Date: October 11, 2022
An urgent warning about the growing threat to our democracy from a twenty-year police veteran and former diehard Trump supporter who nearly lost his life during the insurrection of January 6th. With his unique insight as an undercover detective and intense desire to do the right thing no matter the cost, Fanone provides a nuanced look into everything from policing to race to politics in a way that is accessible across all party lines. View on Amazon

Bad Vibes Only: (and Other Things I Bring to the Table)
By Nora McInerny
Publication Date: October 11, 2022
As a bestselling author and host of the beloved podcast Terrible, Thanks for Asking, she has captured the hearts of millions by discussing grief and loss with wit and warmth. Now, with Bad Vibes Only, she turns her eye on our aggressively, oppressively optimistic culture, our obsession with self-improvement, and what it really means to live our lives online. View on Amazon

Zarifa: A Woman's Battle in a Man's World
By Zarifa Ghafari & Hannah Lucinda Smith
Publication Date: October 11, 2022
A moving and inspiring memoir by Afghanistan's youngest female mayor and campaigner for human rights. Written with honesty, pain and ultimately, hope, Ghafari describes the work she did, the women she still tries to help as they live under Taliban rule and her vision for how grassroots activism can change their lives and the lives of women everywhere. View on Amazon

Permanent Distortion: How the Financial Markets Abandoned the Real Economy Forever
By Nomi Prins
Publication Date: October 11, 2022
Exposes a world fractured by policies crafted by the largest financial institutions, led by the Federal Reserve, that have supercharged the financial system while selling out regular citizens and leading to social and political reckonings. She uncovers a newly polarized world of the mega rich versus the never rich, the winners and losers of an unprecedented distortion that can never return to "normal." View on Amazon

Imperfection: A Natural History
By Telmo Pievani
Publication Date: October 11, 2022
Life on earth is a catalog of accidents, alternatives, and errors that turned out to work quite well. In this book, Telmo Pievani shows that life on our planet has flourished and survived not because of its perfection but despite (and perhaps because of) its imperfection. View on Amazon

Beyond Climate Breakdown: Envisioning New Stories of Radical Hope
By Peter Friederici
Publication Date: October 11, 2022
The importance of telling new climate stories—stories that center the persistence of life itself, that embrace comedy and radical hope. View on Amazon

Visual Thinking: The Hidden Gifts of People Who Think in Pictures, Patterns, and Abstractions
By Temple Grandin
Publication Date: October 11, 2022
Grandin makes us understand how a world increasingly geared to the verbal tends to sideline visual thinkers, screening them out at school and passing over them in the workplace. Rather than continuing to waste their singular gifts, driving a collective loss in productivity and innovation, Grandin proposes new approaches to educating, parenting, employing, and collaborating with visual thinkers. View on Amazon

Declassified: A Low-Key Guide to the High-Strung World of Classical Music
By Arianna Warsaw-Fan Rauch
Publication Date: October 11, 2022
Declassified cheekily demystifies the world of High Art while making the case that classical music matters, perhaps now more than ever. View on Amazon

Tranquility by Tuesday: 9 Ways to Calm the Chaos and Make Time for What Matters
By Laura Vanderkam
Publication Date: October 11, 2022
Work crises, childcare emergencies, and home repairs are inevitable, and the mundane tasks of life – cooking, cleaning, laundry – aren't going anywhere. To make time for what matters, you need a resilient schedule, not a perfect schedule. Based on a time diary study of over 150 people, Vanderkam shares nine strategies for building opportunities for joy, nourishment, and fulfillment into your week. View on Amazon

Nineteen Ways of Looking at Consciousness
By Patrick House
Publication Date: October 11, 2022
Describes complex concepts in accessible terms, weaving brain science, technology, gaming, analogy, and philosophy into a tapestry that illuminates how the brain works and what enables consciousness. This remarkable book fosters a sense of mystery and wonder about the strangeness of the relationship between our inner selves and our environment. View on Amazon

The Joy of Abstraction: An Exploration of Math, Category Theory, and Life
By Eugenia Chang
Publication Date: October 13, 2022
The book brings abstract mathematical ideas down to earth using examples of social justice, current events, and everyday life – from privilege to COVID-19 to driving routes. View on Amazon

Planet in Peril: Humanity's Four Greatest Challenges and How We Can Overcome Them
By Michael Bess
Publication Date: October 13, 2022
Climate change, nukes, pandemics, and artificial intelligence – these four existential dangers present a special kind of challenge that urgently requires planet-level responses, yet today's international institutions have so far failed. The book lays out a realistic pathway for modifying the United Nations over the coming century so that it can become more effective at coordinating global solutions. View on Amazon

The Sounds of Life: How Digital Technology Is Bringing Us Closer to the Worlds of Animals and Plants
By Karen Bakker
Publication Date: October 18, 2022
The natural world teems with remarkable conversations, many beyond human hearing range. Scientists are using groundbreaking digital technologies to uncover these astonishing sounds, revealing vibrant communication among our fellow creatures across the Tree of Life. View on Amazon

Homecoming: The Path to Prosperity in a Post-Global World
By Rana Foroohar
Publication Date: October 18, 2022
A sweeping case that a new age of economic localization will reunite place and prosperity, putting an end to the last half century of globalization—by one of the preeminent economic journalists writing today. View on Amazon

Sit, Stay, Heal: What Dogs Can Teach Us About Living Well
By Renee Alsarraf
Publication Date: October 18, 2022
Renee shows us why canines are the perfect guides to help us navigate traumatic and difficult experiences. Dogs, she reveals, are unbelievably hopeful, wonderfully stoic, and unwaveringly cheerful even under treatment that would make most of us humans nauseous, angry, and sad. These wonderful animals are terrific reminders of the power of the human spirit, and what is available within ourselves. View on Amazon

A More Just Future: Psychological Tools for Reckoning with Our Past and Driving Social Change
By Dolly Chugh
Publication Date: October 18, 2022
Through heartrending personal histories and practical advice, Chugh invites us to dismantle the systems built by our forbearers and work toward a more just future. View on Amazon

The Self Delusion: The New Neuroscience of How We Invent―and Reinvent―Our Identities
By Gregory Berns
Publication Date: October 18, 2022
Berns shows how we can embrace the delusion of a singular self to make our lives better, offering a plan not centered on what we think will be best for us, but predicated on minimizing regrets. View on Amazon

The Primacy of Doubt: From Quantum Physics to Climate Change, How the Science of Uncertainty Can Help Us Understand Our Chaotic World
By Tim Palmer
Publication Date: October 18, 2022
Whether we want to predict climate change or market crashes, understand how the brain is able to outpace supercomputers, or find a theory that links quantum and cosmological physics, Palmer shows how his vision of mathematical uncertainty provides new insights into some of the deepest problems in science. View on Amazon

Newsroom Confidential: Lessons (and Worries) from an Ink-Stained Life
By Margaret Sullivan
Publication Date: October 18, 2022
Sullivan takes us behind the scenes of the nation's most influential news outlets to explore how Americans lost trust in the news and what it will take to regain it. View on Amazon

You, Me, We: Why We All Need a Friend at Work (and How to Show Up As One!)
By Morag Barrett & Eric Spencer & Ruby Vesely
Publication Date: October 18, 2022
One of the most important indicators of individual, team, and organizational success is the presence of an ally mindset. When we have best friends at work―people who are with us, in good times and bad, and who help ensure we make it through together―we thrive. When we don't, we flail, and eventually crash and burn, leaving only a smoking hulk of debris behind as evidence that they were ever even there. View on Amazon

Shut Up and Keep Talking: Lessons on Life and Investing from the Floor of the New York Stock Exchange
By Bob Pisani
Publication Date: October 18, 2022
Bob describes how the investment world has changed, from brokers shouting on the floor of the NYSE to fully electronic trading, from investment sages and superstars picking stocks for exorbitant fees to the phenomenal rise of low-cost index funds that are saving investors millions, and from the belief that investors make rational decisions to the new age of behavioral finance, which recognizes the often-irrational nature of human decision making and seeks to understand its role in the stock market. View on Amazon

The Invisible Promise: A Field Guide to Marketing in an Upside-Down World
By Harry Beckwith
Publication Date: October 18, 2022
Only 26 percent of Americans believe that advertisers "practice integrity." In this new age in marketing, he details how to build digital and nondigital messages that enhance your reputation for integrity; that stand out from the clutter; and that can produce exponential growth while saving you both time and money. View on Amazon

Picking Presidents: How to Make the Most Consequential Decision in the World
By Gautam Mukunda
Publication Date: October 18, 2022
Mukunda sets his sights on presidential candidates, proposing an objective and tested method to assess whether they will succeed or fail if they win the White House. Combining political science, psychology, organizational behavior, and economics, Picking Presidents will enable every American to cast an informed vote. View on Amazon

Minding the Climate: How Neuroscience Can Help Solve Our Environmental Crisis
By Ann-Christine Duhaime
Publication Date: October 18, 2022
A neurosurgeon explores how our tendency to prioritize short-term consumer pleasures spurs climate change, but also how the brain's amazing capacity for flexibility can―and likely will―enable us to prioritize the long-term survival of humanity. View on Amazon

The Unicorn Within: How Companies Can Create Game-Changing Ventures at Startup Speed
By Linda K. Yates
Publication Date: October 25, 2022
The Unicorn Within provides everything even the most established company needs to create high-growth new ventures that deliver compelling new products and services—and stay perpetually competitive in the face of relentless change. View on Amazon

The Art of Conscious Conversations: Transforming How We Talk, Listen, and Interact
By Chuck Wisner
Publication Date: October 25, 2022
Explores the way we can reframe our thoughts, emotions, reactions, and interactions so we form a connection from the very first conversation and keep our discourse positive and productive throughout any endeavor. Wisner identifies four universal types of conversations and offers specific advice on maximizing the effectiveness of each. View on Amazon

Ideaflow: The Only Business Metric That Matters
By Jeremy Utley & Perry Klebahn
Publication Date: October 25, 2022
Low ideaflow can be diagnosed in every quiet conference room, half-filled whiteboard, and unmet business target. Companies with high ideaflow, like Apple, Pixar, and Toyota, tap into an outpouring of surprising and valuable possibilities on demand—and successfully funnel that creative output into real-world business results. With the proven system in this book, entrepreneurs, managers, and C-suite leaders can reap the benefits of ideaflow in a team or organization. View on Amazon

The White Wall: How Big Finance Bankrupts Black America
By Emily Flitter
Publication Date: October 25, 2022
Flitter connects the dots between data, history, legal scholarship, and powerful personal stories to provide an assiduously reported, eye-opening look at what it means to bank while Black. As America continues to confront systemic racism and pave a path forward, The White Wall is an essential examination of one of its most caustic contributors. View on Amazon

Life Is Short: An Appropriately Brief Guide to Making It More Meaningful
By Dean Rickles
Publication Date: October 25, 2022
People often live in a state of indecision, in a misguided attempt to keep their options open. This provisional way of living―of always looking elsewhere, to the future, to other people, to other ways of being, and never committing to what one has, or else putting in the time and energy to achieve what one wants―is a big mistake. View on Amazon

The Age-Proof Brain: New Strategies to Improve Memory, Protect Immunity, and Fight Off Dementia
By Marc Milstein
Publication Date: October 25, 2022
By learning how your brain works, how to keep it working optimally, and identifying changes you can start making immediately, you can drastically improve your health—immediately and in the long-term. View on Amazon

The Seven Circles: Indigenous Teachings for Living Well
By Chelsey Luger & Thosh Collins
Publication Date: October 25, 2022
In this revolutionary self-help guide, two beloved Native American wellness activists offer wisdom for achieving spiritual, physical, and emotional wellbeing rooted in Indigenous ancestral knowledge. View on Amazon

The Song of the Cell: An Exploration of Medicine and the New Human
By Siddhartha Mukherjee
Publication Date: October 25, 2022
An exploration of medicine and our radical new ability to manipulate cells. Rich with Mukherjee's revelatory and exhilarating stories of scientists, doctors, and the patients whose lives may be saved by their work, The Song of the Cell is the third book in this extraordinary writer's exploration of what it means to be human. View on Amazon

Purposeful Curiosity: The Power of Asking the Right Questions at the Right Time
By Constantine Andriopoulos
Publication Date: October 25, 2022
Whether we're trying to be better or the best in what we do, prepare for a new job or leave our current career for something more fulfilling, see through the "noise" of fake outrage and information overload, commercialize an innovation, improve health, or teach children the value of solving a puzzle, all of us can benefit from thinking like a purposefully curious person. View on Amazon

The Titanium Economy: How Industrial Technology Can Create a Better, Faster, Stronger America
By Asutosh Padhi & Gaurav Batra & Nick Santhanam
Publication Date: October 25, 2022
The future of the American economy is hiding in an unlikely place: a new, reinvented manufacturing sector. This book sets right the perception that good American jobs have disappeared, and paints an attainable picture of better times to come for the industry, its constituents and our economy at large. View on Amazon

The Ransomware Hunting Team: A Band of Misfits' Improbable Crusade to Save the World from Cybercrime
By Renee Dudley & Daniel Golden
Publication Date: October 25, 2022
True story of a band of misfits who have used their extraordinary skills to save millions of ransomware victims from paying billions of dollars to criminals. Working in their free time from bedrooms and back offices, they offer their services pro bono to those whom the FBI, other government agencies, and the private sector are unwilling or unable to help. This book follows the teammates as they respond to dire calls for help―and tracks the ups and downs of their work as they race to rescue precious files and communicate directly with their adversaries. View on Amazon

Unreasonable Hospitality: The Remarkable Power of Giving People More Than They Expect
By Will Guidara
Publication Date: October 25, 2022
Will Guidara was twenty-six when he took the helm of Eleven Madison Park, a struggling two-star brasserie that had never quite lived up to its majestic room. Eleven years later, EMP was named the best restaurant in the world. How did Guidara pull off this unprecedented transformation? Radical reinvention, a true partnership between the kitchen and the dining room—and memorable, over-the-top, bespoke hospitality. View on Amazon

Darwin's Love of Life: A Singular Case of Biophilia
By Kay Harel
Publication Date: October 25, 2022
Biophilia―the love of life―encompasses the drive to survive, a sense of kinship with all life-forms, and an instinct for beauty. In this unconventional book, Kay Harel uses biophilia as a lens to explore Charles Darwin's life and thought in deeply original ways. In a set of interrelated essays, she considers how the love of life enabled him to see otherwise unseen evolutionary truths. View on Amazon

Poison Ivy: How Elite Colleges Divide Us
By Evan Mandery
Publication Date: October 25, 2022
An eye-opening look at how America's elite colleges and suburbs help keep the rich rich—making it harder than ever to fight the inequality dividing us today. View on Amazon
Download the Next Big Idea App to enjoy "Book Bite" summaries of hundreds of groundbreaking books like these: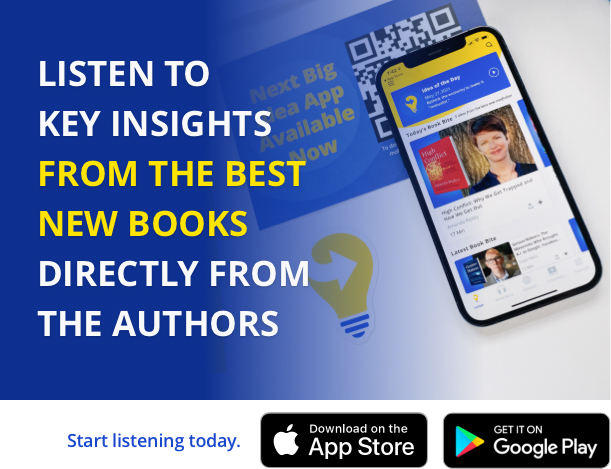 When you buy through our Amazon links, the Next Big Idea Club may earn an affiliate commission.