Chloe Sorvino is a reporter who leads coverage of food, drink, and agriculture at Forbes. Her work has been featured by NPR, Women's Wear Daily, and the Financial Times.
Below, Chloe shares 5 key insights from her new book, Raw Deal: Hidden Corruption, Corporate Greed, and the Fight for the Future of Meat. Listen to the audio version—read by Chloe herself—in the Next Big Idea App.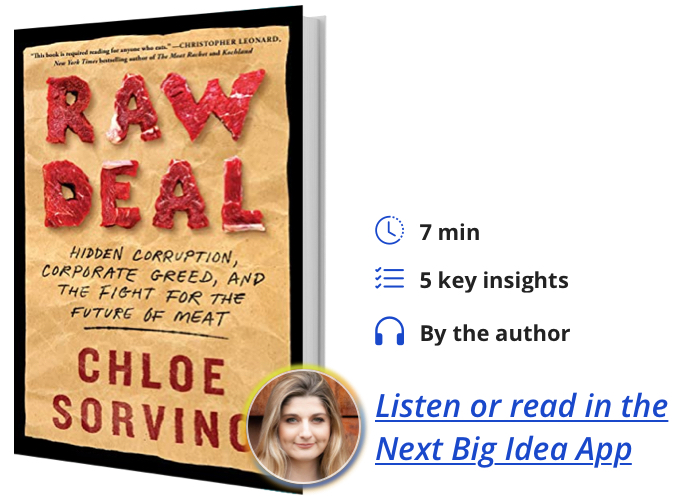 1. The climate clock is ticking.
Even though hordes of startup founders drool over the idea of dethroning industrial meat, the top meat packers continue to control massive amounts of power and profits at the detriment of producers and consumers. Business is booming while we are running out of time to solve the problems of today's meat industry.
It's crucial that meaningful gains for accessible and wholesome protein are made before the end of the decade. However, industrial meat is already responsible for irreversible damage, and the system which produces America's meat needs an overhaul. Community-based solutions, meanwhile, need a chance to work out the operational kinks before systems are further tested. In the meantime, the planet warms even more.
2. The meat industry has hidden costs, but somewhere along the way, someone pays the price.
The meat industry has amassed power and profits and has even minted billionaires. It has funded lobbying that makes it harder for independents to compete, and has made it nearly impossible to create regulations that aim to prevent environmental destruction. The systems of production underpinning the meat industry have harmed the long-term health of already marginalized communities. Many Black, Latinx, or indigenous communities often suffer the worst, as many of them live near part of the meat supply chain.
"The systems of production underpinning the meat industry have harmed the long-term health of already marginalized communities."
At the same time, persistent hunger, antibiotic resistance, soil erosion, and water pollution are spreading. Workers are being put in harm's way and animals live in inhumane, confined conditions. Industrial meat passes the cost down the line, yet many Americans complain that meat is already too expensive. Many of these Americans also vote with their stomachs.
3. Most antibiotic-free meat isn't actually certified as such.
Claims now suggest that much of what's sold with the antibiotic-free label aren't actually raised that way. There's little validation on the labels that are out there in stores and on menus.
New class actions against grocers like Whole Foods suggest that consumers are paying more for antibiotic-free meat, which are still driving antibiotic resistance in the broader food system. That's a major public health threat, and it's only going to get worse with climate change.
4. Mega-consolidation has hit all aspects of the meat industry.
Take, for example, how a chicken is hatched. Around 99 percent of all chicken in America has genetics from only one of two companies, Tyson's Cobb-Vantress, or German-based EW Group, which is a conglomerate owned by one billionaire. As it turns out, one conglomerate has eaten up more than half of the U.S. market for poultry breeds in just a few short decades.
"Around 99 percent of all chicken in America has genetics from only one of two companies."
What is the result of all this and the 9 billion chickens annually that are Cornish crossbreed? Often, the result is sickly birds that are built for speed to grow, not to be healthy or strong. For eaters, that means that the meat is not densely packed with nutrients.
5. The corruption within the meat industry is little-known.
Two billionaires behind the world's largest meat company went to jail in Brazil for their part in a massive bribery scheme. The scheme helped them, in part, acquire iconic meat packing assets in the U.S. These two now very rich brothers have a family firm which is the parent company of meat packer, JBS. The two brothers pled guilty to U.S. foreign bribery charges among other violations, and several in Brazil.
Most consumers who eat the meat from this company have no idea. The company, JBS, still maintains key number two positions in the beef, pork, and chicken sectors in the U.S. It has become the world's biggest meat packer. At the same time in the U.S., JBS continues to be supported by subsidies, government programs, and millions of purchases through the US School Lunch Program, among other federal contracts. JBS also continues to drive new consolidation in the meat industry.
To listen to the audio version read by author Chloe Sorvino, download the Next Big Idea App today: