Dr. Justin Blaney, D.M., is a professor at the Foster School of Business and University of Washington. Dr. Blaney is also serial entrepreneur who has founded and sold multiple companies in several industries ranging from advertising to consumer goods.
Below, Justin shares 5 key insights from his new book, Relationshift: Unleash the Surprising Power of Relationships to Change Yourself, Remake Your Life, and Achieve Any Business Goal. Listen to the audio version—read by Justin himself—in the Next Big Idea App.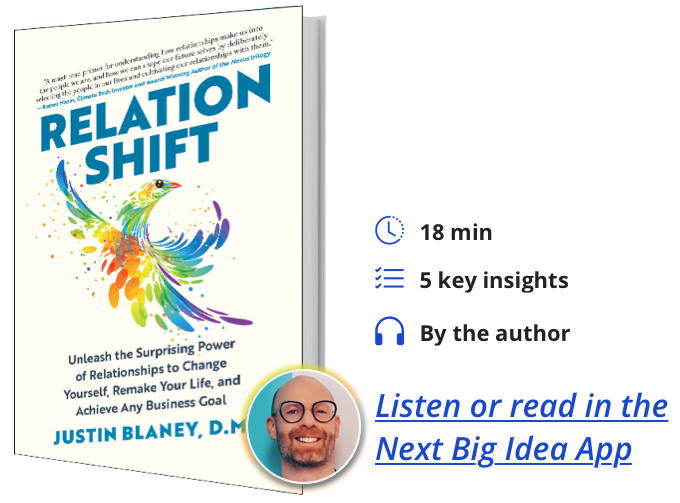 1. People change us, for better or worse.
Jim Rohn famously said that we are all the average of the five people we spend the most time with. This aspect of human nature is familiar to all, whether or not we are actively aware of it. Besides the physical proclivities inherited through our genes from our parents, most of who we are is because of nurturing forces.
As an example, I was the youngest son of a drug-dealing con man. That might sound like a strange childhood, but to me, it was normal. Growing up, we built a treehouse together and went to fairs like countless other children—albeit with a few differences. For instance, when the tree house was finished, Dad showed me how the high vantage point made it easier to spot police or rival drug dealers. For our first visit to the county fair, we didn't enter through the front like all the other families. Instead, we waited until Take Your Child to Work Day and Dad dressed as a maintenance worker and snuck us through the employee entrance with a fake name badge.
Our parents are not the only people who have the potential to shape us, however. Friends can even affect inherited traits such as hair color, like if we color our hair blue because it looks cool. Those who are not natural runners may never win an Olympic medal, but they can learn to run better if they hire a trainer to motivate them to improve. On the other hand, if we have an athlete's genes, but all our close friends opt for the pub every evening instead of taking a walk, the idea of getting in shape may never occur to us.
We don't spend much time thinking about how people we love and respect can positively influence some areas of our life and negatively influence others. We must learn to allow our connections to aid us while limiting their negative impact. A real-life example is my friend Tina, who is a mature, wise, and loving person. She has taught me how to be a better father, husband, and friend. She has shown me how to be tough when times are hard and how to fight for what I believe in. Tina is also a workaholic. I find this side of her rubbing off on me sometimes in ways that are not aligned with how I want to live my life. She can be judgmental of those who are unwilling to work 12 hours a day and put up with toxic colleagues.
This has caused me to feel pressure to work harder whether or not that hard work is aligned with my life dreams. Other mentors have taught me to work smarter, not harder; to delegate more; to do the tasks that add the most value and pay the most per hour. Though Tina is an excellent influence on relating with friends and family, mitigating her perspective on work/life balance is essential. It's not that she's wrong, but her work ethic is not aligned with how I design my life. Without passing judgment, it's essential to realize that some people we admire may pull us away from the vision we have for our life. Simply being aware of this is the first step to more freedom.
2. Curate traits you want to embody by emulating people who have them.
This is a simple yet powerful method of improvement that you can start doing immediately. My former business partner was successful in many businesses. While working with him, Saleed was running more than a dozen profitable companies at once, ranging from a flight school to a chain of gyms in the southwest to marijuana edibles. I only realized how successful he was when I walked into his magnificent home with a wall-to-wall view of a lakes and mountains, a full-size basketball court, and a multilevel movie theater.
"If this successful person is willing to do whatever is necessary to make a project successful, I feel more enabled to get through a task I am avoiding."
Yet when it came time to start a new project, he didn't hesitate to get his hands dirty with the smallest of details, performing tasks many people of his success level wouldn't dream of doing. Saleed told me his philosophy: he couldn't ask anyone to do something he hadn't done himself, and he didn't hesitate to take on work far below his pay grade to understand it inside and out.
Once, while discussing a solar panel sales process, I requested to work with his top salespeople to test the method in the field. He looked confused. "I'm going to sell them myself," Saleed said. I was shocked, having worked with many highly successful sales executives who never would think to volunteer to call customers. I think of Saleed when I don't want to work on something that must be done. If this successful person is willing to do whatever is necessary to make a project successful, I feel more enabled to get through a task I am avoiding.
You can also use this principle in your personal life. Do you ever feel touched when you hear someone give a great toast at a party? I often get nervous and tend to overthink what I want to say in a public setting, even if it's just around my friends. However, I have a former boss who gave the best toasts at business lunches and dinners. When he stood to talk, everyone in the room put their phones and menus down. The room became instantly silent. He paused as he spoke to add gravitas to his words. He was, in turns, loud and quiet to pull people in. He was funny, made broad gestures with his hands and told stories. He complimented people in the room. His air demanded attention, and his confidence drew everyone in.
Though I may never give a toast that gets close to this response, I now imagine my old boss when I stand up to face my loved ones at dinner. I channel him somewhere between a subconscious and conscious level. I don't copy him or try to be him, but imagining him helps me to overcome some of my nervousness. By adding a bit more gravitas to my words, expecting a bit more attention, and making more confident eye contact with my guests, I find myself speaking eloquently without a word planned ahead of time.
3. Personal growth is limited by our mental immune system, our drive to accumulate evolutionary capital and not knowing what we don't know.
The best way to discover how much more is possible is by surrounding ourselves with the kinds of people who know more than we do. Sometimes, though, we can misunderstand advice because we interpret it in the context of what we already know and how we see the world. In contrast, the person giving the advice gives it based on how they see the world and what they know. Someone cannot possibly recap their entire life of knowledge in a few sentences of advice. Therefore, the gap between what we know and what they know can lead to misinterpretation or misunderstanding.
You might have experienced this if you have ever asked someone good at something to explain it to you. They may have shown frustration at your question or lack of understanding. This is because they have a hard time imagining what it's like to be in your shoes. They can only see the world through their lens of understanding. It seems simple to them based on their lifetime of knowledge, so they get frustrated that you don't get it. This phenomenon also explains why it can be so difficult to achieve personal growth by relying only on books, podcasts, and other forms of one-way communication. These are limited in length and can't possibly anticipate the unique lens through which every listener or reader is receiving the information. In short, a lot of crucial data is lost in the transition from giver to receiver, and that critical information is often essential to fully use the lessons shared.
Complicating matters is something called a "mental immune system" which blocks ideas that it doesn't recognize. The problem with greater learning is not access to knowledge, as we can access nearly all of humanity's collective wisdom on our phones. It's that often we don't know which ideas to adopt and which to reject. When our body works correctly, a collection of white blood cells work together to keep foreign contaminants from killing us. But sometimes, our immune system gets confused. It can attack good cells, which can cause death via many types of illness. Other times, our body doesn't recognize dangerous contaminants, allowing them to thrive.
"A lot of crucial data is lost in the transition from giver to receiver, and that critical information is often essential to fully use the lessons shared."
Similarly, our mental immune system accepts or rejects new information based on its inherently limited and subjective view of the idea. This often diminishes our ability to achieve goals or live the life of our dreams. We call this subconscious immune system our worldview or personal lens.
Our mental immune system exists because we evolved over millions of years with a highly developed drive to survive, multiply, and improve ourselves. While this has helped us become the most advanced species on the planet, it also creates many modern problems. We are motivated to accumulate evolutionary capital, or e-capital, which manifests in our everyday instincts. These instincts power our mental immune system and can cause us to chase after goals in ways that hurt us. An example is a person who wants to earn more money to do things that make them happy, but never actually gets to the joyful part because they're so obsessed with making money.
The key to overcoming our mental immune system, our unhealthy desire for e-capital and revealing blind spots holding us back, starts with a simple recognition that these factors exist. We must then realize that they might also be hurting our ability to be the person we most want to be.
4. Some people can help us change more quickly and powerfully than others.
This is what I refer to as transformational gravity. If someone can pull you toward them with great power and velocity, they have strong gravity. If they don't affect your course or outcome much, their gravitational pull is weak. Think of your journey as a dotted line between who you are today and who you want to become. Mentors—people further along the dotted line you wish to travel—pull you toward themselves and your goal through the relational tie that binds you.
Suppose you want to become a famous movie director. In that case, you will do better to live in LA, where the movie business is based, and serve as the assistant to a prominent director like Steven Spielberg, versus working in Kansas City as an editor for a local news network. When someone is just a little ahead of us on the path, that person's gravitational pull on us is weak, and we relationshift slower as a result. When someone is very far ahead, their magnetism increases, and we move further, faster.
5. Get high caliber or high-gravity people to be a part of your inner circle.
Humans developed an intense instinct to help those in our tribe. We depended on shared well-being for hundreds of thousands of years to survive. We love to help people in our tribe because, in part, it satisfies an instinctual desire to help ourselves. Likewise, we are disinclined to help those not members of our tribe. We subconsciously perceive outsiders as a threat. Regardless of whether or not resources are scarce, we are likely to feel there isn't enough for everyone.
The key to getting people to help you is simple. You must become a part of their tribe.
"Regardless of whether we are a part of a cultural, religious, or political tribe, everyone perceives a subconscious form of tribal connection with individuals who may share something in common with us."
In the twenty-first century, many tribes still exist. These tribes are very different from the ones we lived in while first developing our human instincts. Some of our modern tribes contain millions of people with common ancestry and shared belief systems. However, regardless of whether we are a part of a cultural, religious, or political tribe, everyone perceives a subconscious form of tribal connection with individuals who may share something in common with us. For example, sports clubs, political and philanthropic groups are famous for being rich with opportunities for their members.
This sense of shared citizenship can come from countless aspects of life, including attending the same gym, shopping at the same store, or riding the same light trail to work every day. If you want someone to help you, find a way to get them to perceive you as part of one of their subconscious tribes.
Three other tactics for gaining the trust and attention of high-gravity people include:
Helpfulness—You stand out when you provide value with no strings attached.
Persistence—Achieving meaningful connections with sought-after people can take time; thus, sticking with the process until you reach your goal is critical.
Readiness—You must be ready at any time to make the most of the opportunities to connect with high-gravity people when they happen.
To listen to the audio version read by author Justin Blaney, download the Next Big Idea App today: