Catalina Daniels graduated from Harvard Business School and the Free University of Brussels. She spent seventeen years at McKinsey & Company, where she was a partner, before leaving to become an entrepreneur and angel investor. As a venture partner at Entrepreneurs Roundtable Accelerator (ERA), she mentors US entrepreneurs and helps non-US entrepreneurs expand in the United States. She also sits on multiple boards.
James H. Sherman graduated from Harvard Business School and Stanford University. He started his career at Bain & Company, working in media with Time Inc. and Pearson. In 1997, he launched the internet division for Martha Stewart Living. He then became a serial internet entrepreneur, launching three ventures, including an internet strategy consulting firm, Shermans Travel Media, and an e-commerce firm. He sits on the board of HBS Alumni Angels New York.
Below, co-authors Catalina and James share 5 key insights from their new book, Smart Startups: What Every Entrepreneur Needs to Know—Advice from 18 Harvard Business School Founders. Listen to the audio version—read by Catalina and James—in the Next Big Idea App.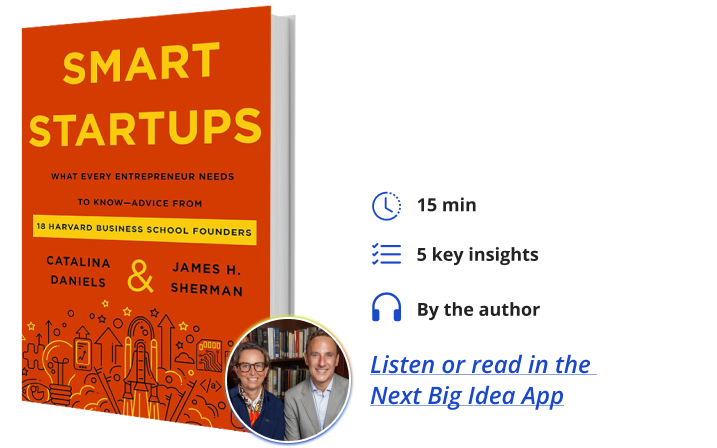 1. There is no random "lightbulb" or "aha" moment. Landing a good idea often requires a deliberate, lengthy ideation process.
For the Harvard Business School founders we interviewed, there was no "lightbulb moment" for their startup idea. On the contrary, we were surprised to hear that all embarked on a lengthy ideation process over weeks and months to carefully develop and refine their ideas. They thoughtfully considered ideas over time, took in pieces of information as they gathered them, vetted the ideas, and ultimately shaped them until they decided whether the idea was something worth pursuing.
Some took a very deliberate, systematic approach where they evaluated a whole bunch of different ideas before choosing one. As Josh Hix from Plated explained, this involves deep reflection, examining problems, looking for solutions, and it's not some linear or magical process.
Others came up with an idea more organically based on their own experiences and then refined it over time. For example, the founder of Zumper got frustrated trying to rent apartments and close on a lease, so he slowly developed the idea for an end-to-end rental platform.
The key point is that even founders who came up with an idea organically still invested a lot of time shaping and evaluating it. It's like peeling an onion—the idea emerges in layers over an extended period. As one founder put it, you don't wake up one day with a business idea. It takes effort and iteration to get it right.
2. Great ideas have three things in common, which we call the "ideation triangle."
What makes a good startup idea? Three factors came up again and again independently in our founder interviews, what we call "the ideation triangle":
a large market opportunity
relevant founder skills
a huge amount of passion for the opportunity
Let's look at each factor. First, you need to identify a big opportunity. That doesn't just mean there's a huge potential market out there. A large market is not the same as a large opportunity. More importantly, your business has to solve a real problem that people are dealing with. In an interview, Henry the Dentist founder Justin Joffe explained that when he looked at the dental industry, he saw a massive $125 billion market where many people with insurance weren't going to the dentist. This showed him there was a sizable opportunity to solve a problem with his mobile dental clinic. Like Justin, many other successful founders didn't totally reinvent the wheel but made existing products and services better by improving things like convenience and cost.
Second, as the founder you really need to have the right skills to understand your customers and run that type of business. You don't necessarily need direct experience in the industry you're targeting. In fact, many of the founders told us that industry experience can make you less innovative. For example, Jenny Fleiss of Rent the Runway explained that coming from outside an industry allows you to approach things without preconceived notions, which can spark more creative thinking. In the case of Rent The Runway, Jenny and her co-founder, Jenn, strongly believed that women would like to rent fashion clothing, particularly for special events. But the concept of renting clothes was entirely new. They reached out early on to the famous fashion designer Diane von Furstenberg for feedback. Diane's initial response was not enthusiastic and she discouraged them. She believed fashion brands would be reluctant to make their clothes available via such a channel and doubted that women would wish to rent clothing. Other industry experts that they approached also had doubts. But Jenn and Jenny persevered and kept to the concept and by 2021 Rent the Runway had raised $450M, had more than 100,000 subscribers, and went public.
"The "ideation triangle" is all about spotting a big opportunity, having the right skills, and truly caring passionately about what you're doing."
After relevant skills, the third factor in the ideation triangle is passion. Founders absolutely have to have passion for the opportunity. Passion gives you the fuel to get through tough times, recruit people to your team, raise money from investors, and sell your product. In the interviews, founders emphasized that real passion often stems from wanting to make a positive impact on the world. For example, Alexandra Wilkis Wilson of Gilt told us about the passion she and her co-founder had for understanding consumer needs and building an innovative fashion company that would excite them.
In a nutshell, the "ideation triangle" is all about spotting a big opportunity, having the right skills, and truly caring passionately about what you're doing. If you can nail this ideation triangle, you're well on your way to launching a successful startup.
3. Validate demand as cheap as you can.
The moment your idea becomes a startup, your first objective should be to prove that the product or service can generate demand from customers. Once you have proven demand, you can start building out and investing in the rest of your business model.
At this stage, it's imperative for founders to validate demand as cheaply as possible. Your goal is to prove product/market fit, and you should focus on developing the product or service that allows you to prove the fit, and nothing more. Typically, entrepreneurs talk about a minimum viable product or MVP. This is the minimum version of a product to test with customers and get feedback that will help you understand if customers like it. If they do not, it will help you figure out what needs to change and whether you need to pivot.
As the founder of Bespoke Post said, in the beginning, their only expenses were the product samples and they just wanted to get 100 customers in the first month. There was no need to build out everything upfront before testing demand.
Many of the founders we interviewed were creative in taking the MVP concept to the extreme to evaluate interest. For example, Rent the Runway co-founders first tested designer dress rentals by setting up pop-up shops with borrowed dresses on college campuses. As Jenny Fleiss explained, it allowed them to prove the concept before investing in a full e-commerce site and supply chain.
"By focusing on the front end, you can validate customer demand for your startup before over-investing in technology and operations."
Several founders emphasized how important it is to build the simplest "front end" to start. The front end is the product or what customers perceive to be the product. It has nothing to do with the "back end" of logistics or complex operations. For example, the founders of Yumble Kids posted their kids' meal concept on Facebook mom groups. After receiving overwhelmingly positive feedback, they took orders from a few interested customers, and then cooked and delivered the meals themselves out of their own home kitchen. As the co-founder Dave Parker explained, this allowed them to prove demand before investing in a commercial kitchen and delivery operation. By focusing on the front end, you can validate customer demand for your startup before over-investing in technology and operations.
In addition to scrappy MVPs, founders also talked about the importance of generating early buzz and press coverage to drive interest before spending on marketing. For example, Bespoke Post gained 400 subscribers overnight from a free feature in a national email newsletter.
The key takeaway is that validating demand in a capital-efficient manner maximizes your learning while minimizing your risk in the early days. As one founder put it, "Good feedback is not good enough." You need customers willing to pull out their credit cards to prove the concept before you invest any significant resources into building out your business.
4. Fundraising doesn't equal success. You should wait to raise money, then wait some more. Always be as capital efficient as you can be.
Fundraising is a huge topic in the startup world, and there are many considerations to raising outside funds. The first piece of advice we uncovered in our interviews with the founders is that you should bootstrap in the early stage for as long as possible to prove the model before pursuing outside financing. This allows you to gather data, refine the product, and demonstrate traction so you can raise on better terms later with more credibility.
As Anna Auerbach, the founder of Werk told us, don't raise early on an unproven idea, because once you take an investment the clock starts ticking to spend it. In Anna's case, Werk was not yet a proven idea so they burned through too much capital on experimentation. Even if you can raise a lot of money in the early stage, rushing to raise funding too soon can be a mistake.
In growth rounds after you have traction, be very thoughtful about the amount you raise. You should strive to raise the right amount—not the most you can—and leave room for error. As one founder cautioned, "death by overfunding" can lead entrepreneurs to lack discipline in growth and operations. The tendency may be to hire too fast, overinvest in unproven tactics, and push unprofitable revenue growth. The right balance on the amount depends on your specific business model and goals. Raising too much will result in more dilution but raising too little might lead to continuous raising. By the time of your growth-stage financing, your milestones will help you define when and how much to raise. Companies targeting massive scale likely need significant capital for infrastructure and marketing, while others can grow efficiently with less.
When you boil it all down, the founders we interviewed urged other entrepreneurs to be thoughtful about timing, amount, and terms when fundraising. You should avoid both under and overcapitalizing and aim to be capital efficient at all times.
5. Culture is what people do when you're not around. Hire and fire not only for skills and IQ, but especially for culture.
When talking to the HBS entrepreneurs, we had not anticipated that so many of them would mention culture. They talked about how important culture turned out to be in their journey, and how much effort they put into bringing their culture to life. It is typically a topic that is underappreciated, especially early on.
The founders we interviewed said culture is incredibly important, but it's also a bit intangible. In defining culture, the underlying consensus was a succinct and simple definition: culture is what people do when you are not around. At its best, it's the DNA that ensures everybody points in the same direction.
"Culture starts with the founders, and your own values and actions set the tone early on."
The definition might be simple and the reason that it matters is compelling. But the message from the entrepreneurs is that it's not easy to bring to life. Part of the problem is that culture is one of these topics you can read about, or learn about, but it is only on the job that you realize what it truly means and how to deal with it.
Several founders emphasized that you need to focus on culture from day one. As Morgan Hermand-Waiche of AdoreMe said, culture starts with the founders, and your own values and actions set the tone early on. The reason it's so critical to focus on culture early is that your behaviors and words, in the beginning, establish norms that are hard to change later. If you wait too long, the wrong culture may take hold. It's important to define your values and make them explicit, ideally in the first few months. Communicating those values clearly from the start helps reinforce the culture you want as you start hiring people.
When it comes to hiring, a big point many founders made is that you have to hire people who not only have the right skills and experience but who also fit the culture. For example, Anthemos Georgiades of Zumper said, "IQ is table stakes. The cultural fit is why they should be hired." You can teach people skills but not values.
As your company grows, you have to communicate and organize around your values, so that everybody is on the same page. After the interviews, the onboarding process is the first major opportunity to make sure your new hires understand the values you expect them to live by. Other opportunities to communicate your values include team gatherings, town hall meetings where people get to ask questions, annual retreats, and, of course, posters on the office walls. One founder we interviewed even posted their company values in the bathroom!
However you choose to establish and communicate your company's culture, one universal principle is that you can't just let culture happen organically. You have to intentionally build it by defining it early, hiring for culture fit, communicating values constantly, and organizing events and initiatives around it.
To listen to the audio version read by co-authors Catalina Daniels and James Sherman, download the Next Big Idea App today: