Arianna Huffington's hard-charging career as a media pioneer has come at a cost. In 2007, she collapsed from exhaustion, briefly lost consciousness, and broke her cheekbone from the fall. That's when she decided she needed to change her life—to redefine what success looked like, and to prioritize well-being and meaning over achievement.
Of course, being Arianna Huffington, she's still managed to achieve plenty. But as the author of 15 books to date, the CEO of Thrive Global, and a popular speaker on stages around the world, she's now focused on sharing the insight that happiness comes from within, and that accomplishment and self-care can go hand-in-hand. In her book Thrive, she offers practical tips you can use to create what she calls "a life of well-being, wisdom, and wonder."
Listen to or read the full version of this classic Book Bite, download the Next Big Idea App today.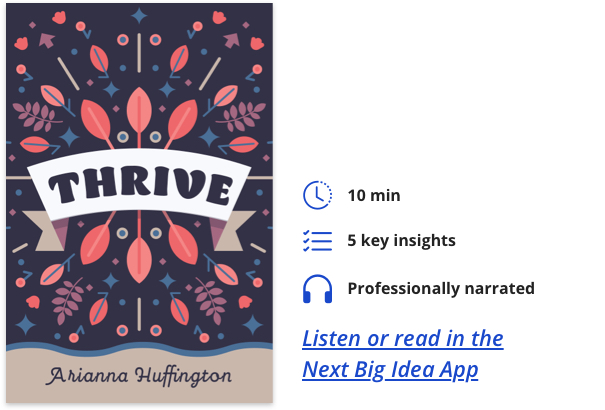 1. Redefine success.
When Huffington started publicly reckoning with her own burnout and the extreme physical stress brought on by her work habits, she learned she was not alone. Around the world, she has found people clamoring to lead happier lives by establishing healthier relationships with their work.
One law student Huffington profiles, Kim Farbota, woke up one day and collapsed. She found she was suffering from a slew of health complications brought on by neglecting her body as she put herself through the rigors of law school. Ultimately, Farbota had to reevaluate her priorities and adjust how she was living her life. And strangely, she found that as she focused on taking better care of herself, she actually started doing better in school, even though she wasn't putting in the intense hours she had been before her collapse.
Huffington wants us to recognize that redefining success doesn't have to mean putting your career on the back burner. In fact, the reverse is true. Through reimagining what it means to be successful, people are both taking better care of themselves and improving their job performance.
"Redefining success doesn't have to mean putting your career on the back burner. In fact, the reverse is true."
And Huffington isn't the only one thinking about this—there's a growing trend among researchers, employers, and educators to focus on the well-being of their students and employees. Institutions from higher education to investment banking are making efforts to promote healthier lifestyles. But not everyone is on board, as evidenced by the fact that according to the U.S. Travel Association, over 40 percent of Americans don't use all of their paid vacation days.
Success doesn't have to mean working the longest hours, sleeping the least, or being the most stressed out. Instead, success should mean living a balanced and meaningful life.
Listen to or read the full version of this Book Bite and many more, download the Next Big Idea App today: