Gaurav Batra, Asutosh Padhi, and Nick Santhanam worked together at McKinsey & Company. Asutosh still works there as the managing partner for McKinsey in North America, and he is on McKinsey's Shareholders Council. Gaurav previously co-led McKinsey's Advanced Electronics Practice in the Americas. While at McKinsey, Nick was a Senior Partner, and he is now CEO and president of Fernweh Group, an industrial technology investment firm.
Below, Gaurav shares 5 key insights from their new book, The Titanium Economy: How Industrial Technology Can Create a Better, Faster, Stronger America. Listen to the audio version—read by Gaurav—in the Next Big Idea App.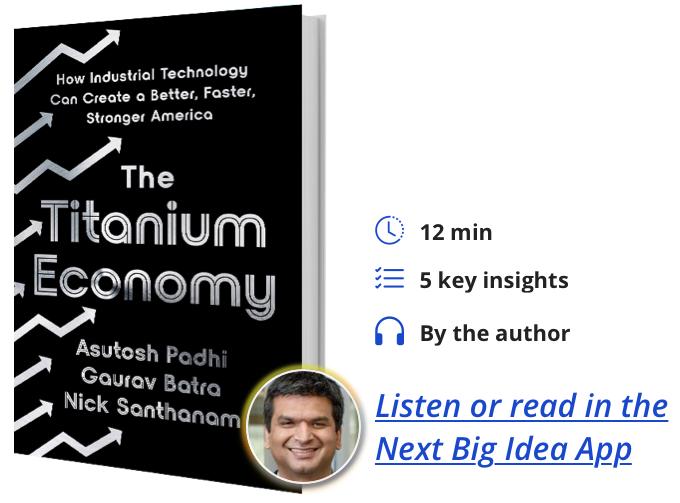 1. Industrial Technology is thriving right before our eyes.
Apple, Google, Amazon, Netflix, Facebook—these are among the best-performing stocks for over a decade. But a company that has performed just as well is HEICO. Same goes for Trex, Casella, and Graco. Have you heard of them? While these companies are around us every day, most people don't know them. They don't make the covers of popular magazines, newspapers, or tv channels.
These lesser-known companies are all part of the sector known as industrial tech, and together they offer a surprisingly bright future, not just to investors but to workers and our broader communities. Their products include aerospace parts, color enamels, and recycled plastic lumber, things consumers don't necessarily buy but which we all rely on for the functioning of our economy. And it's a booming business.
People may or may not want to work in this industry, but these companies play an indispensable role in our country. It matters that this field maintains a flow of talent and innovation, and that there be a continued focus on enabling these companies' success. We hope to shine a spotlight around this amazing set of companies that drive so much innovation and are critical to creating a more inclusive economy in the United States.
2. American manufacturing is not dead.
Industrial technology is a reliable source of high-paying, domestic jobs and soaring stock prices. It is a bright spot in an economy that has often been buffeted by external shocks.
The shining stars in this sector leverage technology while investing in people and processes to drive competitiveness. These manufacturing companies provide a recipe for both stability and long-term, profitable growth, while also strengthening the backbone of an economic supply chain that has been under siege for several years.
"Industrial employment is rising, growing from 11.6 million in January 2011 to 12.5 million in October 2021."
American manufacturing is strong across many measures: within the 22 manufacturing categories defined by the United Nations, the U.S. is in first or second place in 19 of them. Industrial employment is rising, growing from 11.6 million in January 2011 to 12.5 million in October 2021. Manufacturing provides at least 20 percent of employment in 460 U.S. counties, many of them in rural and suburban areas, and they can be critical in creating broad-based prosperity.
Good American manufacturing jobs have not disappeared. Our society is facing an attainable picture of better times to come for the industry, its constituents, and our economy at large.
3. Many manufacturing facilities today are high-tech creative spaces.
The old image of manufacturing as greasy, dirty factories doesn't exist anymore. Once upon a time, yes, you would have walked into a traditional manufacturing company and entered large halls that hadn't been refurbished in decades. You would have walked past manufacturing assets—such as a CNC machine—that had been there for the last 30 years. The place would most likely have looked dark and dingy, and it would have been hard to do anything other than work in isolation from coworkers. That's the picture of traditional manufacturing.
By contrast, the picture of the titanium economy is clean. The machines are new. People work together in teams. The space is inviting. There is a sense of something modern, much more oriented around precision manufacturing, whether that's through using new materials, new technologies, or different types of equipment. The new landscape of industrial tech is full of immaculate, clean, high-tech facilities that are humming with creativity and unprecedented productivity.
4. Industrial tech manufacturing jobs make for high paying, fulfilling careers.
In today's industrial technology facilities, employees are finally achieving a sense of purpose. People are excited to work at these locations because they believe that they're driving innovation and doing things that are important to our future.
"[Employees] find belonging inside these institutions."
These companies saw high degrees of retention in the middle of the Great Resignation. It is very possible that this was in part because the compensation levels are much higher at these companies. Also, the amount of care and concern for employees is strong, with people getting access to various development opportunities.
In our conversations, we found several senior executives who had initially joined their company with the expectation of staying there for a year or two, but have spent the last 25 to 30 years there. When we asked them, "Is that trend continuing?" we learned that people who are driven tend to stay on with these companies for a longer period of time. They find purpose. They find development. They find belonging inside these institutions.
Titanium Economy companies have intuitively understood the importance of the talent proposition, and thus there is a culture and purpose that comes from being a part of industrial tech manufacturing jobs.
5. U.S. manufacturing will thrive if the Titanium Economy is given enough attention.
We have a very strong manufacturing foundation in the United States. We've got a set of 5,000 companies that have been at the helm for the last 100 years. Yet, we are still early in this journey.
Over time, the Titanium Economy could be two or three times the scale of what it is today. Making it flourish and accelerate will require individual companies to step up. In our conversations with CEOs, we always asked, "How high is high? How much more innovation could you do? Which other customers could you be serving? What does it really imply in terms of new products that you can launch?"
The other part of growing the Titanium Economy is the enabling factor, meaning the role that government and policy can play by investing in infrastructure and people. The government can also drive a closer connection between corporate America and the places where talent is available, such as vocational colleges and community colleges. As the Titanium Economy scales it would drive job creation, innovation, and exports. It would drive this amplification effect, creating jobs in adjacent industries and helping local communities thrive.
"These companies focus on doing what they're good at, which is delivering great returns for shareholders, taking care of customers, taking care of employees, working around communities, and cleaning the environment."
Titanium Economy companies have an understated style of going about business. They haven't felt the need to tell their story. They are private so you don't find them listed in the stock market. They don't have business-to-consumer brands so they don't advertise. They tend to be smaller and don't have headline-making revenues. These companies focus on doing what they're good at, which is delivering great returns for shareholders, taking care of customers, taking care of employees, working around communities, and cleaning the environment. Telling a story has not been their priority.
Caring for the environment has been of higher precedence. There have been concerns around the energy transition regarding companies greenwashing their narratives. A closer look at the industrial tech sector shows that they're inventing technologies that really will help with carbon capture and sequestration. For instance, the company Trex is recycling plastics to make outdoor wooden decks that are 97 percent recycled. Other companies, like waste management companies, are playing important roles in terms of advanced analytics. Such companies are now using artificial intelligence to sort trash from recyclables. These companies are not just talking about a greener planet, but making it happen on a day-to-day basis.
Today, the debate around manufacturing in the U.S. is pessimistic. It's always with this tinge of trying to keep something outdated alive. We hope that the debate shifts to optimism at the possibilities this industry opens for our future.
To listen to the audio version read by co-author Gaurav Batra, download the Next Big Idea App today: