Linda Garcia is a financial educator and founder of the investing community In Luz We Trust, whose initiative is to help communities of color and children of immigrants understand their relationship to money and leverage their resources to invest.
Below, Linda shares 5 key insights from her new book, Wealth Warrior: 8 Steps for Communities of Color To Conquer the Stock Market. Listen to the audio version—read by Linda herself—in the Next Big Idea App.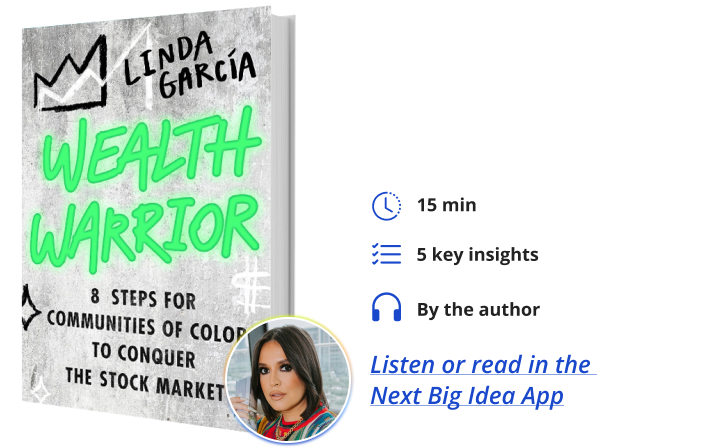 1. Basic information about investing can be hard to find.
According to the Federal Reserve and Gallup, only 15 percent of Americans invest directly in the stock market. I am not talking about exposure in stocks via a 401k or an index fund, I am talking about the direct accumulation of shares in a publicly traded company.
What is more interesting is that the wealthiest 10 percent of Americans own 88.6 percent of all shares. Eighty-nine percent of the shareholders are white, while 9.3 percent are owned by others that are non-black, non-Hispanic, and non-white. Meanwhile, only 1.1 percent of shares are owned by Black Americans and 0.5 percent are owned by Hispanics.
There are so many barriers to entry when it comes to the stock market. This space can be extremely intimidating and feel overwhelming, as those statistics prove.
"The wealthiest 10 percent of Americans own 88.6 percent of all shares."
When learning about the market 10 years ago, I had a difficult time finding resources I could understand. When the pandemic hit Italy in January 2020, I knew it was a matter of time before we would be affected and the stock market would present an opportunity for investors. I wanted to educate my community but still could not find resources that were easy to understand. So, I created resources from my personal perspective, as a child of immigrants that had to overcome scarcity issues.
2. Money wounds run deep.
It doesn't matter how much financial literacy we take in if our feelings towards money are negative. Many people have a toxic relationship with money, so they will find it very difficult to use it to amass more money.
While there are common limiting beliefs surrounding money, we can work through changing our perspective regarding how money is used and how we feel about amassing it. Money is a tool and we should always work on removing emotion as we use it.
3. Analogies can improve learning.
Analogies make learning about money more digestible and easy to process. The stock market can be such a scary place that we have attached emotions to it, making it a challenge to take in. Investing can be taught through the analogy of a market, very similar to the one where you buy your groceries. This can help to change the way you think about the stock market in general, rendering it less intimidating, and more familiar.
4. My personal investing story.
My personal investing story started when I became a mom at just 14 years old. The majority of my life was spent having money troubles. But then it transitioned to working in one of the biggest entertainment technology companies in the world.
"The stock market can be such a scary place that we have attached emotions to it, making it a challenge to take in."
Through a very small investment of money made from that job, I ended up turning it into half a million dollars. This life-changing experience motivated me to share what I had learned about investing.
5. Technicals are important for investing.
The technical components of investing will give you all of the information you need to open your brokerage account, understand what a stock chart is communicating, identify the different types of stocks, and have the basics for stock analysis. The technical aspects are dense, but they are the best way to start your journey to acquiring shares in the stock market.
To listen to the audio version read by author Linda Garcia, download the Next Big Idea App today: