We at the Next Big Idea Club have been working on something exciting for many months now. And today, we are thrilled to announce the official launch of the Next Big Idea App!
Our mission since day one has been to do two things: first, to make it easier to discover the most groundbreaking, life-changing new ideas, and second, to deliver them to you, directly from the authors, in the most convenient, concise, and engaging way possible.
Our new app finally realizes this dream.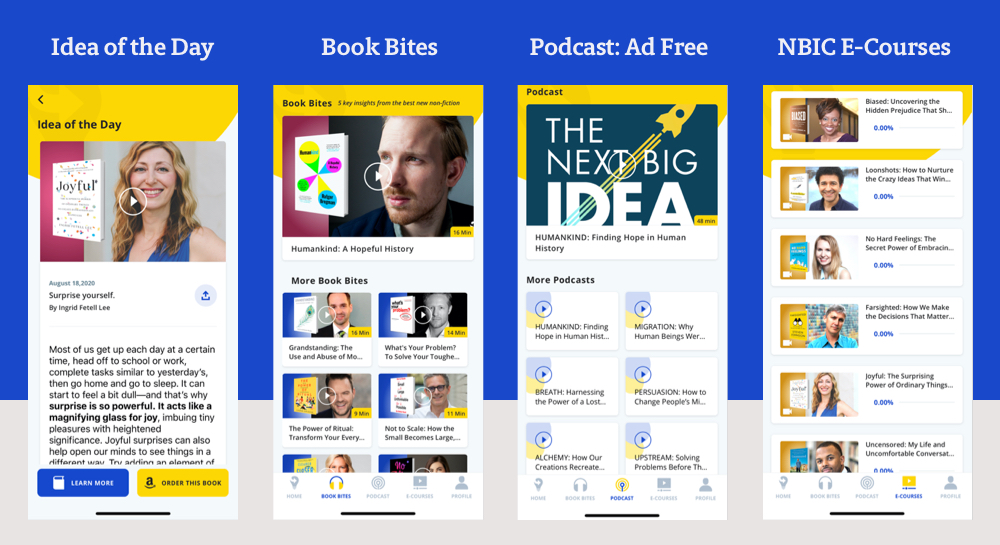 With the help of our curators Adam Grant, Susan Cain, Malcolm Gladwell, and Daniel Pink, we are now identifying the 25 books each season — 100 per year — that you should know about. We then work with the authors to distill the 5 key insights from each of these books down to 15 minutes of audio, which is read to you directly by the writers themselves. We call these "Book Bites."
Every weekday, we also bring you a fresh Idea of the Day — a double shot of wisdom and inspiration with your morning coffee. In addition, you can listen to ad-free episodes of our podcast for free, and club members receive access to our library of premium e-courses.
We can't wait to continue improving and expanding upon the Next Big Idea app. If you share our vision for a smarter, more forward-thinking, more compassionate world, we hope you'll download the app and share it with a friend. (Or two!)