Kristen Lee is a doctor of behavioral science, as well as a comedian. She is the Lead Faculty for Behavioral Science and at Northeastern University, where her research focuses on well-being and resilience. She is also the host of Crackin' Up: Where Therapy Meets Comedy.
Below, Kristen shares 5 key insights from her new book, Worth the Risk: How to Microdose Bravery to Grow Resilience, Connect More, and Offer Yourself to the World. Listen to the audio version—read by Kristen herself—in the Next Big Idea App.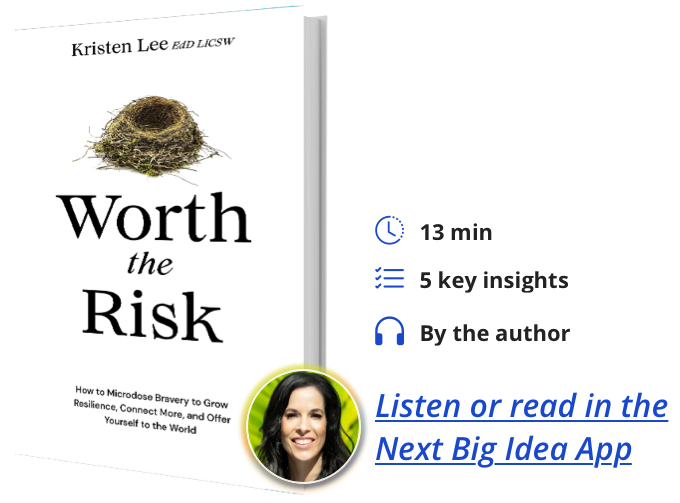 1. We need to rethink risk.
Before we lose our first tooth, we are taught that brave means big—as in Malala-Mother-Theresa-Nelson-Mandela big. Bravery is pitched as grand gestures, even though science shows that small acts of courage are cumulative, leading to big impact.
Risks are inherent to life. Plus, we are hardwired to take them. Playing it safe doesn't necessarily make life less dangerous. Risks can be nourishing, allowing for growth as we become comfortable with the uncomfortable. We can leverage this feature of our brain to experience a bold, adventurous, colorful life. Bravery can be a powerful form of liberation.
Contrary to popular belief, being a risk-taker doesn't mean you have skydive unabashedly out of a plane, or bet it all at the Bellagio. We are egged on to have Mufasa-like courage, even though we can often feel like Cowardly Lions in this Age of Anxiety, The Great Resignation, and all the trauma we've been marinating in. We're pressured to stay motivated, productive, and go big or stay home. On the other extreme, we're fed cautionary tales about risk, like:
The afraid-to-fly passenger whose plane crashes.
The employee who speaks truth to power and gets fired.
The entrepreneur who takes a business risk and loses their shirt.
The romantic who puts their heart on the line and is rejected.
Then there are epithets, like "a bird in the hand is worth more than two in the bush." "Curiosity killed the cat." "The grass isn't greener on the other side." Risk is synonymous with instability, yet brain science shows that there are risks worth taking. This isn't to romanticize risk, but allows us to be more humane with ourselves and one another when things don't go as planned.
"Contrary to popular belief, being a risk-taker doesn't mean you have skydive unabashedly out of a plane, or bet it all at the Bellagio."
2. Bravery can be microdosed.
Courage isn't built in one sitting. A microdosing approach to bravery means taking small doses regularly to experience the therapeutic effects of risk taking: resilience, greater connection, and being able to offer ourselves to the world. Microdosing bravery can help us while learning new things, like leading teams, teaching students, parenting children, or starting a business. Small acts of courage over time can build resilience for navigating interpersonal and systemic traumas, including pandemics, climate change, economic crises, polarization, and all the hateful -isms.
Courage is not always found in jaw-dropping feats. It is the grassroots, unassuming brand of bravery that should not be underestimated. Microdoses add up. This is clear within our shared stories, cutting-edge developments in brain science, and amongst ancient spiritual traditions. Small steps of courage can lead to growth and change.
3. We are wired to overcome automations.
Georgia O'Keeffe is one of my artistic heroes. She attributed her ability to take risks as an artist in large part to her ability to be playful and create a life of adventure and deep meaning. She says risks emboldened her. I start my book with a quote of hers: "I've been absolutely terrified every moment of my life, but I never let it stop me from doing a single thing I've wanted to do."
This reminds me of thousands of patients and students I've served, and the indomitable nature of human spirit. I also identify with it as a person with anxiety—it reminds me to resist primitive instincts and the Cult of Overachievement.
"We are not our automations, trauma, labels, fears, or raw emotions."
We are not our automations, trauma, labels, fears, or raw emotions. We are an adaptable species, capable of significant growth, healing, and momentum. Even when we have faced atrocities and the seemingly insurmountable, resilience can be cultivated. Brain science reveals that we are not at the mercy of primitive emotions—rather, we can tend to our body budget and avoid automations that keep us from wellness. There are a host of automations that require courage to stand up against, including those of bias, deficit, prior experiences, social comparison, loneliness, overwork, and stagnation. Luckily, automations are not fixed, and we can leverage our knowledge of heuristics, emotional agility, and neuroplasticity to regulate our minds. We can question automations, practice self-compassion, draw upon emotional granularity, and prevent constant triggering and reactivity.
4. We must hold one another in reverence.
Behavior change doesn't happen in siloes or through shaming. Moving from "me" to "we" is the way forward. We must evolve from territory protection and selective neighboring (caring for those similar to us) to a place of solidarity and holding one another in highest regard. For those holding dominant identities that carry privilege, it's essential to stay accountable and seek ways to forge change, standing fervently with and for those who have been marginalized, oppressed, or discriminated against.
Resilience is activated in contexts that have moved from mere tolerance or acceptance to human reverence, which is complete awe, respect, and gratitude for one another—particularly anyone who has been othered in society.
Reverence can free us from the cages of convention and social ills. We are here to liberate ourselves and one another from shame, what if's, fear, -isms, and violence. Liberation happens through solidarity, consciousness, community, and creativity.
"We are here to liberate ourselves and one another from shame, what if's, fear, -isms, and violence."
Remember that we are inexplicable, creative sages. The world doesn't need airbrushed stories or curated, scripted, boring, conformists. It needs truths, messiness, weirdness, creative energy, and resistance. Creating psychological safety through human reverence to allow for the expression of our true identities is The Great Gift we bestow on each other.
5. We are here to live a what is life.
Designing and living a what is life, instead of a what if life, involves making bravery a choice. Bravery as an active process of psychological agency, meaning ownership of our path. We must identify what is within our locus of control, and not lament over what could have been or stew in anticipatory anxiety.
Choosing a what is life allows us to live through a lens of strengths and radical acceptance, to consciously choose risks that help us innovate, influence, lead, liberate, actively contribute, and create a life of incredible experiences and impact, rather than living in regret, ruminating over what could've been, with all the what if's renting space in our heads. We can focus on what is, and work toward it so that we can offer ourselves fully to the world.
Risks can nourish us when we engage in small, strategic, values-aligned ways, allowing us to give more, leading to deeper purpose and impact. Risk tolerance is different for all of us. Strategic microdosing can help us during times when we grapple with loneliness, depression, anxiety, existential crisis, identity confusion, relationship distress, break-ups, adjustments, and opening our hearts to love and be loved—even after being hurt. When we microdose bravery strategically and intentionally, we can experience fun, growth, freedom, and connection that make discomfort worthwhile.
To listen to the audio version read by author Kristen Lee, download the Next Big Idea App today: