There are two ways to move through the world: either "people I don't know could be out to get me" or "people I don't know could be my friends." Deep suspicion, or default trust.
While everyone needs a hint of the former mentality, it's the latter that will lead to closer relationships and more successful career moves. And to learn how to capitalize on it, check out the seven eye-opening books below about communicating and connecting with anyone you meet.
Download the Next Big Idea App for "Book Bite" summaries of hundreds of new nonfiction books like these—all prepared and read by the authors themselves.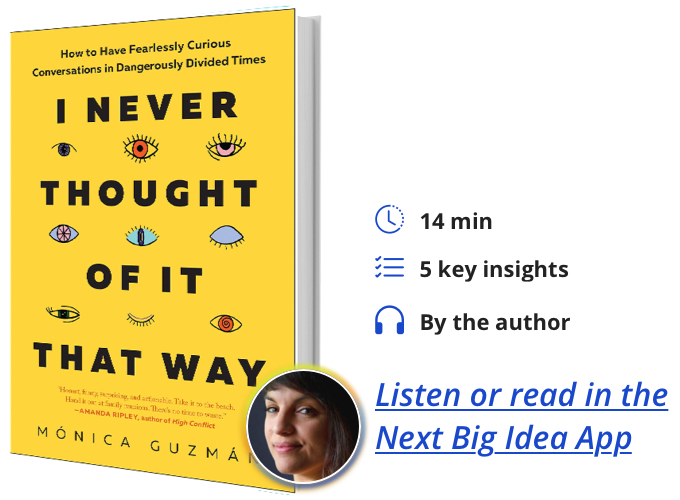 I Never Thought of It That Way: How to Have Fearlessly Curious Conversations in Dangerously Divided Times
By Mónica Guzmán
In this timely, personal guide, the chief storyteller for the national cross-partisan depolarization organization Braver Angels, takes you to the real front lines of a crisis that threatens to grind America to a halt—broken conversations among confounded people. Listen to our Book Bite summary, read by author Mónica Guzmán, in the Next Big Idea App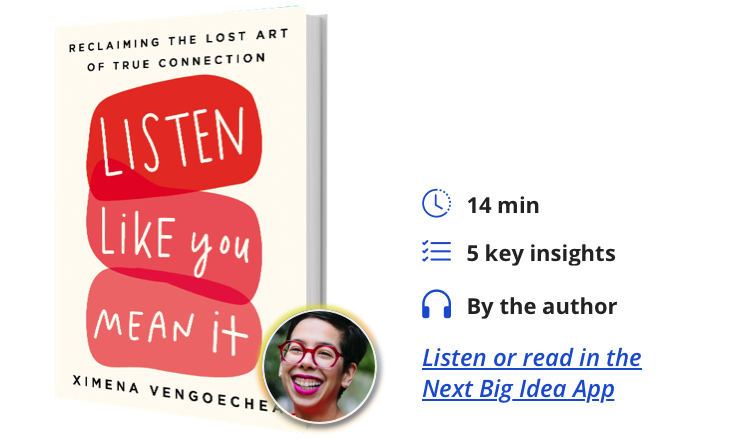 Listen Like You Mean It: Reclaiming the Lost Art of True Connection
By Ximena Vengoechea
An essential listening guide for our times, one that reveals tried-and-true strategies drawn from interviews with marriage counselors, podcast hosts, life coaches, journalists, filmmakers, and other listening experts. Listen to our Book Bite summary, read by author Ximena Vengoechea, in the Next Big Idea App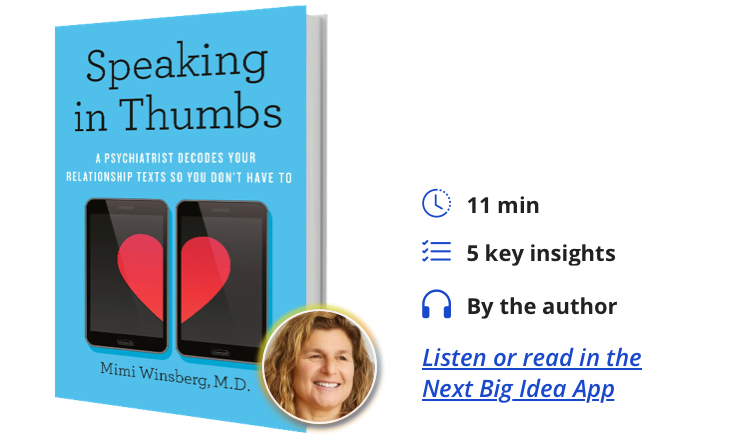 Speaking in Thumbs: A Psychiatrist Decodes Your Relationship Texts So You Don't Have To
By Mimi Winsberg
From a Harvard- and Stanford-trained psychiatrist comes an essential look at the love language of texts, helping you decipher the personalities of online daters, the subtle signals from your romantic partner, and the red flags hiding in plain sight. Listen to our Book Bite summary, read by author Mimi Winsberg, in the Next Big Idea App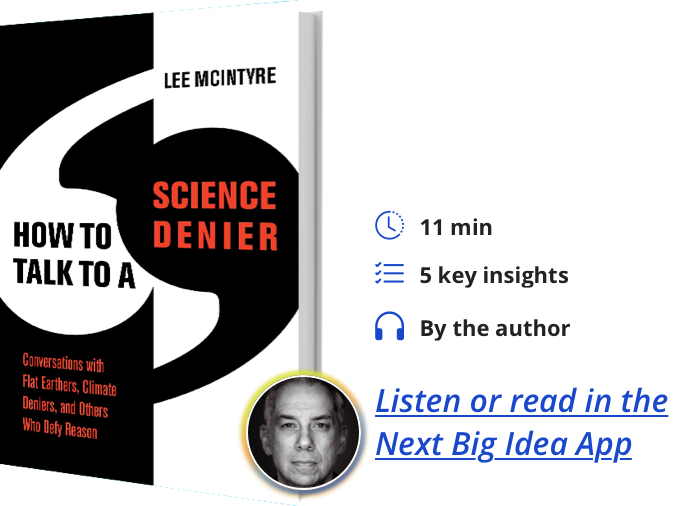 How to Talk to a Science Denier: Conversations with Flat Earthers, Climate Deniers, and Others Who Defy Reason
By Lee McIntyre
A philosopher of science offers tools and techniques for communicating the truth and values of science, emphasizing that the most important way to reach science deniers is to talk to them calmly and respectfully—to put ourselves out there, and meet them face to face. Listen to our Book Bite summary, read by author Lee McIntyre, in the Next Big Idea App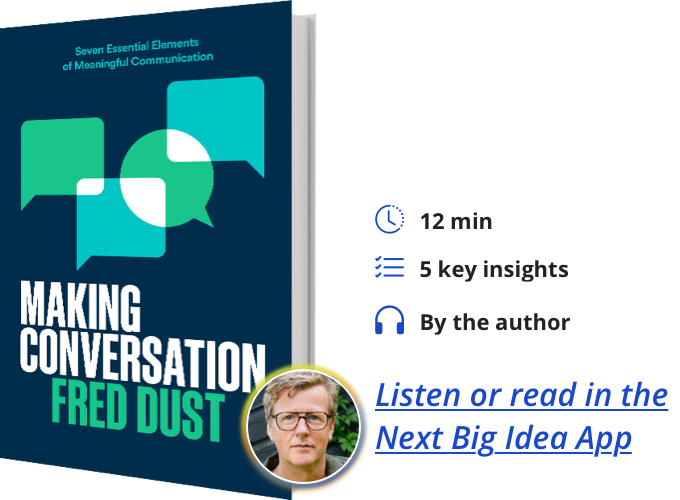 Making Conversation: Seven Essential Elements of Meaningful Communication
By Fred Dust
A former Senior Partner at legendary design firm IDEO realized that communication itself could be designed better by using the four elements of successful exchanges: Commitment, Creative Listening, Clarity, and Context. By staying mindful of these factors, all of our conversations become both more creative and more productive. Listen to our Book Bite summary, read by author Fred Dust, in the Next Big Idea App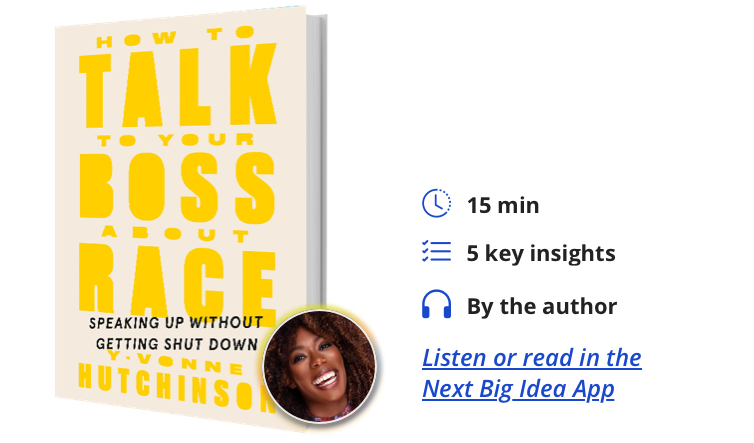 How to Talk to Your Boss About Race: Speaking Up Without Getting Shut Down
By Y-Vonne Hutchinson
A diversity and inclusion strategist equips employees with a framework to think about race at work, prepares them to have frank and effective conversations with more powerful leaders, helps them center marginalized perspectives, and explains how to leverage power dynamics to get results while navigating backlash and gaslighting. Listen to our Book Bite summary, read by author Y-Vonne Hutchinson, in the Next Big Idea App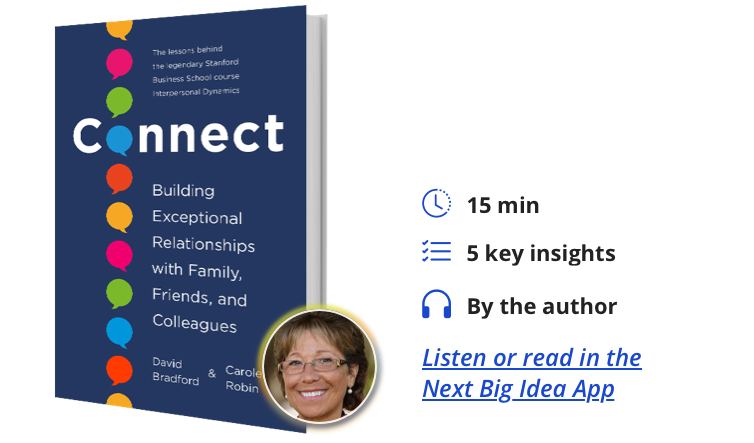 Connect: Building Exceptional Relationships with Family, Friends, and Colleagues
By David Bradford and Carole Robin
The instructors of the renowned Interpersonal Dynamics course at Stanford's Graduate School of Business have collected their most powerful insights into a single transformative read. Whether you're negotiating with a potential business partner or trying to reconnect with an old friend, Connect is an ideal guide to building better, stronger relationships. Listen to our Book Bite summary, read by co-author Carole Robin, in the Next Big Idea App
To enjoy Book Bites from anywhere, download the Next Big Idea app today: