With Earth Day right around the corner, there's no better time to take an honest look at our one and only planet—and frankly, the news isn't great. Global warming poses a real threat to our way of life, and possibly even our survival.
But don't give up hope just yet. There are a number of brilliant thinkers who are changing the way we look at the past, present, and future of Earth—and with their guidance, we can build a safe, prosperous future for everyone. To find out more, check out the seven remarkable reads below.
Download the Next Big Idea App for "Book Bite" summaries of hundreds of new nonfiction books like these.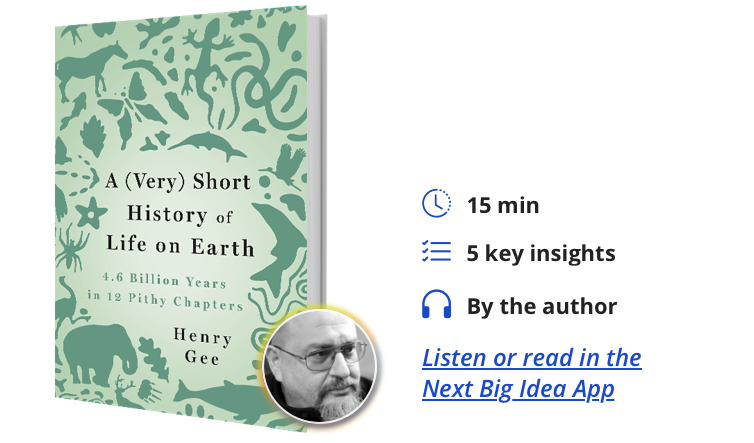 A (Very) Short History of Life on Earth: 4.6 Billion Years in 12 Pithy Chapters
By Henry Gee
Drawing on the very latest scientific understanding and writing in a clear, accessible style, a Nature senior editor tells an enlightening tale of survival and persistence that illuminates the delicate balance within which life has always existed. Listen to our Book Bite summary, read by author Henry Gee, in the Next Big Idea App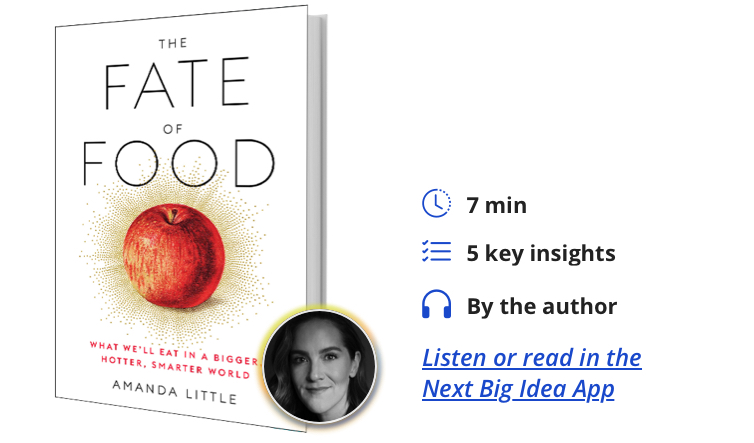 The Fate of Food: What We'll Eat in a Bigger, Hotter, Smarter World
By Amanda Little
A Vanderbilt University professor dives into the sustainable food revolution to reveal the surprising truth about what we'll be eating in a hotter and more populous future. Listen to our Book Bite Summary, read by author Amanda Little, in the Next Big Idea App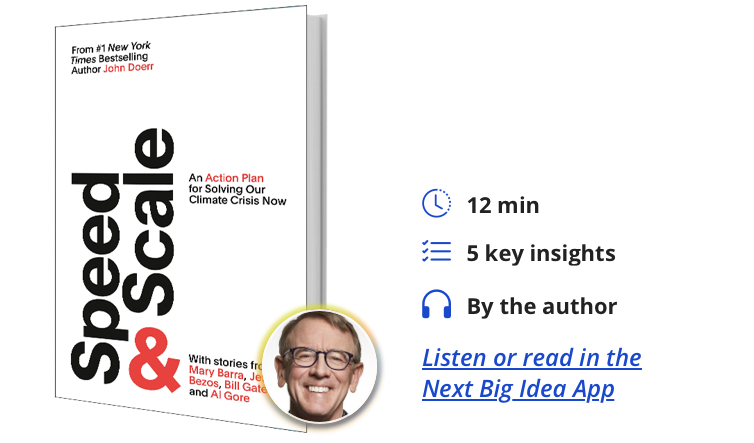 Speed & Scale: An Action Plan for Solving Our Climate Crisis Now
By John Doerr
By turns pragmatic and inspiring, Speed & Scale intersperses the venture capitalist's wide-ranging analysis with firsthand accounts from Jeff Bezos, Christiana Figueres, Al Gore, Mary Barra, Bill Gates, and other intrepid policy leaders, entrepreneurs, scientists, and activists. Listen to our Book Bite summary, read by author John Doerr, in the Next Big Idea App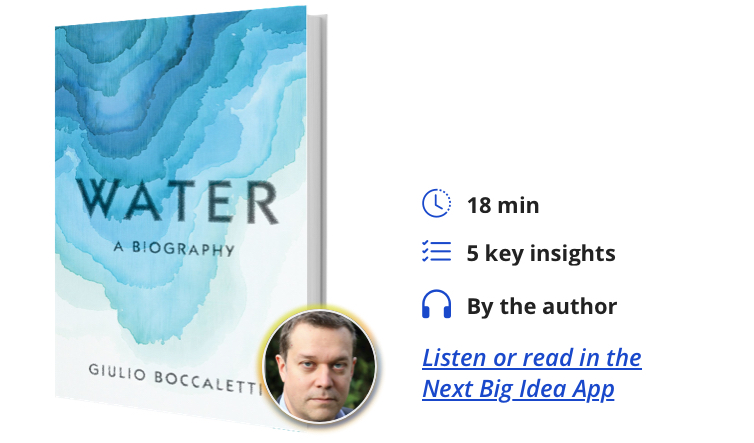 Water: A Biography
By Giulio Boccaletti
Spanning millennia and continents, Water: A Biography is a stunningly revealing history of how the distribution of water has shaped human civilization. Listen to our Book Bite summary, read by author Giulio Boccaletti, in the Next Big Idea App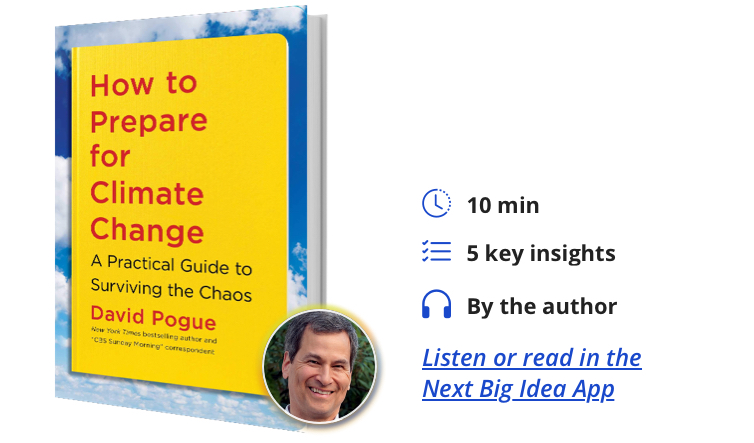 How to Prepare for Climate Change: A Practical Guide to Surviving the Chaos
By David Pogue
An Emmy-winning science and technology correspondent offers a practical and comprehensive guide to surviving what could be the greatest disaster of our time. Listen to our Book Bite summary, read by author David Pogue, in the Next Big Idea App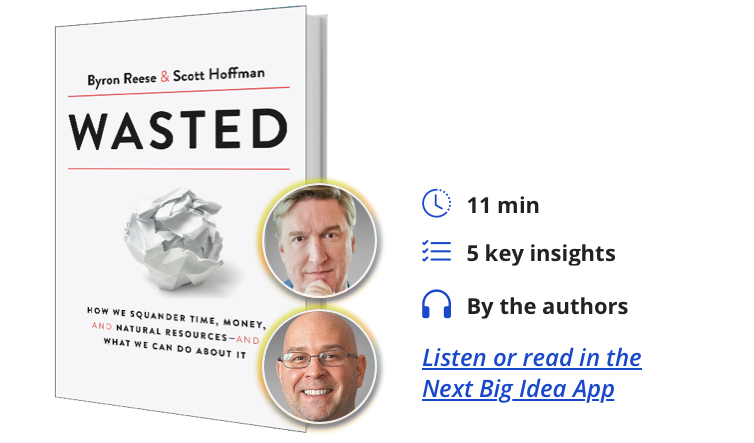 Wasted: How We Squander Time, Money, and Natural Resources—and What We Can Do About It
By Byron Reese and Scott Hoffman
A futurist and an entrepreneur team up, drawing on science, economics, and human behavior to envision what a world with far less waste—or none at all—might look like. Listen to our Book Bite summary, read by co-authors Byron Reese and Scott Hoffman, in the Next Big Idea App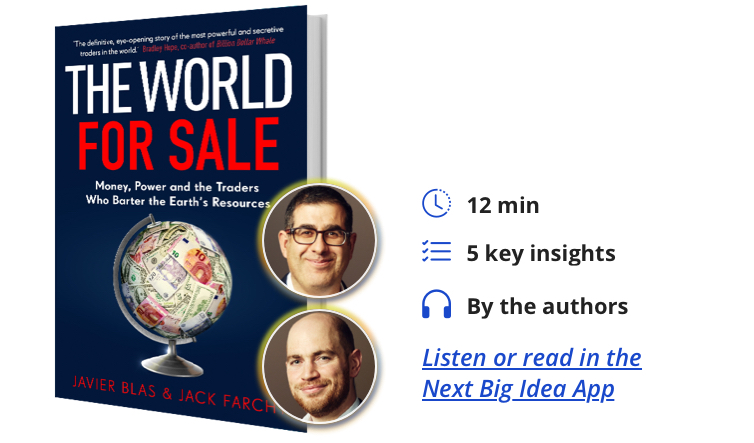 The World for Sale: Money, Power, and the Traders Who Barter the Earth's Resources
By Javier Blas and Jack Farchy
Two acclaimed journalists take the reader into the back alleys of high-powered global trade, showing how capitalism really works and who really profits. Listen to our Book Bite summary, read by co-authors Javier Blas and Jack Farchy, in the Next Big Idea App
To enjoy Book Bites from anywhere, download the Next Big Idea app today: